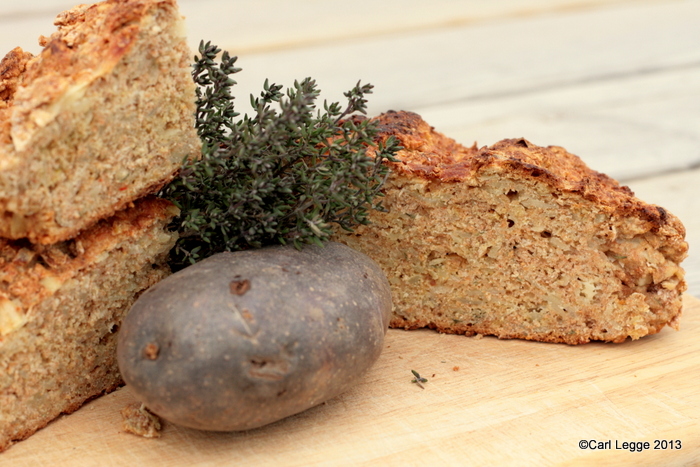 Kaethe from SPUDS (The Sustainable Potatoes United Development Study!) in Ireland said:
Cheesy, garlicky soda bread made w/blight resistant Blue Danubes sounds fab, but where is the recipe? Any new take on soda bread ROCKS for us Irish, especially if it incorporates SPUDS…Send a link pronto!
Who can resist a request like that? Not me 🙂
The Blue Danube potato are a part of a selection of potato varieties I am trialling for the far-sighted people at the Savari Research Trust who are developing these highly blight resistant potatoes. These potatoes are more sustainable to grow because they do not need the frequent chemical treatment and other energy dense maintenance of conventional varieties.
As you can imagine, that's a tough gig. Specially as I'm trying to come up with some novel recipes too.
This bread is almost addictive. The potato in it makes the bread moist and tender unlike many soda breads that can seem hard and dry. The mixture of cheese, garlic and thyme makes it wonderfully savoury. It's great as it is; slathered with good butter; toasted and topped with a fresh poached egg or eaten with (leek & potato) soup.
If you want to find out how to make it, please read on…
Continue reading »