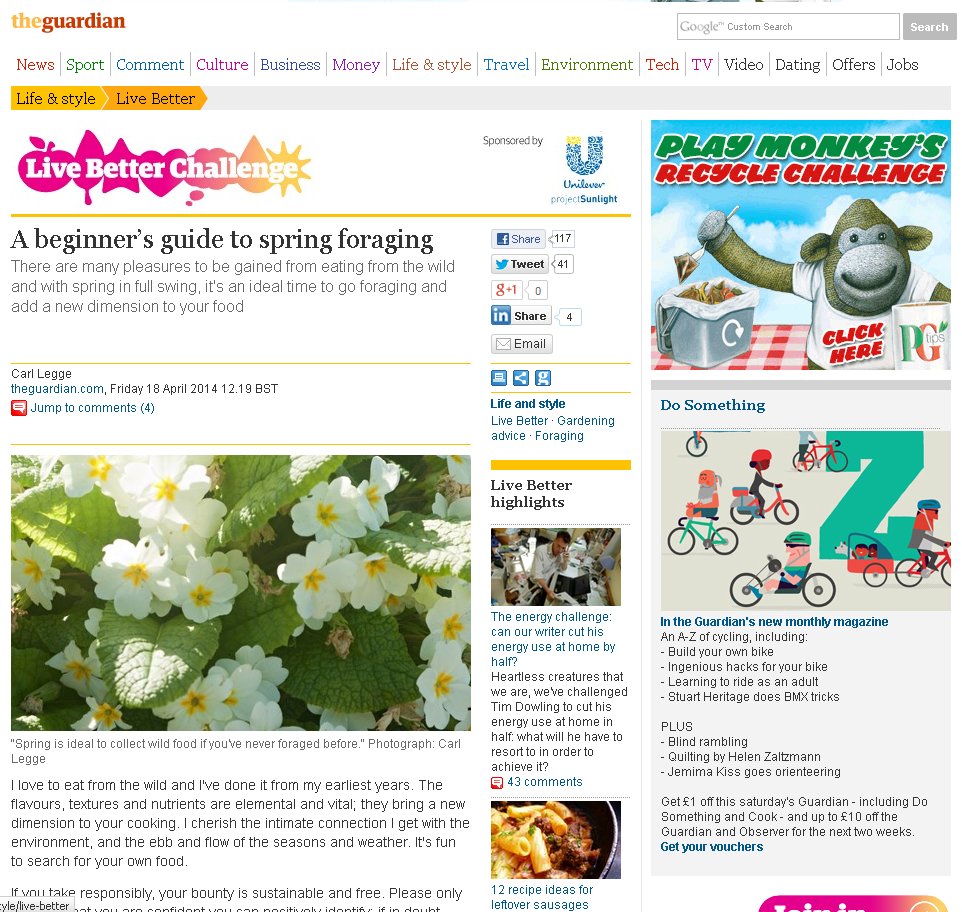 I write about how to forage, grow and cook food for other people too. Here's a selection of my other writing.
If you'd like to commission me to write for you, please use the media contact form – thanks.
For The Guardian
What do you want to know about composting?: a contribution with other experts to a Live Chat. With a summary of the lessons learned by Katherine Purvis here.
A beginner's guide to spring foraging
A beginner's guide to summer foraging
A beginner's guide to autumn foraging
For Vegetablism – the beardy blokes on the Great Allotment Challenge
Sunflower cheese and butter recipes
For Emma Cooper:
How pandas helped me appreciate brassicas
For Ben at Higgledy Garden:
Calendula Salve Recipe and English Grammar
For Permaculture Magazine blog
Wid garlic & homemade ricotta recipe
Energy efficiency in the kitchen
Wild garlic & smoked salmon carbonara
Nettle gnocchi with three sauces
Sephardic Nettle Omelette with Jerusalem Bagels & Za'atar
Salmon & roast vegetables with carro-top pesto
How to make a sourdough starter
Rye & sunflower sourdough Vollkornbrot
Leftover sloes make sloe port & sloe chocolates
The Thrifty Forager, by Alys Fowler – book review
Roasted pumpkin sourdough bread recipe
Parsnip and pea pasta with rosemary and black garlic
The Resilient Gardener, by Carol Deppe – book review
How to make persillade from parsley
Nasturtium butter and caper recipes
Late winter one-pot pasta recipe