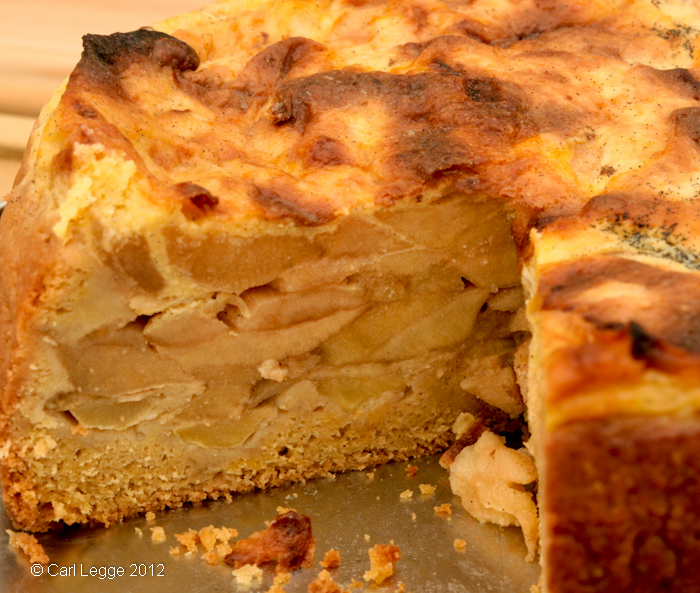 You'll love this cake. It has a crispy case;  firm, slightly spiced apple filling and an aromatic vanilla custard topping. What's more, it's ridiculously easy to make and you get to play with squidgy pastry.
I had a surfeit of apples in the fruit bowl that I wanted to use up and a need for custardy, cakey deliciousness. A quick google search soon delivered to me the inspiration for this cake. It's remarkable how many web sites appear to have the same copy for the recipe…
I thought that the recipe(s) was (were) too sugar heavy. The four pounds of apples the recipes state I think is far too much to fit in the space available. I cut my apples first and measured their volume to work out what baking tin to use.
If you'd like to know how to make this cake, please read on…
Apple custard cake Parisienne recipe
You will need a greased 20-23cm springform tin or similar.
Preheat your oven to 175°C with the shelf in the middle.
Ingredients
Base
1kg dessert apples, peeled, cored and sliced
100g butter, melted (you could use vegetable oil if you liked)
2 eggs beaten
100g caster sugar
250g plain flour
2tsp baking powder
1-2tsp mixed spice
Custard
50-100g caster sugar to taste (I used 75g)
100g butter melted
1 egg, beaten
1 vanilla pod, splits and seeds scraped out
Method
Line your baking tin with greaseproof paper or baking parchment. I lined mine so that the paper extended the height of the tin and this turned out to be a good idea.
I peeled & sliced my apples first and left them in some acidulated water to stop them going brown. I actually sliced them off the core so I didn't have to core them as well.
Beat together the butter eggs and sugar. Sift the flour and baking powder into this. Use your hands to make sure this is well combined into a squidgy dough/pastry.
Squish the pastry into the lined tin to make a case. Draw the pastry up the sides like you used to do when making clay pots at school.
Pop your apples into the case, sprinkling mixed spice as you go. Do your best to make sure you put the apples in without leaving voids.
Put the cake in the oven and bake for 1 hour & 15 minutes.
Mix all the custard ingredients together so that you distribute the vanilla seeds well.
At the end of the hour and fifteen minutes, pour the custard mix on to the top of the cake. Bake for another 20 minutes.
Allow the cake to cool thoroughly in the tin.
Then eat. Try not to groan with pleasure…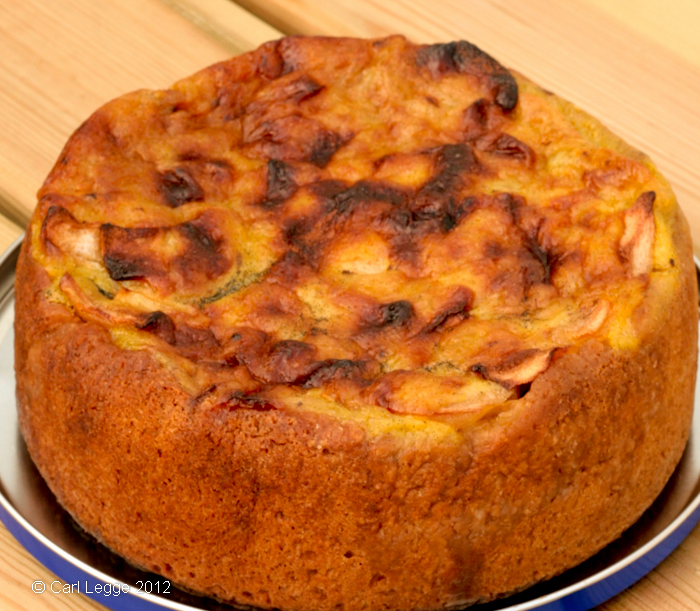 Let me know how it goes.