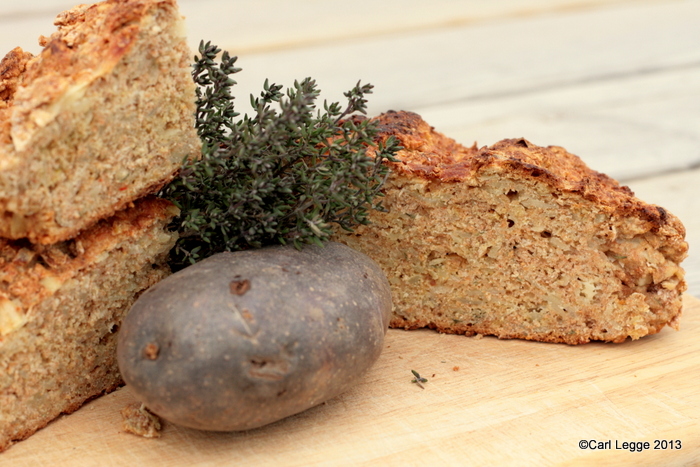 Kaethe from SPUDS (The Sustainable Potatoes United Development Study!) in Ireland said:
Cheesy, garlicky soda bread made w/blight resistant Blue Danubes sounds fab, but where is the recipe? Any new take on soda bread ROCKS for us Irish, especially if it incorporates SPUDS…Send a link pronto!
Who can resist a request like that? Not me 🙂
The Blue Danube potato are a part of a selection of potato varieties I am trialling for the far-sighted people at the Savari Research Trust who are developing these highly blight resistant potatoes. These potatoes are more sustainable to grow because they do not need the frequent chemical treatment and other energy dense maintenance of conventional varieties.
As you can imagine, that's a tough gig. Specially as I'm trying to come up with some novel recipes too.
This bread is almost addictive. The potato in it makes the bread moist and tender unlike many soda breads that can seem hard and dry. The mixture of cheese, garlic and thyme makes it wonderfully savoury. It's great as it is; slathered with good butter; toasted and topped with a fresh poached egg or eaten with (leek & potato) soup.
If you want to find out how to make it, please read on…

Potato soda bread recipe with cheese, garlic & thyme
I don't use bought self raising flour and prefer to mix plain flour & baking powder. If you use SR, just replace the weight of the plain flour with SR, the weight difference of the added baking powder will make little difference.
This recipe is adapted from the one in the great book Leith's Vegetarian Bible by Polly Tyrer.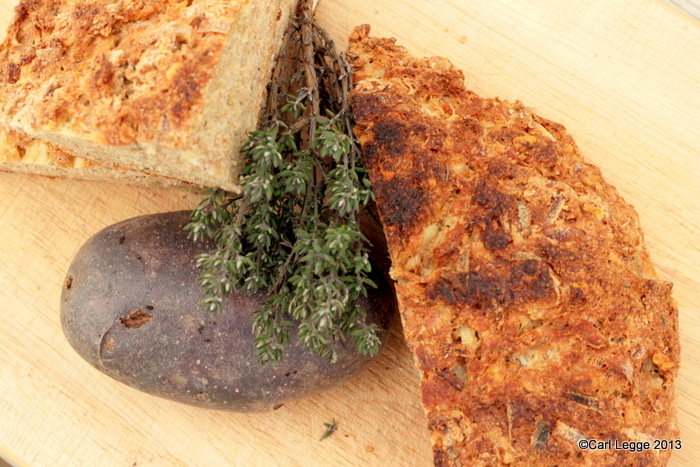 Ingredients
350g plain flour (I used wholemeal spelt flour for its nutty taste and lovely colour)
7 tsps baking powder
2 tsps fine sea salt
1/2 tsp cayenne pepper or finely ground chillies (or more to taste)
1 tbsp fresh or dried thyme leaves (dill, rosemary or chives would also work well)
1 free range egg
3 cloves garlic, peeled & mashed or grated (you can use more to taste, or roasted/confit garlic)
1 tbsp dijon mustard
150g mature cheddar cheese (or use your favourite cheese)
350g peeled weight of Blue Danube potatoes (other varieties are available 😉 Use a more floury type rather than a waxy potato)
100g milk/yoghurt/buttermilk/whey (You may not need all of this, see the Method below)
Method
Preheat an oven to 200C. Get ready a baking tray covered with greaseproof paper, Bake-o-glide or similar or grease it well and flour it to prevent the dough sticking.
Sieve the flour, baking powder, salt and cayenne into a large bowl. And the thyme and give a few stirs to ensure it's all mixed well.
In a small bowl or mug, beat the egg and then add the garlic and mustard to it and mix well.
Grate the cheese and potatoes on to the sieved flour mix. Add the egg/garlic/mustard mix. Mix well with a knife, spatula or your hands. (Alternatively, Helen at A Kentish Kitchen suggests you could dice the cheese for a burst of flavour.)
Gradually add some of the milk/yoghurt/whey and mix in with your hands. You want the dough to be soft and just sticky.  So add liquid gradually. As soon as you add the liquid, the baking powder will start to work, so work swiftly and thoroughly.
Bring the dough together into a ball and put onto your baking tray.
Cut part way down into a cross and bake for 30-40 minutes until cooked through and you have a nice crust.
If you can wait, put the cooked bread onto a cooling tray and allow to cool before slicing.
You may also like my recipe for oatmeal soda bread.