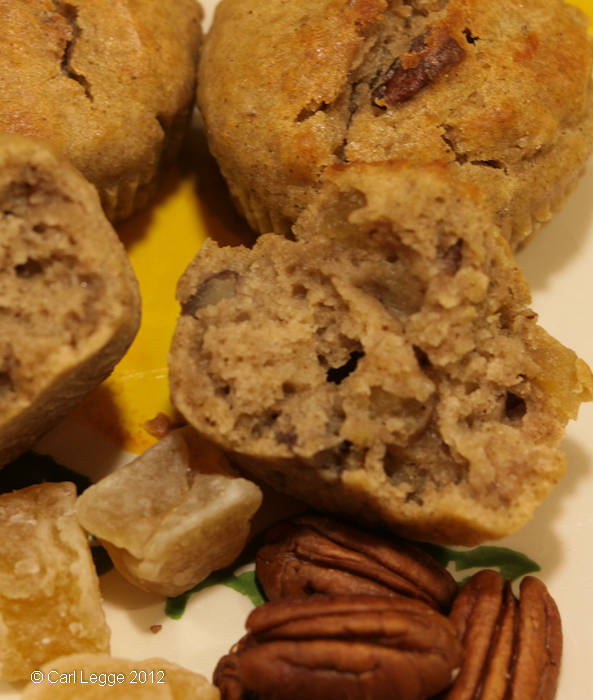 This is one of Debs' inventions that I made yesterday. When I first tasted them I was in food heaven. Lovely spicy ginger flavour with the roasted pecan taste and a hint of spice. It's such a gorgeous combination – they are my favourite muffin now.
What's even better about this recipe is that you can make up the ingredients in the time it takes the oven to warm up and be eating muffins 25 minutes later.
I used Naked Ginger to make these ones: you can use preserved stem ginger in syrup or crystalised ginger to make them too. The Naked ginger is less sugary than crystalised. It's an Aussie product that you can buy in the UK from Lakeland and other places.
If you want to have a try, please read on…

Ginger and Pecan Muffins Recipe
This makes 12 muffins in large (6.35cm) muffin cases.
You will need a bowl for the dry ingredients and a bowl or jug for the wet ingredients.
Ingredients
Dry ingredients
255g plain flour
3 tsp baking powder
1/2 tsp fine sea salt
85g caster sugar
1 tbsp mixed spice powder
50g 'naked ginger', stem ginger or crystalised ginger
50g pecan halves
Wet ingredients
1 egg (about 55-60g shelled)
240g milk
85g vegetable oil or melted butter
Method
Pre-heat your oven to 190-200°C (conventional oven), shelf in the middle. We find they work best without the fan oven option – ours tend to explode if we use the fan.
Put your muffin cases in a muffin tin.
Sieve the flour, baking powder, salt, sugar and mixed spice into your bowl. Give a stir with a spoon to mix the ingredients.
Chop the ginger into about 5mm dice. Break the pecan halves into half lengthways and then into 2/3 pieces per quarter. Pop these into the dry ingredients and mix around a little to make sure the pieces are individual and not clumped together and have a little coating of flour mix.
Break the egg into your other bowl and whisk. Weigh in the milk and oil and mix it all together.  (It's more accurate and easier than messing about with volumes. If you insist the volumes are about the same amount in millilitres.)
Make a well in the dry ingredients and pour the wet ingredients into it. Mix quickly and roughly so that the flour is wet and lumpy.  Don't overmix, it doesn't help.
Distribute the batter as evenly as you can between the cases.
Put in the oven for 20-25 minutes. They are done when they are lightly browned on top and springy. Allow to cool a little before removing them.
Tuck in hot or cold. Try and eat only one.
Let me know how you got on in the comments.