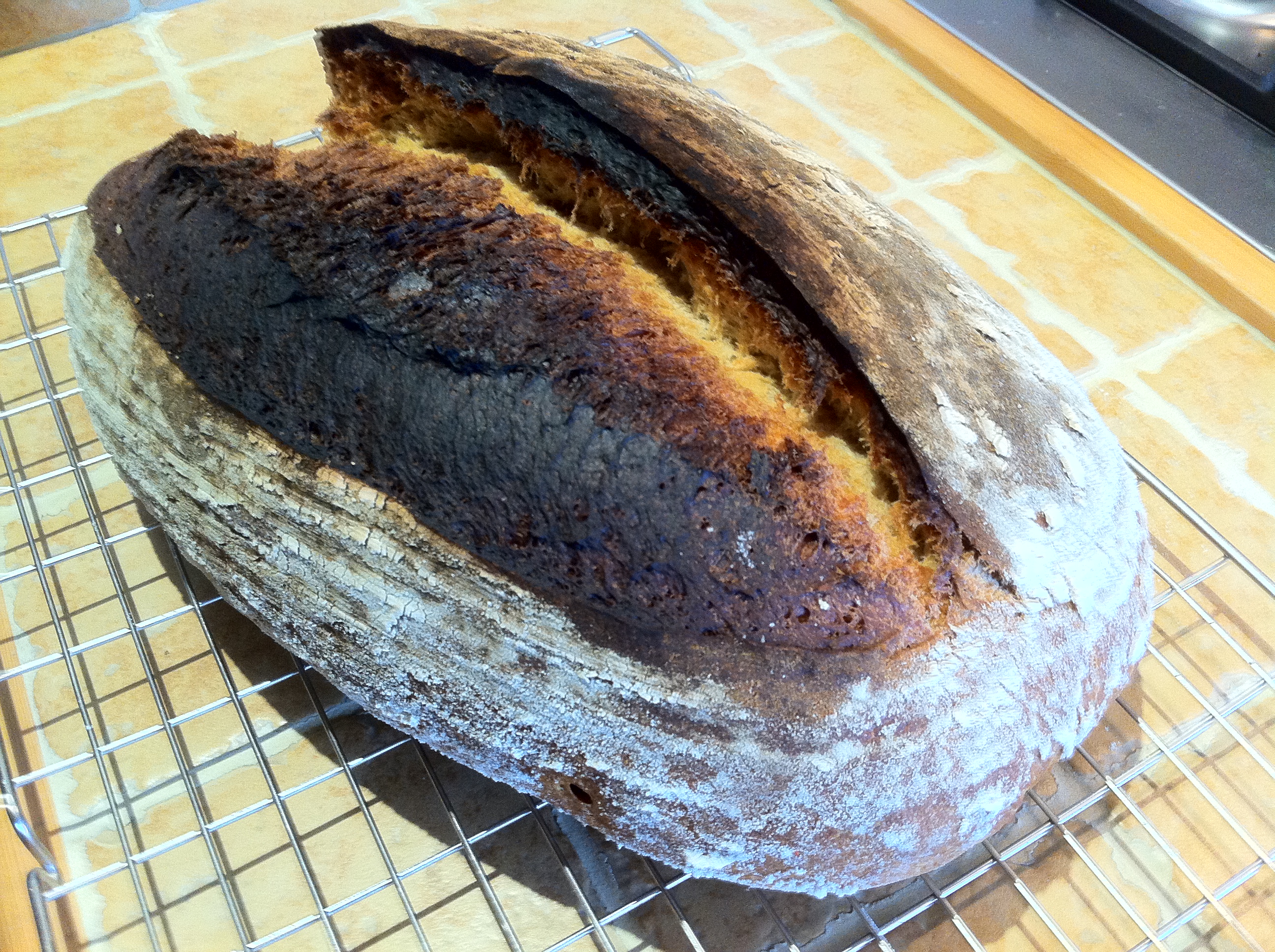 I love the way Twitter works. In particular how ideas get propagated: across the world in an instant and inspiring new networks of enthusiastic people. And also how physical things are shared too.
This kefir bread is the result of both such things. My apologies for the pics – they're taken quickly on an iPhone and the bread didn't last long enough for me to take anything posher for you.
I sent Joanna at Zeb Bakes in England some kefir. As part of her experiements, Joanna (a great baker) decided to make kefir leavened bread blogged by her friend Cecilia. Joanna has written a very instructive blog post about her experience. And Cecilia is a Kiwi (New Zealander) living in mid-west USA.
So, with all this helpful stuff to read, I had to have a go at this.
As you can see from the pictures, the loaf turned out very well indeed. It was a soft bread (apart from the crisp crust), slightly sweet with a background tang. It makes lovely sandwiches and toasts well (browns very quickly). We had it au naturel, with marmalade and toasted with cheese and it went well with all of them.
You need to think a couple of days ahead as you need live kefir milk to start fermenting a flour 'sponge'. You then add this sponge to a bigger quantity of flour to ferment the final loaf.
I've tweaked the recipes that preceded this to use a higher amount of kefir in the sponge and reduced the water to match. To see my recipe, please read on…
Kefir bread recipe
Ingredients
Sponge
300g of drained kefir milk (no kefir grains left in)
150g strong white bread flour
100g warm water
30g honey
Dough
300g strong white bread flour
300g plain or all purpose flour
50g of olive oil or similar
12g fine sea salt
(100g warm water may be needed)
Method
Combine the sponge ingredients in a bowl with room for things to expand. Cover with a plastic bag, cling film or a shower cap and put in a warm place for 12-18 hours. At the end of this time, it should be bubbling and nicely active. If you want to bake during the day, you are best to do this step the afternoon or evening before. I'll let you do the maths.
Then combine all the sponge with the dough ingredients except the 100g of water. Give them a good mix and only add as much water as you need to give a sticky dough. If it's not a bit sticky, it's not wet enough.
Update – May 2013
I've amended the way I make this bread after playing with things a little.
Once I've mixed the dough I leave it in bulk and fold it twice at 45 minute intervals and allow it to prove for 45 minutes after the second fold. To see how to fold watch the video on my How to make Sourdough Simply post. So it's mix, leave 45 minutes, fold twice as per the video, leave 45 minutes, fold twice, leave 45 minutes. Then continue as below…
Shape your dough into one or more pieces. I created a very big batard and popped it in a long banneton, you could put the dough in a couple of oiled & floured bread tins, make it into rolls etc as you please.
Cover lightly and leave in a warm place until the dough has about doubled. This took a couple of hours for me, but the precise temperature of your room and the nature of your ingredients may affect your time.
Pre-heat your oven to 230C. Pop the bread in for about 15 minutes at this temperature. For loaves turn the temperature down to 190C and bake for about another 25-35 minutes until you have the crust and sound you want out of the loaf. Rolls will take about 20-25 minutes in total to bake depending on their size.
And here's my loaf cut. The inside colour is partly due to the palm oil I used instead of olive oil.