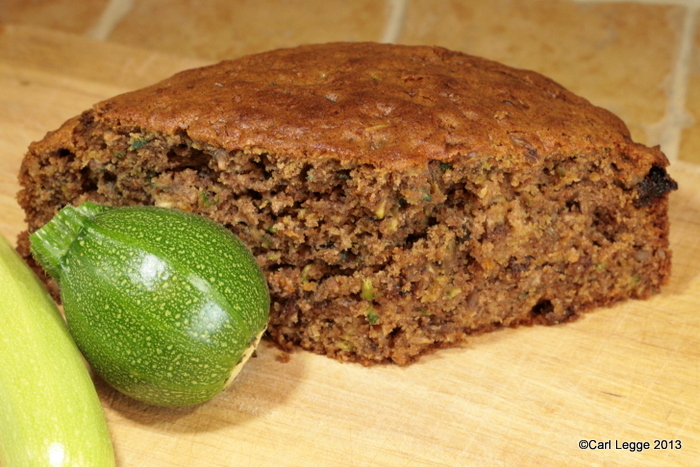 What to do with all those courgettes now that we're having a summer at last?
Here at Legge Towers, the courgette harvest is 'extensive'. Not surprising as we have eight plants for the fruit and six for the flowers… And the flower producing plants also produce some fruit too.  So I had a good trawl of the Internet courtesy of our favourite search engine and tweaked things to put together this recipe.
Courgettes help produce a moist, light and gently green-flecked cake. Some spice & orange zest makes the cake warm, zingy & cosy.
The method is an absolute doddle. You can have the ingredients put together in 20 minutes.
Fancy a go? Read on for the recipe…
Courgette Cake Recipe
Ingredients
300g courgettes, washed, topped & tailed & coarsely grated
100g sultanas or raisins or dried cranberries
100g of pecan nuts, broken into pieces & toasted or sunflower seeds, toasted (or use your favourite nut or seed)
300g of plain flour (I used organic wholemeal spelt flour which gives a deeper colour & more complex flavour you could use 50/50 white and wholemeal plain flours)
3tsp/15ml of baking powder
1tsp/5ml bicarbonate of soda
1tbsp/15ml mixed spice or a mix of your favourite cake spices (cinnamon, cardamom, coriander, nutmeg etc)
3 medium size eggs (about 165g shelled weight)
150g caster sugar
2tsp/10ml vanilla essence/extract (here's how to make your own)
Finely grated zest of 1 large orange
250ml rape seed oil or vegetable oil
Method
Preheat your oven to 180°C with the shelf in the middle of the oven.
Line the base & sides of a 20-23cm springform tin with greaseproof paper.
Grate the courgettes into a bowl and add the sultanas/raisins/dried cranberries and nuts or seeds to them.
Sieve the flour, baking powder, bicarbonate of soda and spices into a large bowl.
In another bowl, beat together the eggs and sugar with a whisk or fork until they are frothy. Add the vanilla essence, orange zest and oil and mix well.
Fold the egg/sugar mixture into the flour mixture.
Then fold in the courgette/fruit/nut mixture into the flour/eggs etc. Just do enough to make sure there are no dry bits of flour.
Tip the mixture into your prepared springform tin and smooth out the top.
Place in your pre-heated oven and bake for 60-75 minutes until a skewer or similar comes out clean when you test. I cover my cakes with some foil after about 20 minutes to stop the top burning.
When your cake is done, take it out of the oven and leave in the tin for 5-10 minutes to cool a little and finish cooking. Then take the cake out of the tin, take off the greaseproof paper and rest on a cake rack. Try to resist eating the cake warm…
It's lovely with creme fraiche, cream or ice cream as well as by itself.

So what are your favourite cake spices? And do you have a picture of your cake to show?