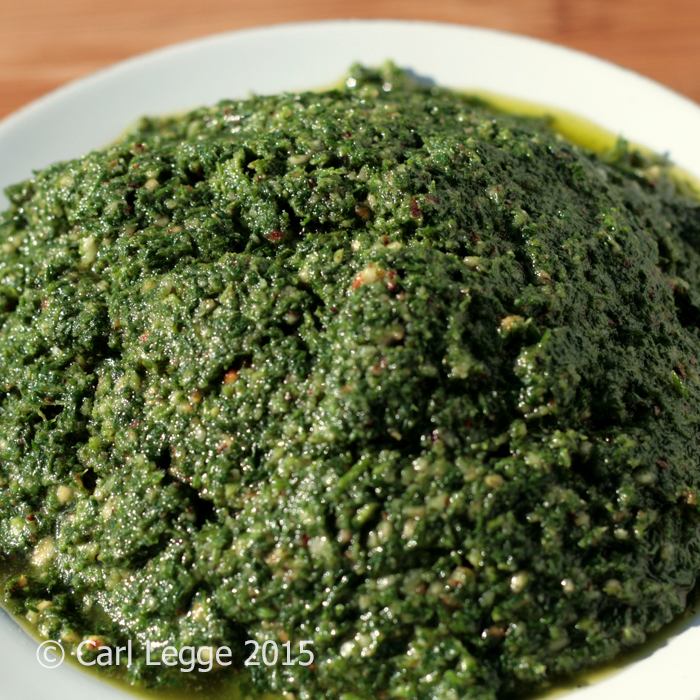 Once you know how to make carrot top pesto, you'll never want to waste your carrot 'greens' ever again.
My recipe appeared online and then in my book The Permaculture Kitchen. Since then, I've seen carrot top pesto used by loads of people in all sorts of creative and scrumptious ways. I thought it'd be good to collect some of those ideas together as a source of inspiration. The recipe for the carrot top pesto aka 'CTP' is at the bottom of this post.
How to use carrot top pesto
Bread
Carla Tomasi made these delicious bread sticks with black pepper and CTP spread over the dough before she twisted and baked it. Ideal with drinks and antipasta.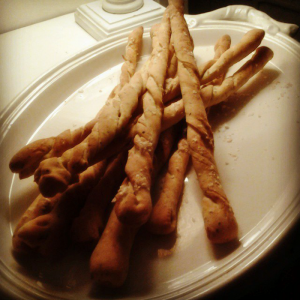 Also good is the CTP spread on bruschetta or toast with one or more of cheese, olives, veg, anchovies or shellfish.
Pasta
Thane Prince used the CTP to dress penne in this scrummy pasta bake with cherry tomatoes.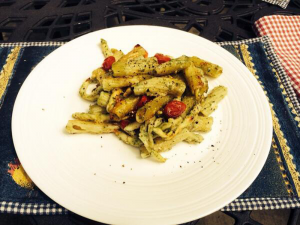 You can just as easily just mix it through cooked pasta: just leave some of the cooking water in the pasta to help make the 'sauce'. Or use it with ricotta or mascarpone filled ravioli or other filled pasta. Peas go well in the stuffing.
Vegetable Tart
Francoise Murat spread the CTP over the base of a puff pastry case and filled with tomatoes and delicious vegetables. Just bake till tender.
Easy- spread on puff pastry, add roasted tomatoes (vinegar+sugar+oil), peas +vegies, mozzarella bake 20 mins  = trop trop bon!
Rice and grains
CTP is ideal mixed into risotto or with farro/bulgur and other grains.
Roasted and baked veg
I love CTP spread on all sorts of veg including potatoes, oca, mashua, aubergine, courgettes, carrots (!), parsnips, onions which are then roasted. Use as a filling for that warming baked potato.
Meat, chicken, fish & seafood
CTP is delightful spread on all these to roast, grill or pan fry. Stuff it under the breast skin of a chicken before roasting. Slather on salmon before you grill it. Pop a blob on a juicy steak as you serve it.
Carrot top pesto recipe
Ingredients
Feel free to scale the recipe to suit what you have available.
It's important that you use the young, tender carrot tops. The leaves & stalks from larger ones tend to be a bit tough.
100g of young carrot tops (a large bunch)
1 clove of garlic, peeled (you can use more)
50g whole almonds (it doesn't matter whether they are blanched or not) Hazelnuts would work well too.
50g parmesan, roughly diced
150ml extra virgin olive oil
Salt & freshly ground black pepper to taste
Method
If you need to, wash the leaves to get rid of any mud and grit. Pop them in a big saucepan over a high heat and pour over a large splash of boiling water. Cover the saucepan and boil for 2-3 minutes until the leaves are just wilted. Strain in a colander and refresh with cold water to stop them cooking. Drain completely and squeeze out as much liquid as you can. If you don't need to do this, then you'll get a fresher result.
Dry roast the whole almonds in a heavy based pan or in the microwave until they are nicely browned.
Cut the garlic cloves into slightly smaller pieces which will help them blend evenly.
Put the almonds, garlic and a small amount of the carrot leaves into a food processor. The carrot leaves help the other ingredients process well. Process until the almonds and garlic are finely chopped.
Add the rest of the carrot leaves and process until they are puréed. You'll probably need to scrape down the sides of the processor a few times to ensure even processing. Add the parmesan cheese and process until well mixed, scraping down if needed.
What you're going to do next is to add the olive oil to make a fluid paste. Add it gradually, stopping to test consistency and scraping down the sides. The consistency I was after I call 'falling over' consistency so that the pesto just falls into the blades of the processor as it turns. So, with the food processor running, gradually add the olive oil until you get your desired consistency.
Then check for seasoning. I added a good grind of black pepper and a couple of pinches of sea salt and processed that in.
Keep in the fridge covered in oil.