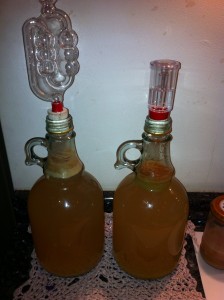 When I saw on twitter that my Twitter chum Julia Moore had:
Decided adding #sourdough culture to some of our freshly pressed apples would be one experiment too far
I was intrigued and showed her my Bouza bread beer experiment post. Despite my references to 'vomit', Julia changed her mind and took up the challenge.
I'm so pleased Julia did this and her guest post below charts her progress. A second post will show how she used the remains from the cider fermentation to make a cider barm bread.
Julia says:
I hope this little experiment encourages someone else to have an idea and then just have a go 🙂
Precisely the attitude I promote on this blog! To find out more, please read on… Continue reading »