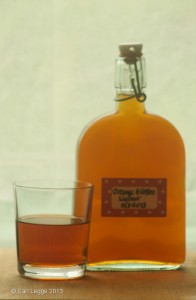 Delightfully simple to make: satisfyingly complex to taste.
That sums up this grand liqueur which you could make now and enjoy over the festive season. If you can bear to part with some, it'd make an ideal present for a very special person.
The aroma of the brew is what a perfect sunset should smell like. Dark, roasted coffee spice punctuated by rich highlights of orange. You'll relax & delight in its changing complexities.
The recipe is my adaptation of the one that appears in Niki Segnit's brilliant book The Flavour Thesaurus. I highly recommend the book which is both fun to read and very useful. Niki credits the idea to American culinary guru Patricia Wells.
I was very lucky to have a supply of slightly bitter oranges from my foodie friend Carla Tomasi's garden in Italy. These will help – but are not essential. Use the best quality oranges you can find. I used vodka this time, but will definitely try the brandy & rum versions.
Read on for the recipe…
Orange & coffee liqueur recipe
This will make about 1.2 litres of liqueur.
You will need a clean container larger than 1 litre to steep the liqueur in and a bottle or bottles to store your finished creation.
Ingredients
2 large or 3 smaller oranges
About 80-100 roasted coffee beans
300g of white granulated sugar
1 litre of vodka, brandy or rum
Method
Divide the coffee beans up equally by the number of oranges you have. If necessary, give the oranges a wash or scrub.
Then press the coffee beans one by one evenly around the orange. You may need to make a start on a hole for them with a small knife or skewer. Some of the beans will fall out. Don't worry about it. I think the important thing is that the orange skin is punctured to allow oils & juice to dissolve in the spirit. Here are my oranges with coffee beans after they've been macerating in the vodka.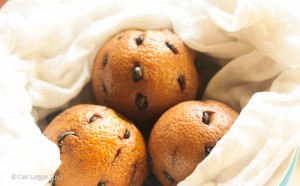 Put the bean covered oranges into your container, pop in any stray coffee beans. Add the sugar to and pour over your chosen spirit and cover.
Leave for 6 weeks or more. Stir or shake your concoction every now & then to make sure the sugar dissolves.
Then strain off the oranges and beans. You could do this through a double layer of scalded muslin for a clearer result.
There are two options from here: to squeeze out the orange juice into the spirit or not. I didn't 😉 Why not enjoy the juice on its own?
Bottle the spirit. You could decorate the bottle with a strip of orange peel and a coffee bean or two if you fancy.
My thanks to Helen at A Kentish Kitchen for bringing this recipe to my attention.
Do any of my blog reading coffee aficionados have a recommendation for bean types for this recipe?