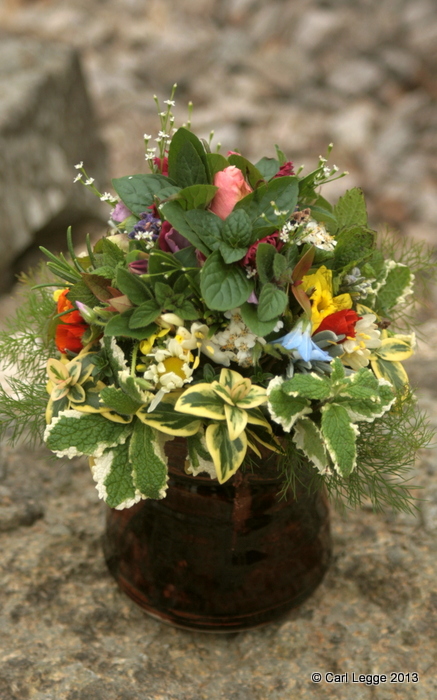 November Posy
The weather forecasters are promising a drop in temperatures and frosts next week. This will put an end to some of the flowers still soldiering on in the garden, giving their all. We are usually lucky here: we live on a peninsula and so we're surrounded by the sea; our frosts are mostly light and often late.
I took the opportunity to keep the summer going just a little bit longer and brought some of those flowers into the house.
Tussie mussies
My mum taught me how to make tussie mussies when I was little and I have continued to make them. I make them as a 'thank you', for birthday and anniversary presents, to mark the birth of a baby or just because…
I tightly pack and bind flowers, herbs and foliage to give a posy which will delight the eyes and nose.
Collecting and arranging my bounty
I wandered round the garden and collected my bounty. I was amazed at the variety that was available. I always put a single flower in bud at the centre and found a romantic pale pink rose for this.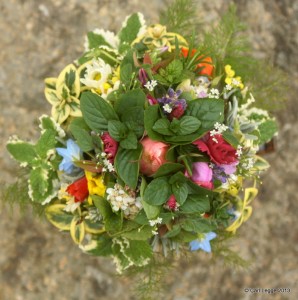 Then I picked the rest of the ingredients: four stems of each. I found mints, rosemary, lavender, thyme, periwinkle, pinks, lemon balm, oregano, Japanese parsley, winter honeysuckle, winter jasmine, camomile, mashua, creeping borage, Californian poppy, yarrow, brassica flowers and fennel. I'm sure I've forgotten some.
When the weather is warm I make the posy outside and often have bees land on the flowers I have picked. On this occasion it was too cold to stay still outside so I brought my goodies indoors.  I stripped the leaves from the bottom of the stems and then, starting with the rosebud, began tying in the stems. There is a symmetry to the posy as each group of stems are added in turn. Finally I put an outer layer of fennel stems to finish it off.
Usually when I make these posies, I am more discerning about what goes into them – a colour or scent theme or such like,  but this was to extend the summer and had a bit of everything in it.
Porth Llwyd Jug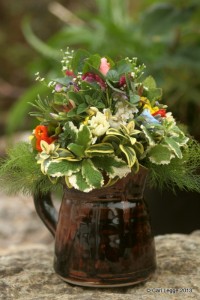 I will change the water every day in the little jug it sits in. I love the jug, it's gorgeous and a gift from Porth Llwyd Pottery from my friend Nina. The posy should last for 2-3 weeks by doing this and in this little corner of North Wales we will still have a little bit of summer.
What do you do to keep summer going in your house?