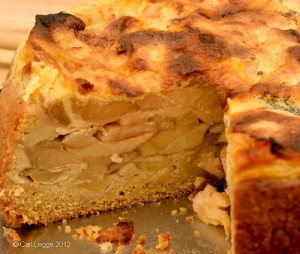 Today is the day to celebrate the wonderful variety and bounty that apples give us.
To help us celebrate, here's a list of some of my favourite recipes.
Apple recipes
Apple cider vinegar
A doddle to make, very healthy for you and lots of fun. You can use damaged apples, or scraps. So this is a great way of using every apple you have.
Blackberry, apple & chilli chutney
Beware, this is addictive. You use two of the season's great fruits. The more you make, the longer you can enjoy.
Apple, almond and date cake
One of my most favourite cakes courtesy of my mum-in-law. With some great examples of other people's results from this recipe.
Apple custard cake parisienne
Crispy, spicy, custardy. It's a joy to eat.
Apple wine
And what better way to celebrate than with this easy to make wine recipe?
I hope you like these, What's your favourite?