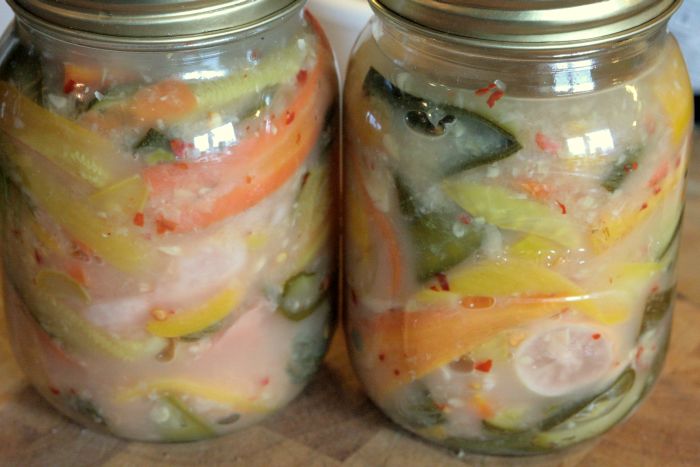 Kimchi Recipe
Kimchi is a traditional Korean spicy vegetable pickle. The veg starts off being brined and then it's rinsed and allowed to ferment in a paste of onion, garlic, ginger and chillies.
It's normally made with shredded chinese style cabbage as the base with other vegetables included. Basically, you can make it with anything, even fruit. Interestingly, the cabbages and the chillies were not indigenous to Korea and are relatively modern imports in the history of kimchi making.
The kimchi can be widely used in soups, stews, dumplings and even grilled cheese sandwiches and mashed potato.
I made enough for a 1 litre kilner jar as I was experimenting. The beauty of this method and recipe is that you can make as little or as much as you like. So it's a great way of using up excess vegetables that you can't use immediately they are harvested.
Interested to have a go and taste this fragrant food? Read on…You'll need a jar (or jars) that you can seal and with sufficient capacity for the quantity of vegetables that you want to ferment. The jar(s) should be sterilised. Wash in very hot water, drain and put in an oven heated to 140°C for 15 minutes.
Ingredients
Vegetables
I used different coloured carrots thickly sliced, green & yellow mange tout, coloured courgettes sliced (3-5mm) and sliced radishes.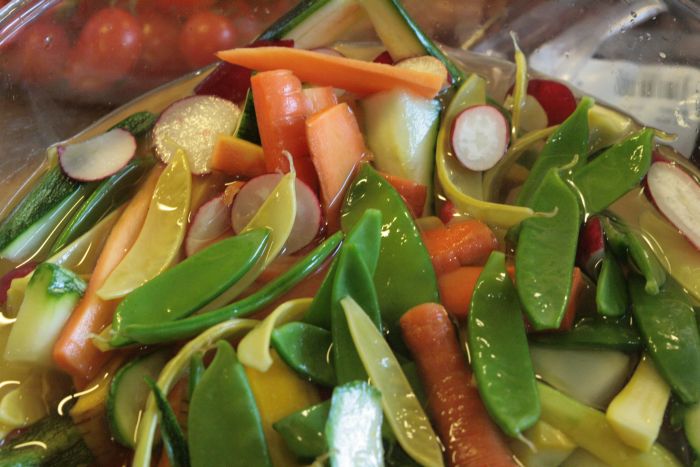 You could use cabbages, cucumbers, root veg etc.
Brine
1 litre water
60g sea salt
Spice paste
3/4 cloves garlic, peeled
Knob of fresh ginger, scraped
A large onion, peeled
A fresh chilli or dried chilli flakes, to taste
Method
Make up a brine with 1 litre water and 60ml sea salt. Stir well to make sure the salt is fully dissolved. I heated mine up and stirred and then let it cool to room temperature.
Put your prepared vegetables in a non-metallic bowl. Pour on the brine. Make sure that the vegetables are weighed down with a plate or similar so they stay covered. Leave the vegetables in the brine for 6-8 hours or overnight.
Strain the vegetables from the brine, and reserve the brine for later.
Rinse the vegetables with plain water in a colander until the taste of the veg is pleasant to you – still salty but not too strong.
Then prepare the spice paste. The quantities are variable. I made mine too hot with chilli and would start off with less chilli and build it up over future recipes.
Whiz up your paste ingredients in a food processor until you have a coarse paste. Some kimchi recipes include fish sauce such as nam pla or shrimp paste in the concoction. I've also come across a recipe in researching this post that uses rice or plain flour boiled into a porridge and sweetened with sugar as the base for the spices. I'll try this next and report back.
With your hands (beware of the chilli) mix the paste thoroughly into the brined veg.
Pack the veg mix tightly into your jar. Press down well, the veg should create some of its own juice. If there's not enough top up with some of the reserved brine. Seal the jar.
Leave the jar in a warm (20-24°C) place to ferment. Fermentation will take about 7-10 days depending on the temperature and how you like the Kimchi to taste. Have a taste each day to see how it's going.
Once it is how you like it you can put it in the fridge and use it how you like.
Then you can play with different vegetables and seasonings to make a Kimchi to your precise requirements.
I'd love to hear how you get on. Please let me know in the comments below.
Manh-i deuseyo!