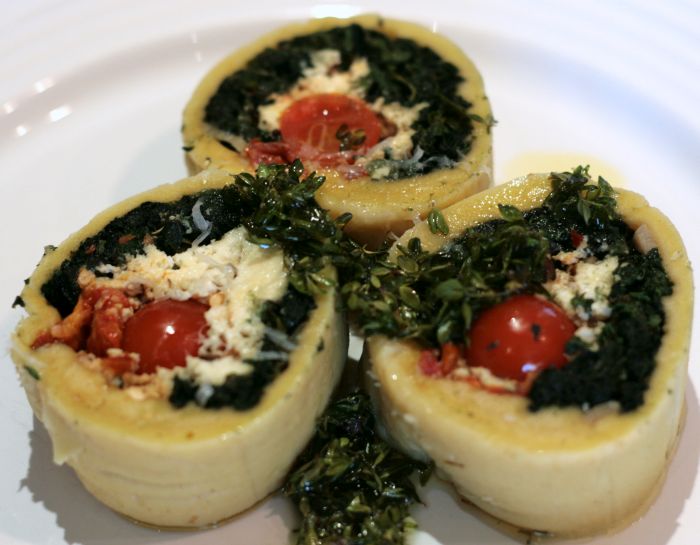 This pasta is a bit of a show stopper. It looks just great on the plate and there are loads of variations you could make to the filling.
I'd often looked at the recipe in Jamie's Italy and decided that it was a bit too much of a faff to do.  Then I saw the Rotolo that Maureen at Orgasmic Chef had created. I really liked the result she achieved and so determined to have a go myself. Of course, I wanted to do something a bit different to the recipe in the book with spinach and roasted squash.
I thought hard about colours and took the Italian Flag's tricolor of green, white and red as my inspiration.
For the green I used our abundant (and free) nettles instead of the pasta.
For the white I used ricotta that I made.
And for the red I used tasty cherry tomatoes.
The nettle filling gives a unique 'meaty-veggy' taste with a great slight spicy edge. The tomatoes give a nice squish and flavour with slight acid balanced by the creamy cheese. The lemon-thyme butter was a lovely fresh tasting complement to the pasta.
Want to know how to make this? Read on…
Ingredients
For the pasta dough
500g pasta flour
5 eggs
For the rotolo
450g fresh pasta dough
Carrier bag full (about 5 litres) of freshly picked nettle tops, washed and dried
Large bunch of fresh oregano or marjoram leaves picked (or substitute 2 tbsp of dried)
2/3 garlic cloves finely sliced
1tsp coriander seeds
1tsp fennel seeds
1tsp chilli flakes
2tbsp olive oil
Nutmeg (a third to a half freshly grated)
50g unsalted butter
150g fresh ricotta (see this post for how to make your own)
50g finely grated Parmesan
handful of dried tomatoes (I used my own dried beef ones, you can substitute 10 mi cuit tomatoes and slice them)
20 cherry tomatoes
For the lemon-thyme butter
100-150g clarified butter
Small handful of lemon-thyme leaves picked
You'll need a clean tea-towel or piece of muslin of that size to wrap up your rotolo and a big saucepan (I used my preserving pan) or large roasting tray to cook your rotolo in.
Method
For the pasta dough
You can do this by hand or use a machine. I'll briefly explain both methods.
You'll make more than you need for the rotolo, but I have a cunning plan for a next day lunch with fresh pasta.  If you only want to make enough for this dish, use 300g of pasta flour and 3 eggs. This should give you the 450g you need for the rotolo only.
For the hand method, pop the flour in a bowl or in a pile on your worktop. Make a well in the centre and break your eggs into it. Break the eggs up and gradually work them into the flour at the edges of the well. Eventually the eggs and flour will start to come together in a mass, bring it together and then knead it until it's smooth and elastic. This will take about 10 minutes depending on your technique and the temperature. Make into a neat ball and cover with cling film and put in the fridge for at least 30 minutes.
For the machine method. just follow the instructions for your machine if you have them. If not, you'll need a Kenwood Chef/Kitchen Aid with dough hook or a food processor with bread blade.  Put the flour in the bowl, make a well in the middle and break in the eggs. Mix at a slow speed or pulse until the ingredients come together and are mixed. Then turn up the speed or process for about 5 minutes until the dough is smooth and elastic. Make into a neat ball and cover with cling film and put in the fridge for at least 30 minutes.
For the rotolo
Dry fry the coriander and fennel seeds until they are just fragrant & beginning to pop. Put in a mortar & pestle and grind to a fine powder or use a spice mill or a bowl and rolling pin end. Add the chilli flakes to the spices.
Put the olive oil in a large pan and put on  medium heat. Put in the garlic slices and oregano and fry for a few seconds until fragrant.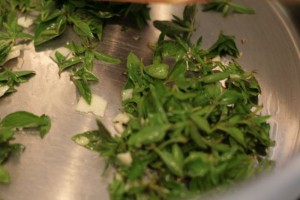 Then put in the nettle tops (use tongs or gloves) and keep these moving in the pan with the tongs or a spatula. You're after them to wilt and become tender. Depending on the age of the tops this could take from 3 minutes to 10 minutes. Keep everything moving so you don't burn things. Once they've wilted add your butter, grate in the nutmeg, season with salt & pepper and give it all a good stir to mix. Leave this to cool for a little bit.
Now is time to roll out your pasta. Take 450g of the pasta dough and flatten it with your hands into a roughly rectangular piece. Using additional flour so your dough doesn't stick, gradually roll it out into a rectangular piece that is about 2mm thick and 30cm x 60cm. It's important that you get the dough fairly thin without breaking as it will swell up when it's cooked.
Put the dough centrally on your tea-towel or muslin, you'll use this to help you roll the rotolo. Place the dough so that you have the long edge facing you and the short edges forming verticals.
First spread your nettle mixture on to the dough. Leave the top 2-3cm and bottom 1cm free of filling. The bottom will help you get the roll started and the top will help you seal the roll.Put your filling to the edge of the left & right hand sides.
Sprinkle the spice mixture evenly over the top of the nettle.
Crumble the ricotta and grate the fresh Parmesan evenly over the top of the mixture. Spread you dried tomatoes evenly over this.
Then tuck the tomatoes neatly in a line along the mixture. I first tried putting these on the bottom edge and they kept falling out, they're not as coherent as the squash mash Jamie & Maureen used.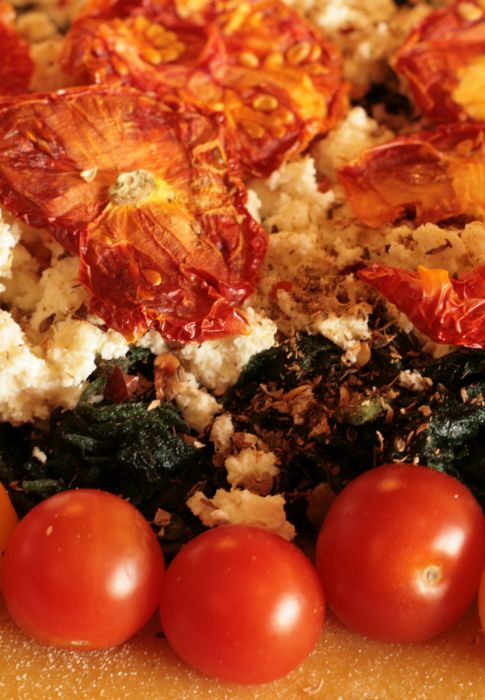 My price for trying to be different! So I tucked them into the mixture in the middle so they'd stay put.
Moisten the 2-3cm gap you left at the top which will help seal the roll.
Now carefully roll the rotolo up from the bottom edge using the tea-towel or muslin to help you. If you have a friend to help it's easier with two! Seal the top edge to the roll by gently rolling.
Then wrap the pasta in the tea-towel or muslin. Tie up the ends of the fabric roll and gently tie along the length so that the fabric stays put. Don't tie too tight or you'll cut through the dough.
Pop your rotolo into a pan or roasting tin with plenty of boiling, salted water and keep under the water with a plate or similar. Simmer for 25 minutes on the stove top or in the oven.
When it's cooked take it out, unwrap it and cut it into about 5cm slices and arrange attractively on your plates or bowls.
For the lemon-thyme butter
Heat up the clarified butter until hot. Pop in your picked thyme leaves, they may spit a bit. Take off the heat. What you want to do is get the volatile oils that flavour the thyme into the butter. So you are quick steeping it rather than cooking it.
Spoon this lovely flavoured butter over your rotolo and serve.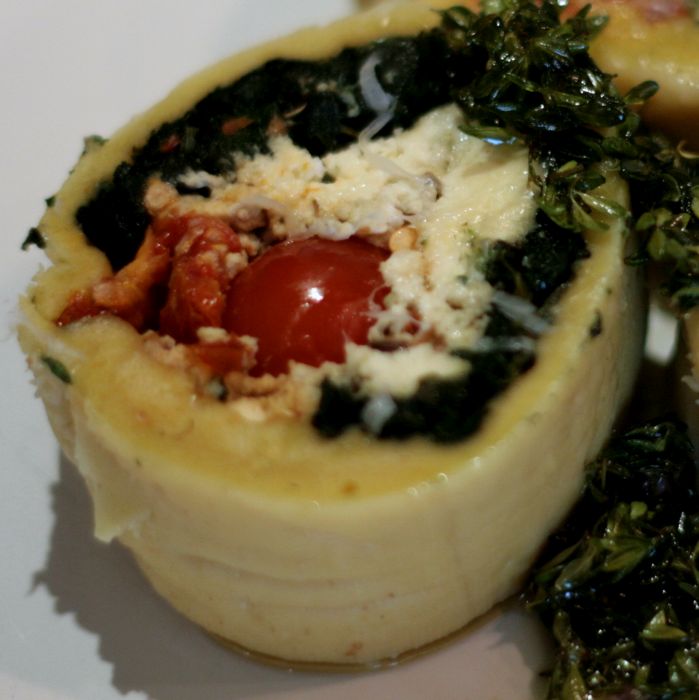 Variations
I was really pleased at the result I achieved with this recipe. I think if you are organised it's not so much work to put together in relation to the product you get.
So I'm going to have a go at doing some more with some variations. I'd love to hear any ideas or other variations readers have cooked themselves.
Here's some ideas I had for varying the ingredients.
Nettle substitutes
Spinach (as Jamie used – make sure you cook enough to drive off excess moisture)
Lettuce & pea with mint – again make sure you cook off excess moisture
A thick tomato sauce with tinned or fresh tomatoes
A chestnut puree
A meat layer made with minced meat of your choice, spiced and seasoned
Spice , Parmesan, ricotta substitutes 
Finely grated citrus rind would be very good
You could replace the ricotta/Parmesan with any crumbly cheese combination. Feta wold be good or a creamy cheese layer such as taleggio or brie
Anchovies
Persillade
Substitutes for the tomato 'eye'
I think the colour is important here as well as the flavour
Jamie used mashed roasted squash
Any attractive contrasting root veg boiled/roasted and mashed would be good: carrots, sweet potato, parsnip, salsify
Good firm fish fillets in thick slices
Some seafood would look good if firm: scallops or crayfish/lobster tails if you're being posh.
Italian or herby sausages. These would need browning and pre-cooking I think.
There.  My thoughts on this wonderful dish. Buon appettito!