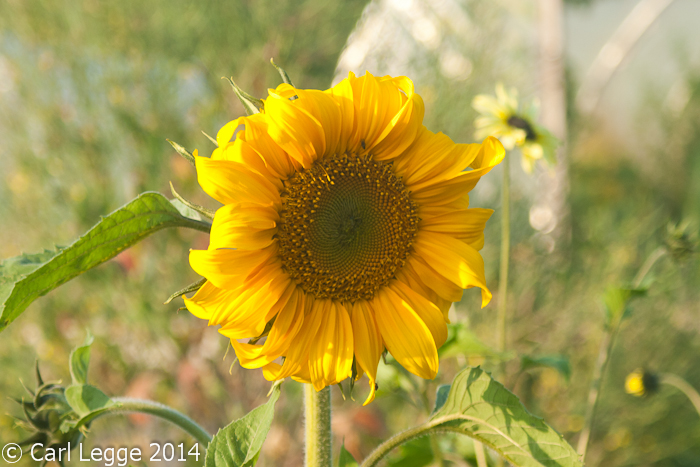 Sunflowers induce a smile on my face. Outwardly simple, they shout "Summer!" even if the rain is pouring. And this year, they're having a ball in our gloriously hot summer.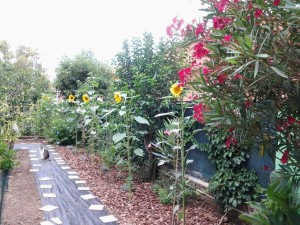 We plant lots and save seed too. On the right is part of my friend Carla's garden near Roma, Italy. The tall sunflowers are from seed I sent her. They love the heat of Italy and have grown enormous under Carla's care.
We leave lots of the heads for the birds during winter. There are floods of finches and tits who perform acrobatics to get their fat and protein boost.
So I was very interested when my twitter friend Pete Taylor (aka 5olly) announced he was launching a Sunflower Trial for 2014. I even sent Pete some recipes for sunflower seed butter & cheese for his blog. It's a sort of (non) competition and we received three packets of Thompson & Morgan sunflower seeds: Solar Flash, Magic Roundabout and Mongolian Giant.
Along we these we've sown and planted our own saved seeds (the variety's name has been lost in the mists of time), Short Stuff, Hidatsa Sunflower (a staple crop of the Hidatsa people along the Missouri River) and Vanilla Ice from Ben at Higgledy Garden.
Here's a visual update of progress to this weekend. Continue reading »