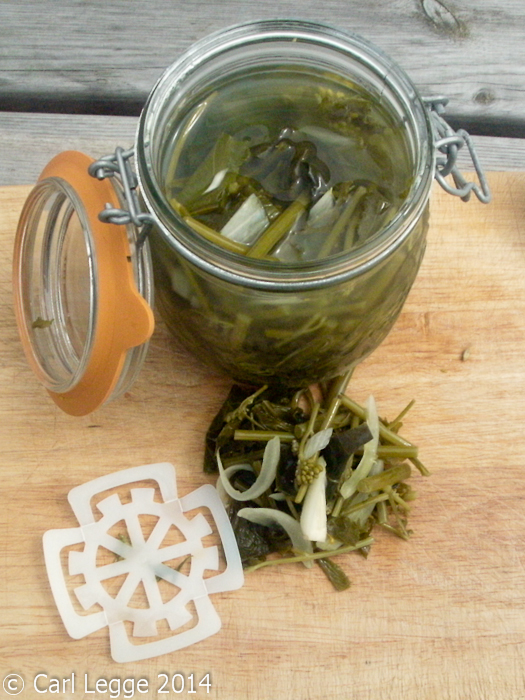 I wish I'd got to know mustard greens (and reds and goldens) much earlier in my growing adventure. They are such a tasty, versatile and good-hearted vegetable. And some of the varieties are great green manures, ground cover and biofumigants.
Here at Legge Towers we sow them in mid to late summer so that we can put them in the polytunnel to over winter. They get cut down by frost outside in winter, but in the polytunnel, sometimes with a little extra fleece protection they do fine.
They make a good quick green manure which may survive a kind winter, but you can also re-sow early in spring. Certain varieties (like Caliente) are good before potatoes as the gases given off by the leaves when cut down can help prevent wire worm and other pests – this is the biofumigant. You need to cut down and work in the leaves quickly though. More info on this here.
Just to say, we don't tend to use them in the spring and summer. This is because there's plenty else around and because we find they bolt quickly if it gets hot or dry for long (it does occasionally happen).
The mustards give us with little leaves for salads to start with. Then we get bigger leaves to use in stir fries or as a steamed/wilted veg. You can also make a lovely mustardy pesto with them. In the spring they produce wonderful flower shoots to use like sprouting broccoli.
Then, as you can see they climb!
By this time, I'm thinking of the next crop that will occupy the space for the summer months. This year, I didn't want to just compost the remains (after shredding the woodier parts). I thought I could use the more tender parts to ferment to make a tasty snack and accompaniment.
And did that work well? Oh yes. Read on to find out more.
Fermented mustard greens recipe
I picked off the top shoots and any leaves that were in good condition. Don't use anything that looks too manky or damaged or you will introduce unwanted nasties into your ferment. I had hoped that I'd be able to use most of the stem, but the bottom parts were too woody.
My test for useability was to cut through the stem. If you can see white pith, then the shoot is likely to be too woody. Take a bite and see what you think. If it's too tough to eat raw, the ferment isn't going to help tenderise it a lot. The top, green bendy stems with flower buds and flowers are fine.
After consulting my books I plumped for a 3% brine solution for the ferment. This is 30g of sea salt in 1 litre of water. Only use salt without additives, the table salts etc with additives of iodine and or anti-caking agents can impart an unpleasant taste.
Here's the quantities that I used, as long as you keep to the same proportions, in particular the strength of the brine, you'll be fine.
Also, you can use other green veg: kale, sprouting broccoli shoots and leaves, lettuce and chicories, cabbage leaves and foraged leaves too. What else do you think?
You can also add other ingredients to flavour the ferment. Ginger and chilli would be obvious candidates. I like the simple taste for this.
You'll need a clean container you can cover to ferment the mustard in and some containers to store the completed ferment in the fridge.
Ingredients
500g flexible mustard shoots and leaves
1 small onion, peeled & sliced
30g sea salt or similar
10g sugar (optional)
1 litre of water
Method
Wash the shoots and leaves and dry as well as you can. Excess water can dilute the brine. I pop the mustard in a tea towel, bring the corners together and swing it sharply outside to get rid of the moisture. You can use a salad spinner too.
Take your clean container and layer the shoots, leaves and onion slices in the container, pressing down as you go.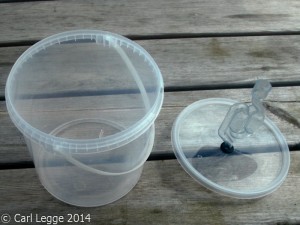 I use a recycled plastic honey container which I've adapted with a grommet and air lock. That's because I'm like that. You can use what you have, you need to be able to cover the container. A clean cloth is fine. If you use a lid, remember the fermentation will produce gas (CO2) and so this will need to escape periodically.
I then dissolved the salt and sugar in a little boiling water in a jug and topped up with cold water to 1 litre. Our water is fine here, but if you have heavily chlorinated water, then you are best to boil and cool your water first.
Pour the brine over the mustard & onions making sure they are well covered. Use a chopstick or something else just to go round the edge of the container to help release any bubbles of air in the mix. Press down the vegetables so they are under the water. I then put a clean bowl lid on top of the veg with a bag filled with water to weight it down and keep the veg covered. You can improvise with what you have, just make sure whatever you use is clean.
Then pop the container in a sunny windowsill for 3-7 days. Taste after 3 days to see how you like the taste, it will get sharper as they days go on.
Once you are happy with the taste decant the veg into your clean storage containers and pop into the fridge. The cold will slow the fermentation right down. I use the white plastic discs to keep the ferment under the liquid.
Then use your bounty next to slow roast or red-cooked pork, with salads and antipasti, in sandwiches – you get the idea.
Let me know how you get on and tell me what's your favourite.