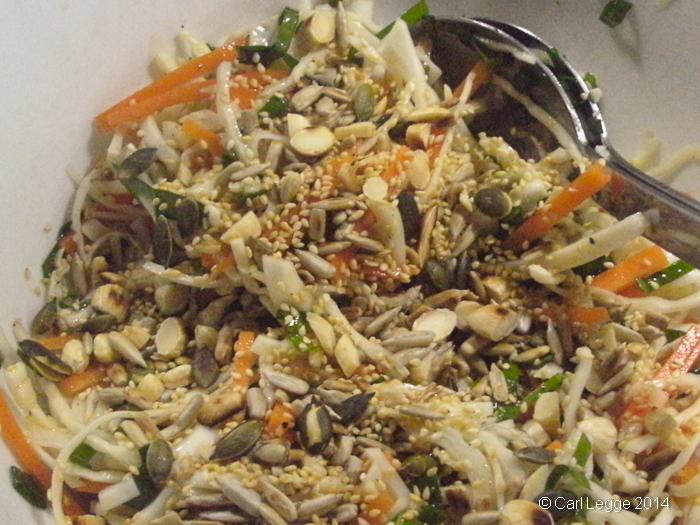 Spring is a joy not least because of the re-emergence of the wild garlic.
There's lots of publicity in the UK at the moment about eating more vegetables. I've been having fun concocting meals where I replace the normal carbohydrate element (potatoes, pasta, rice etc) with tasty veg. In this recipe, I added a big hit of toasted seeds and nuts for added crunch, taste and nutrients.
Wild garlic slaw recipe
I served this slaw with a chicken & tomato sauté. It could easily be a great breakfast, healthy lunch or snack as well as an accompanying vegetable. I suggested to my son it could be a great Uni meal made in big quantity and used to dip into to save time for studying 😉
Ingredients
Vary these to suit what you have available and to suit your taste. I fancy this with some fresh ginger, chilli and coriander leaf next. You could use raw or confit garlic instead of the wild garlic. Other leaves such as chard, spinach or mustard would be nice too.
10 wild garlic leaves (use flowers too if they are there)
10 stems of Egyptian walking onion (or use the tops of spring onions or finely sliced red onion)
1 large carrot, cut into fine strips
2 or 3 big handfuls of shredded white cabbage
2 tbsp sesame seeds, toasted
45 ml sweet redcurrant vinegar (or use cider or rice vinegar and add a tsp of caster sugar)
135 ml of olive oil
125ml (1/2 cup) sunflower seeds, toasted
125ml (1/2 cup) blanched almonds, toasted and roughly chopped
Sea salt & freshly ground black pepper to taste
Method
Slice the wild garlic across into very fine strips. Chop the onion stems into small rounds of about 3mm.
Mix the carrot, white cabbage, wild garlic and onion together into a salad bowl.
Mix the vinegar and olive oil together and add some salt & pepper to taste. I use a recycled maple syrup container to do this. I've put markings on for my 1:3 vinegar to oil ratio on it. I can then shake it up to emulsify the dressing and squirt a controlled amount on  salads. I keep any left over in the fridge.
Pour enough dressing on the veg so they are well coated without being drowned. Give the ingredients a good toss. Have a taste and correct seasoning if you need to.
Sprinkle the seeds on the slaw and mix. Serve.
It's as easy as that.
What's your favourite seeds and nuts for slaws?
You might also like:Wild garlic mash, warm chickweed salad & seafood
Wild garlic and smoked salmon carbonara
Wild garlic and homemade ricotta pasta