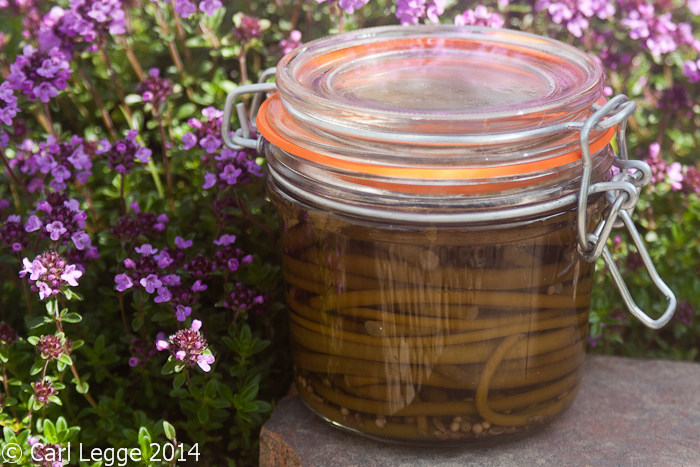 Here at Legge Towers the weather has been just gorgeous since May. Which has made up somewhat for the slow and cold start to the year. We had to resow courgettes when the first lot sown in early March on heat succumbed to the less than stunning early May temperatures. So we've worked really hard outside for the last few weeks.
Our garlic has done very well and we harvested the lot this weekend. The best performing variety was a hardneck type (Allium sativum var. ophioscorodon) called Carcassonne. They're great sized bulbs with a very good taste and developed great scapes. The scapes have a mild garlic heat & taste and they're one of our summer treats.
Use the scapes in the kitchen wherever you would use garlic. You use them in bean and vegetable dips, soups, stir fries, risottos, tarts and salads. They're gorgeous moistened with some olive oil and barbecued, griddled or grilled for a minute or two. Just season to serve with a little sea salt and perhaps a splash of extra virgin olive oil.
Yesterday, I used them to make a modified Sicilian style fritedda. Fresh picked broad beans, peas and artichokes are sautéed and then mixed with herbs, extra virgin olive oil and white wine vinegar.
I've vacuum packed and frozen some of the enormous scape harvest we had. You can also make oil & pesto with them. One of my favourite scape preserves though are quick & easy pickles. Great as antipasta or as a side with vegetables, seafood meat grills or in a salad. Read on to find out how to make them.
Garlic scape pickles recipe
The quantities here are what I used. Vary the overall quantity of liquid depending on how many scapes you have. But don't vary the ratio of vinegar to water, it's the acid concentration that's the essential preservative.
You will need sterilised kilner, parfait, mason or similar jars with new seals to store your pickles that you can process in a boiling water bath. This will mean the scapes will be shelf stable for 1-2 years. If you don't want to water bath your pickles, you will need to use them within 6 weeks or so. I've included a link for water bath instructions if you're not sure – it's very easy.
Ingredients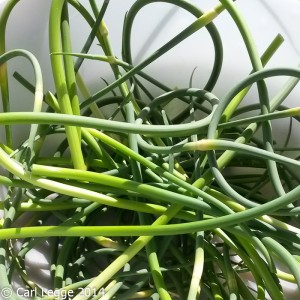 30 scapes
750ml water
700ml distilled white vinegar or white wine vinegar
4tbsp salt
yellow mustard seeds
chilli flakes
coriander seeds
dill seeds
Method
You need to coil your scapes into the jars so they fit nicely. You may need to cut them into slightly shorter lengths to do this successfully, they are often a bit naughty at staying still. Add a big pinch each of the seeds and chilli flakes to the scapes.
Put the water, vinegar and salt in a pan and bring to a boil. When the liquid had boiled, pour this over the scapes and spices and leave about 1.5cm headspace then seal the jar.
Boiling water bath process the jars for 10 mins and allow to cool. Here's a very practical guide to the boiling water bath process if you're unsure what to do.
That was simple wasn't it? What's your favourite way to use scapes?