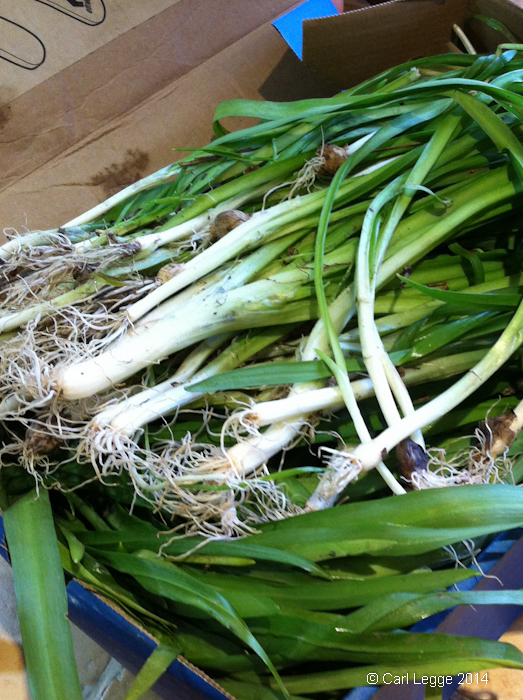 This box arrived courtesy of a very generous Lindsay on Twitter. Lindsay has a wonderful surfeit of these in Devon and needed an ID for it. She also wanted to be rid of some and so one thing led to another.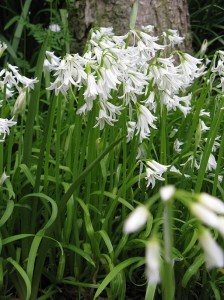 It's allium triquetrum or three-cornered leek (aka three-cornered garlic). It's so called because of the cross-section of the leaf. Wild garlic (allium ursinum, ramsons) has a broader, flatter leaf and is only just poking out of the ground now. Like wild garlic, it has white flowers.
It's a mediterranean plant which has naturalised in the south-west of England and prefers a moist but well-drained soil. It will spread by division and seeds extensively. It's treated as a weed and invasive species in many places. It's an offence to plant in the wild in England & Wales.
It tastes like a grassy leek or garlic with a lingering aftertaste. It's not as pungent as garlic or as spicy as chives.
So I felt I had to come up with some culinary treatments for it. Read on for the details…

Three-cornered leek recipes
Three-cornered leek pesto
This made about 500ml of pesto. So have a sterilised container ready. You can scale the ingredients if you wish according to how much three-cornered leek you have. You can also play with the quantities of the other ingredients to taste. Test as you go and find out what you like. The leaves will probably need a good wash and dry first. I pat mine dry on a clean tea towel.
Ingredients
250g (about 4 cups) three-cornered leek leaves
50g blanched almonds (or pine nuts/hazelnuts), toasted lightly
50g parmesan or similar hard cheese in small chunks
1 lemon, zested and juiced
Sea salt & freshly ground black pepper, to taste
Extra virgin olive oil
Method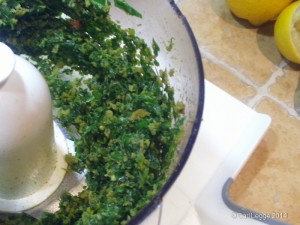 Put about half the three-cornered leek leaves into a blender with the nuts, cheese and lemon zest & juice. Process until the leaves reduce in bulk a little and then add the rest of the leaves. Process until you have a rough purée and add a little seasoning. Then dribble in the extra virgin olive oil while the processor runs until you have a loose paste. Taste and correct seasoning or other ingredients.
Pop into your container and cover with a layer of oil. Keep in the fridge with a layer of oil on the top after each use. It should keep for as long as you need in this way.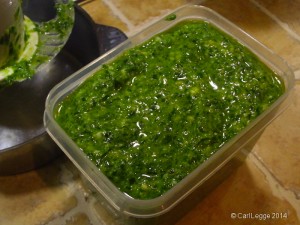 Three-cornered garlic pesto – how to use
Use as you would any other pesto!
I've used it to mix through spaghetti. Cook the pasta until just cooked, drain the pasta keeping some water back in the pan. Add a smidge of chilli flakes (I have some blended fresh ones in oil in the fridge) and a generous tablespoon of pesto per person. Mix well and loosen some more with extra virgin olive oil. Season to taste. A very fast and incredibly tasty meal.
Three-cornered leek meat balls and burgers
This mix is incredibly versatile. I made meatballs I used in a carbonara, some more with a bulgar wheat pilaf (recipe later) and the remainder as burgers. The quantities can be scaled and varied according to what you have available.
It's a delightfully gentle garlicky, smoky mix which compliments different cuisines well.
Ingredients
About 200g (3 cups) of three-cornered garlic leaves or leaves & bulbs
50g stale bread in chunks
1 dried chilli, or quantity to taste (in this case from my Seedy Penpal Lorraine)
375g beef mince (pork, lamb or chicken would all work well as would thick lentil/spilt pea puree)
1-2tsp smoked paprika
1/2tsp ground allspice
1tsp ground cumin
1 beaten egg may be needed
Sea salt & freshly ground pepper to taste
Method
Put the leaves, bread and chilli in a food processor and process until you have medium-sized breadcrumbs and coarsely chopped leaves. You don't want to make a purée.
Tip the leeky crumbs into a bowl and add the remaining ingredients. Squidge the mix together really well with your hands so that it's thoroughly mixed and you've broken up the meat well. The mixture should hold together of its own accord. You may need to add some or all of the beaten egg if the mixture doesn't want to hold together.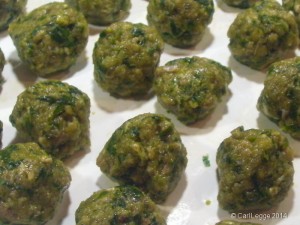 Then form the mix into walnut sized balls, or burgers (I used about 100g/burger) and let these rest in the fridge for 30 minutes or longer. Wet hands will help you do this more easily.
If you don't want to use the mix that day, it'll keep in the fridge covered for a couple of days.
Here's how I used my mix.
Three-cornered leek meatball carbonara recipe
Have you guessed I'm a bit of a fan of pasta? This is such a hearty and fragrant dish: it's not elegant though 🙂
Ingredients
100g of the mix per person, made into walnut sized meatballs
Olive oil
1 very fresh egg per person, well beaten
Freshly ground black pepper to taste
75-125g spaghetti per person
50g or so three-cornered garlic leaves for garnish
Method
Put a glug of olive oil in a frying pan over a medium-high heat until hot. Place the meatballs gently in the hot oil and fry them until they are brown all over and cooked through. You should be able to do this while you cook the pasta.
Start to cook your pasta in plenty of salted water at a rolling boil.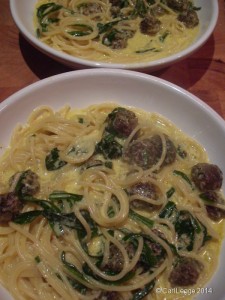 When the pasta has a minute to go before it's cooked, pop the three-cornered garlic leaves into the pan with the pasta to wilt.
Drain the pasta and leaves, reserve some of the water in the pan or in a jug. Put the pasta back into the hot pan, but off the heat.
Add the meatballs to the pasta using a slotted spoon and mix them gently. Then add the beaten eggs and mix quickly so the water & eggs make a silky sauce. Take too long and you'll have scrambled eggs!
Serve immediately and tuck in.
Three-cornered leek burgers
Here, I made the mix into burgers and fried them over a medium heat for about 5 minutes each side. The burger buns are Dan Lepard's carrot burger buns without the spices as there's spices in the burgers.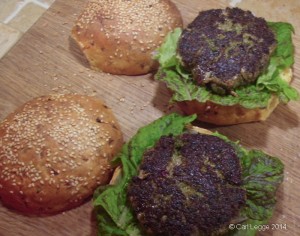 So there you are. A pretty useful weed I hope you'll agree.
What do you use yours for?
If you liked this, here's some Wild Garlic recipes you may fancy.