Like many English people, I have a love affair with Corsica. It's partly because of this:
Corsica has a fantastic blend of  Mare et Monte: sea and mountains. It's why I live  in North Wales, to be with môr a mynydd. But Corsica smells different too: it has the maquis. The maquis is a mixture of fragrant shrubs and herbs that lead Corsica to be called The Scented Isle.
Corsica is also famous for growing and using the fruit of the sweet chestnut tree. Some of the nuts are converted into flour and Corsican cuisine is famous for how it uses this: in a type of 'polenta', pancakes, flans, muffins, cakes and pasta.
I loved eating in Corsica and resolved to get a cookery book. It just so happens that the Corsican cookery book is written by an Englishwoman, Rolli Lucarotti. She sailed to Corsica in the 1970s with her husband and baby daughter. She fell in love with Corsica and, like many English people, now lives there. Her book is called Recipes from Corsica. It's a great read and insight into a unique cuisine that has developed separately from that of it's French & Italian invaders.
This recipe Rolli calls Panzarotti incu brocciu: cheese ravioli. The pasta is Pasta di castagna: chestnut flour pasta. Brocciu is called The Prince of Cheeses and is the Corsican national cheese. It's like an Italian ricotta but made with sheep or goat's milk, so it's good for the lactose intolerant. Since I had a method for making ricotta, I thought I could make a close replica of brocciu. And I have now found a source of organic chestnut flour.  The recipe calls for calamint (calamentha nepeta) which my friend Carla Tomasi had recently sent to me from Rome where she calls it mentuccia. The recipe also needs eggs & chard. Our chickens produce eggs and we grow chard, so I was in business to make this wonderful dish. Want to know how? Read on…
Chestnut ravioli with brocciu recipe
If you are making your brocciu you will need to do this the day before you want to cook the dish. I used 2 litres of goat's milk and 100ml vinegar using the method here.
I served this ravioli with a very simple garlic and tomato sauce. I did this because I didn't want to overwhelm the taste of the ravioli with a stronger sauce.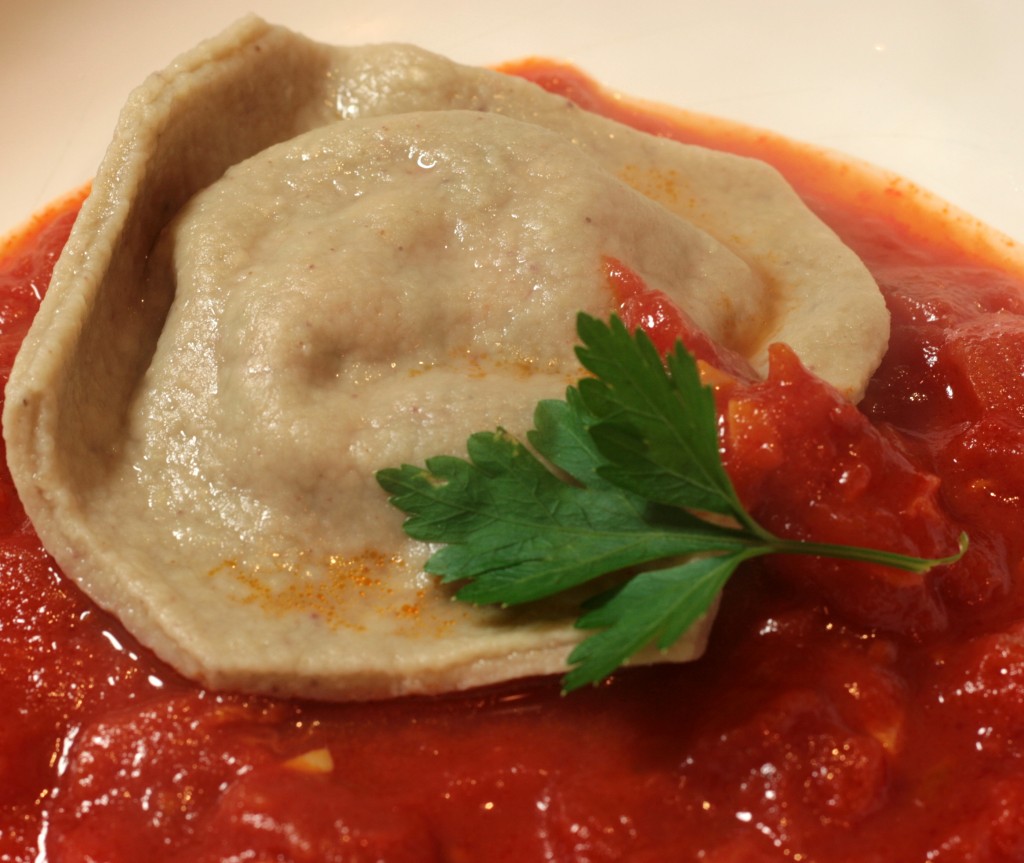 Once I had rolled and made up the ravioli, I had plenty of pasta dough left over. You need a bit of excess pasta in order to be able to make up the ravioli. I froze the surplus to use another day. If you didn't want to do this, then I'd reduce the ingredients each by about a third.
Finally, I put myself under quite a bit of pressure making this recipe up. I'd already been cooking for 12 hours by the time it came to roll the pasta and make up the ravioli. Debs had been working the third of four consecutive 14 hour days and was due home soon. I wanted to be able to feed her without delay, so she could get some rest. So the presentation of the ravioli is not what it should be and I should have put more work into the pasta rolling. This is not a difficult recipe to make, but if you want it to look really nice, give yourself some time to do it.
This quantity will easily feed four people. If you wish you can freeze the ravioli to cook another day.
Ingredients
For the pasta
250g Typo 00 or pasta flour (or plain flour)
200g chestnut flour
1/2 tsp fine salt
4 medium eggs (about 220g in weight when shelled)
1 tbsp olive oil
More flour for dusting while rolling the pasta and making up the ravioli
For the ravioli stuffing
About 300g of chard, washed and ribs removed (you could use nettles or other foraged greens, spinach etc)
300g brocciu (you could substitute ricotta or a mix of ricotta and soft goat's cheese)
1 egg
1 tbsp calamint or mentuccia (substitute with a heaped tsp each of mint & oregano)
Sea salt & freshly ground black pepper to taste.
For the tomato sauce
3 cloves garlic, finely sliced
A good glug of olive oil
400g tin of good quality chopped tomatoes or 500g fresh tomatoes, roughly chopped (skin & deseed if you prefer)
Sea salt & freshly ground black pepper
Garnish
Flat leaf parsley, picked and roughly chopped
Method
For the pasta
Sieve the flours and salt in to a bowl.
Add the oil to the egss and beat them together.
Make a well in the centre of the flour and tip in the eggs. Gradually incorporate the eggs into the flours until you form a cohesive dough. Knead this dough until it's smooth and elastic. Pop the dough into a bag or cover with cling film or a cloth. Allow to rest  for 30 minutes at room temperature.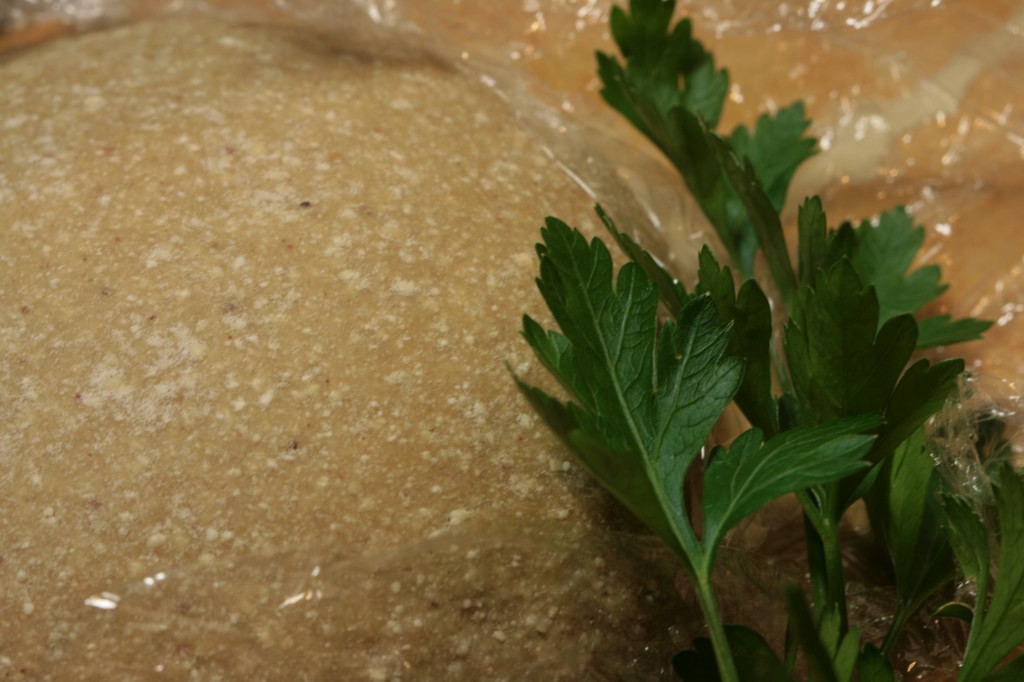 For the stuffing
Cook the chard or greens in a little water until tender (about 5 minutes should do it). Drain them and squeeze out as much liquid as you can. If you leave liquid in, your stuffing will be soggy – and you don't want soggy stuffing now do you?
Chop the greens finely.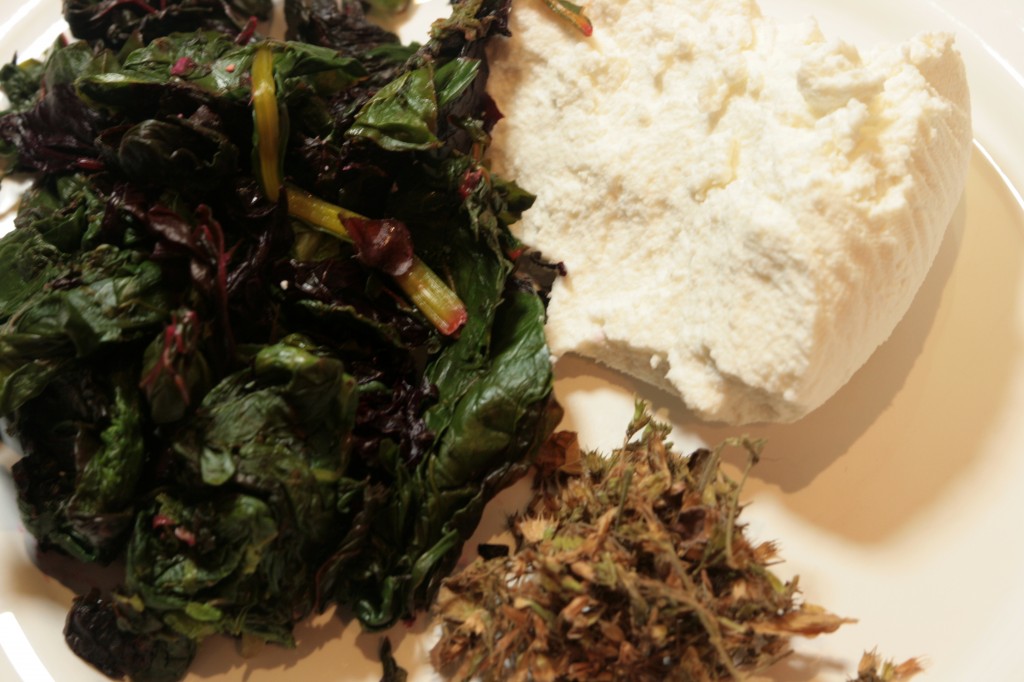 In a bowl, combine the greens, brocciu, herbs and egg well with a fork. Season to taste with salt and pepper.
For the tomato sauce
In a frying pan or saute pan, heat the oil over a medium heat. Add the garlic and fry gently so it just colours. Add the tomatoes and cook a little until the sauce just starts to thicken. Season with salt & pepper to taste.
To make up and cook the ravioli
Roll out the pasta dough thinly into sheets. I have put a note below which talks more about how to do this well.
You need to decide how big you want your ravioli. I went for large to get a good ratio of filling to pasta. Adjust according to your preference.
Put piles of filling evenly on a sheet of pasta. Dab water on the remaining piece of that dough that's not covered wih filling. Put an equal sized piece of pasta dough over the filling and press down well to seal around the filling. Make sure that you do not trap air inside. Cut out the ravoili you have produced using a knife, roller cutter or fluted cookie cutter. Put to one side on a floured board, cloth or plate.

Once you have made all the ravioli, put the tomato sauce on a low heat to make sure it's hot when you are ready to serve. Bring a large pan of salted water to a rolling boil. Add the ravioli to the boiling water. Bring back to the boil and cook for about 5 minutes until the ravioli are cooked through. Smaller ravioli may take less time. You'll need to stir the ravioli to make sure they don't stick together, but be gentle.
When cooked, put some tomato sauce in a bowl and lift out the ravioli with a straining spoon and place them into the sauce. Garnish and tuck in.
Notes on pasta making
Twitter friends Naomi & Monica have both posted very good accounts of making chestnut ravioli. Their observations are both well worth reading.
I was intruiged by their observations and wanted to find out how to get the requisite thin and resilient pasta. I eventually consulted Giorgio Locatelli's Made in Italy. In short, he advocates folding and multiple rolling of the pasta in different directions using a pasta machine. He says: "The idea of changing direction is to put equal elasticity and strength throughout the pasta."
Using Locatelli's method he says will produce a shiny sheet of pasta with no lines in it. He also recommends using each sheet as it is ready rather than leaving it while you make up some more. I will try this next time I make the pasta and report back.
Good luck if you make this. Let me know how you get on in the comments.