I just love pizzoccheri. The dish is robust & earthy in taste & feel: a true peasant meal. It's made with buckwheat pasta which is very easy to make or you can buy dried from Italian food stockists.
It's a traditional recipe of the Valtellina in Lombardy, Northern Italy. Classically it's made with the buckwheat pasta layered with chard or savoy cabbage, potatoes and cheese all dressed with a garlic & sage butter.
One of the joys of the dish is its flexibility. You can make it all year round with whatever veg is to hand. It's ideal for using the bits and bobs you might pick from the garden or have in a veg box. This is my interpretation of this classic using a mix of seasonal vegetables from my garden. and I show you how easy it is to make the buckwheat pasta.
Fancy having a go? Read on…
First we'll make the pasta. This quantity made enough for three of us to have a main meal and a generous lunch the next day for two.
Buckwheat pasta recipe
The pasta is made with a mix of buckwheat flour and wheat flour in the ratio 80/20.
Ingredients
400g buckwheat flour (I used Shipton Mill Organic)
100g pasta flour or plain/all purpose flour (I used Doves Farm Organic Pasta Flour)
Water
Method
Mix the flours together in a bowl. Add just sufficient water to form a dough.
Knead the dough on a lightly floured surface until it's smooth and springs back when you press it. It won't go as smooth & silky as a dough made with all wheat flour.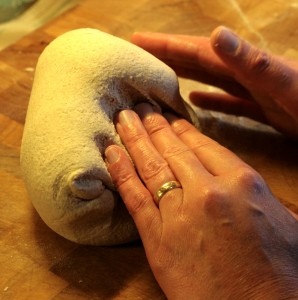 Wrap it in cling film and pop it in the fridge to rest for at least 30 minutes.
Then take it out, cut into chunks and roll it to about 3mm thick. We used our pasta machine on its thickest setting to produce strips about 10cm wide. Put them onto a clean tea towel while you prepare the rest of the dough.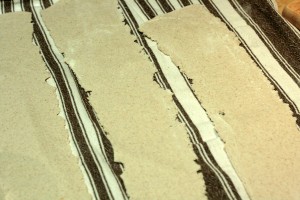 Once you have all your strips prepared, you can then cut them into small strips about 0.5-1cm wide and about 4cm long like short tagliatelle or papardelle. Each one is a pizzocchero.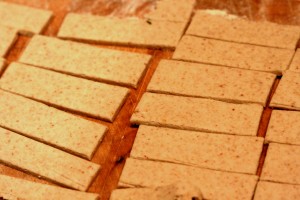 It doesn't really matter too much what the precise size is. Lightly dust the cut pasta with flour and keep to one side in a single layer. We tried to be clever by coating them with flour and piling them up and we had to separate them before cooking. Don't do that.
You can leave them like this while you prepare the rest of the meal.
Pizzoccheri Recipe
There are various methods of cooking this using one or more pans. In my interpretation of the method, I use two pans and differ from the absolutely traditional way of cooking it.
In the traditional method, the potatoes, cabbage & pasta are all cooked in the one pan with the different ingredients being added according to their cooking time. Then the cooked ingredients are layered bit-by-bit with cheese and this is dressed with a garlic/sage butter which has been gently sautéed in another pan.
I wasn't keen on the huge amounts of butter the traditional recipe required in addition to the huge amounts of cheese, so I've varied things as you'll see.
Ingredients
Use what you have to hand according to season and availability. I've used about 1kg of veg in total and this, with the pasta, would easily feed six I think. The basic recipe would just have cabbage or chard with potatoes.
This is my little selection of veg picked from the garden just before I cooked it: super-fresh.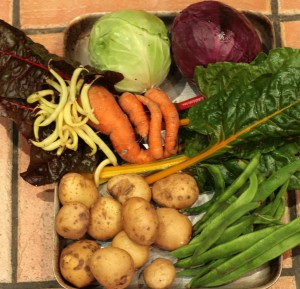 The quantities I used came out like this:
140g chard, shredded
45g french beans, topped
150g carrots, cut into batons or rings
250g potatoes, in 2-3cm chunks
130g white cabbage, shredded
150g red cabbage, shredded
I also used:
A good glug or two of extra virgin olive oil
1 onion, peeled and chopped
3 cloves garlic, sliced
A small bunch of fresh thyme, leaves picked
200g cheddar, grated (you could use Fontina or similar)
75g pecorino romano, finely grated (you could use bitto, parmesan or similar)
Salt & freshly ground black pepper to taste
Flat leaf parsley, roughly chopped to garnish
Method
You will need a large saucepan (bigger than 4 litres), a sauté pan or frying pan and a nice serving dish.
Fill the big saucepan 2/3 full with boiling, salted water.
The pasta and the potatoes should take about the same amount of time to cook, about 12 minutes. If you are using dried pasta, follow the packet instructions and adjust as necessary.
Add the potatoes, carrots and pasta to the pan and bring to a full boil. Stir occasionally so the pasta does not stick.
In your sauté pan add the olive oil over a low-medium heat and sauté the onion & garlic gently so it softens, stirring occasionally. Towards the end of cooking, add the thyme leaves to warm through.
After 6 minutes, add the remaining vegetables to the pan and bring back to a fast simmer.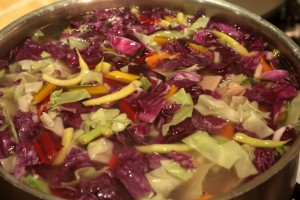 Once everything is cooked to your liking, it's time to assemble the dish.
Using a straining spoon, take out about a third of the pasta/vegetable mix from the pan and put it in a layer in your serving dish.
Add half of your sautéed onion/garlic mix and season with some salt & pepper.
Sprinkle over a third of each of the cheeses.
Take out another third of the pasta/vegetable mix and make another layer with the remaining onions/garlic and a third of each of the cheeses. Season to taste.
Take out the remaining pasta/veg mix and make a final layer. Sprinkle over the remaining cheeses and season to taste. Garnish with the parsley.
Take to the table and tuck in…