This recipe is a delight. It's stunningly quick & simple to cook and moreishly gorgeous to eat. It will provide a quick supper for two or a fantastic dish for entertaining friends.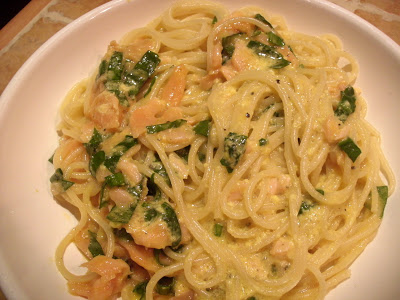 The wild garlic is seasonal, of course. Out of season, you could use garlic chives or chives. Other members of the onion family would work too such as the green tops of baby leeks sliced finely.
I know. This isn't 'authentic' carbonara. I also know there's a cultural difference in the addition of cream to a carbonara. I'm a no cream person (mostly) and there's no cream in this recipe. I think you'll make it too heavy if you use cream and spoil the freshness of all the tastes.
Fancy giving it a try? Read on…
Wild garlic & smoked salmon carbonara recipe
I'm going to give you the ingredients on a per person basis. Just multiply up by the number you are cooking for. The quantities are given in ranges to suit your appetite or what's in the fridge. Obviously, if you're doing this as a starter you might want to adjust down the quantities.
Once the pasta is cooked and drained you'll need to move smartish to get the 'carbonara' into the pan and onto the pasta so it's warmed through without turning into scrambled egg. Be positive & confident and all will be well.
For those of you that like a challenge, or are pressed for time, the other ingredients can be prepared while the pasta cooks. I cook my spaghetti for 8 minutes. I'd say a delicious dinner on the table in under 10 minutes is tasty fast fresh food.
Ingredients
2/3 medium sized (10-15cm long) leaves of wild garlic finely shredded
50-75g smoked salmon, torn into bite-sized pieces
30-50g parmesan or other hard cheese, finely grated
1 egg
Salt & freshly ground pepper, to taste
50-100g dried pasta
Wild garlic flowers to garnish, if available
Method
Put your finely grated parmesan in a bowl. Break your egg(s) into this. Add some pepper to taste. Mix thoroughly so that you form a creamy 'paste' or sauce. Add the wild garlic & smoked salmon to this and fold through gently with a spatula. You'll use the spatula to get the sauce out quickly.
Cook your pasta in a large pan of salted water until al dente. Drain the pasta but leave some water in the pan. This will help cook your sauce with its heat & will help lubricate the 'sauce'. Return the pasta to the pan. Immediately tip in your sauce and mix in with the pasta so the pasta is coated and the sauce thickens slightly. Do a quick check of seasoning and adjust if necessary.
Serve immediately in bowls garnished with your wild garlic flowers if you have them.
Buon appettito!
And please have a look at my Sustainable Foraging Guidelines for tips how to forage responsibly.