When I posted this picture on Twitter, I really wasn't ready for the reaction.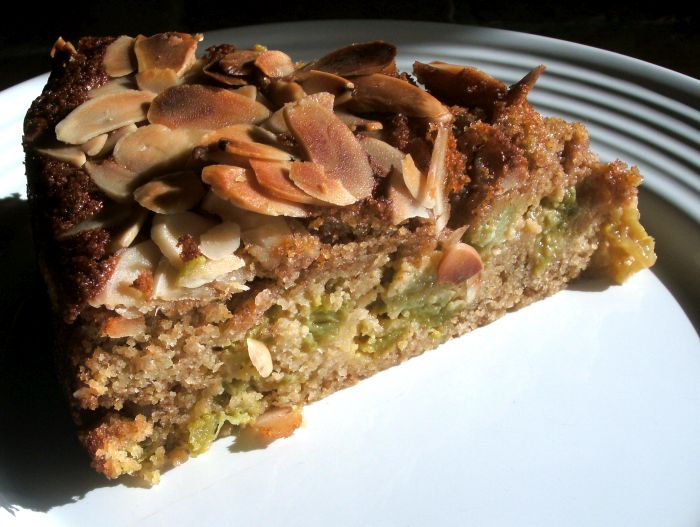 It seemed that the idea and view of such a creation was quite attractive to many people. This made me laugh:
…god that cake looks good. I just licked the laptop screen…
I also had a fair few requests to post the recipe online.
I would love to read the whole thing on your blog, hint hint….
And after I posted this article things got better still.
This from international Chef & author Gregoire Michaud at the prestigious Four Seasons Hotel in Hong Kong:
…you should definitely try Carl's rhubarb and ginger cake – if not THE one, it has to be one of the best recipe of what you can do with rhubarb: awesome!
And this from Sue Daws whose husband 'doesn't like' rhubarb:
Cake was a big hit! OH ate rhubarb and loved it!
Lastly, one (of many more) from Jono Stevens:
OH reckons its 'one of the best cakes I've ever tasted', so you earnt me some brownie points too. 🙂
So here we go, read on for the recipe…
Rhubarb polenta cake recipe
The recipe is based on Nigella Lawson's Rhubarb Cornmeal Cake in How To Be A Domestic Goddess. I've adapted it significantly. We've made the basic cake lots of times, it's definitely a family favourite and a great way to use a seasonal treat in Spring. The slight crunch of the polenta is pleasant with the softness of the rhubarb.
What I wanted to do was to give the recipe some complexity by adding some other ingredients that would complement each other. I think I've succeeded and would welcome feedback from anyone who makes it themselves.
Rhubarb and ginger are a classic combination. In this recipe I use crystallised ginger in chunky dice. This gives small explosions of ginger flavour and the firm texture contrasts nicely with the softness of the rhubarb.
Nigella's recipe includes cinnamon. I added ground cardamom to complement this and to provide a subtle background warmth.
The almonds give added crunch, flavour and interest to the topping. I reduced the sugar, and the final change is to substitute some of the plain flour with a light rye flour. The rye complements the rhubarb with a light nuttiness.
Brought together, these elements are divine.
Here's how to make it…
Ingredients
500g rhubarb (washed & dried, if needed) cut into 5mm slices
250g golden caster sugar
75g crystallised ginger in approximately 5mm dice
100g plain flour
50g light rye flour (mine is from Shiptons Mill, just use plain flour if you can't get this)
1 tsp bicarbonate of soda
Pinch of salt
2 tsp ground cinnamon
1/2 to 1 tsp ground cardamom
155g fine polenta (cornmeal)
2 large free range eggs
1 tsp vanilla extract (I use Nielsen Massey Vanilla Extract from Lakeland. Please don't use Vanilla 'flavouring')
125g unsalted butter, softened
250g natural bio yoghurt
100g flaked almonds
You'll need a 23cm springform tin (or similar) which should be lined bottom & sides with greaseproof paper
Method
Pre-heat your oven to 180°C (356°F), shelf in the middle.
Put the rhubarb in a non-metallic bowl with 100g of the sugar and the crystallised ginger and stir gently. If you can't get the rest of the preparation complete in under 30 mins, do this step later. If you leave longer then the rhubarb will give up too much juice to the sugar.
Sieve the flours, polenta, bicarb, salt, cinnamon and cardamom together into a bowl and stir gently to mix.
Break the eggs into another bowl and add the vanilla extract. Beat this gently.
In a mixer (or by hand if you're feeling strong) cream the rest of the sugar with the butter.
Gradually add the egg/vanilla mixture to the sugar/butter in the mixer, beating gently.
The add alternately a bit of the flour/spice mixture and a bit of yoghurt, beating gently to combine until all is mixed.
Fold in the rhubarb and ginger until evenly mixed.
Pour this into your prepared tin and smooth the top. Sprinkle the flaked almonds evenly over the top.
Bake in the oven for about an hour until springy to the touch and a skewer comes out clean.
About 20 minutes in, you'll probably see the almonds colouring up. When you are happy with the colour, put some foil or greaseproof over the top of the cake to stop the almonds burning.
Once cooked, take the cake out and rest it in the tin on a rack to cool. Once cool enough to handle, unmould the tin and remove the greaseproof paper. Put on your favourite cake plate.
This is glorious just by itself. You could also have it with creme fraiche, custard or similar.
Hope you enjoy, let me know what you think.
Update 2012
I'm so pleased. A year has gone past and loads of people have enjoyed the cake. Many of last year's trailists have returned to the cake. Jono's wife asked for it instead of an Easter egg: a woman with great taste.
I received this picture from the talented & lovely Helen at A Kentish Kitchen.