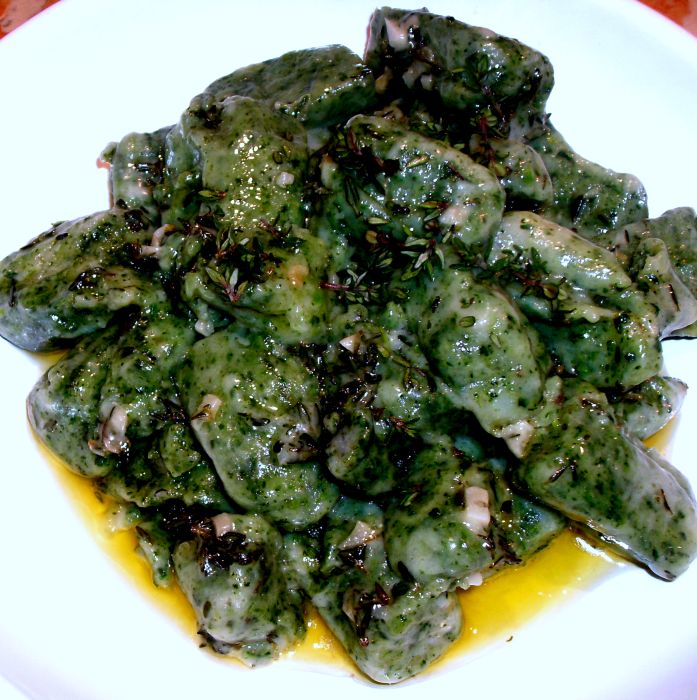 I've been looking for more ways to use this freely available and nutritious vegetable.
This recipe makes a vibrant green gnocchi that's as tasty as it is inexpensive.
If the preparation takes a while, it's more than paid off with the short cooking time.
One of the keys to success with this recipe is to choose and cook your potatoes correctly so you end up with a dry and fluffy mash.
You've got loads of options for sauces to go with the gnocchi. I've given you recipes for a thyme & garlic butter and fresh tomato sauces. The 'classic' Italian accompaniment is a dolcelatte cheese sauce. While the dolcelatte is yummy, I think pairing a heavy cheese sauce with gnocchi that are themselves surprisingly filling isn't always a good idea.
Fancy having a go? Read on…
Nettle gnocchi recipe
Let's talk potatoes first.
First, you need a potato that gives you nice fluffy 'mash' when cooked. So choose some good floury potatoes such as a King Edward or Maris Piper. Any 'new potato' type which is firm when cooked will not mash nicely and won't be any good.
Secondly, you need to cook the potatoes so that they don't absorb lots of water. Don't cut them up small because this increases the surface area open to water). Then, ideally start them off in cold water which  means you'll get less of the very cooked and wet outside layer.
On to the recipe…
Ingredients for serving 4
Gnocchi
200g freshly picked nettle tops, washed
800g floury potatoes, peeled & cut into large lumps
200g plain flour plus some to help with rolling & shaping
1 egg
Whole nutmeg to grate, to taste
salt & pepper to taste
Garlic thyme butter
2-3 cloves garlic finely chopped (you can change the amount to your taste)
Large sprig thyme, picked
75-100g butter
Salt & pepper to taste
Fresh tomato sauce
1-1.5 kg fresh tomatoes (use good ones) skinned, deseeded and chopped roughly
2-3 cloves garlic (or 6-8 leaves of wild garlic) finely chopped
Olive oil
Glass of dry white wine (optional)
Bunch herbs, finely chopped (you could use thyme, tarragon, basil, oregano)
Salt & pepper to taste
Method
For the gnocchi
Cover the potatoes in cold water and bring to the boil. Simmer until tender. If you're saving energy save the cooking water for the nettles.
Mash the potatoes in the pan without anything added and leave with the lid off to allow moisture to evaporate.
Put the nettles in a pan and cover with your potato water (top up with boiling if necessary to cover). Bring to the boil and simmer until just tender. This will take from 3 to 10 minutes depending on the age of the nettles.
Drain the nettles and squeeze out excess water. Place in a blender with the egg and puree the nettles. Alternatively. chop the nettles finely, place in a bowl and beat in the egg.
In a bowl, or on your worktop, mix together the mashed potato and flour until well combined. Then add your nettle/egg puree, salt & pepper and make sure this is well mixed and kneaded to a soft dough.
Now for the fun part…
Take small sections of dough and roll them into a thin sausage about 1-2cm in diameter. Use a little flour on your hands or on the worktop to prevent the dough sticking. Then cut the sausage into 3cm lengths. Roll each little sausage down the prongs of a fork to put little grooves in it. These grooves help to hold more sauce! Place each completed gnocchi on a tea towel sprinkled with flour while you make more gnocchi with the remaining dough.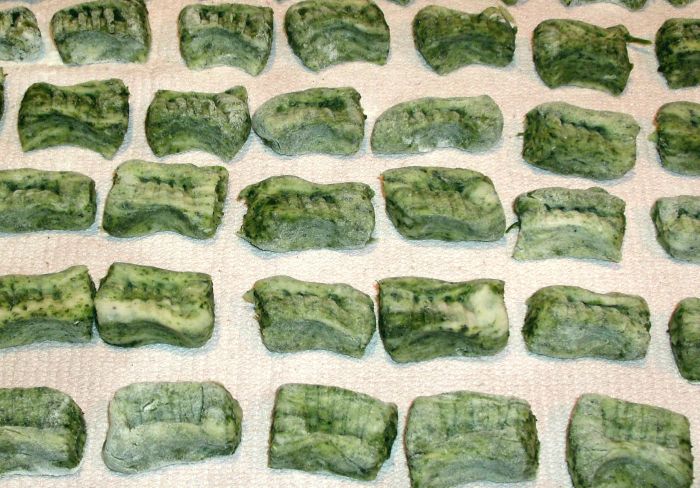 To cook the gnocchi, bring a large pan of salted water up to a rolling boil. Carefully, place your completed gnocchi into the water and keep the heat high. The gnocchi are cooked when they float to the top, this will only take a couple of minutes. Drain and serve with the sauce of your choice.
For the thyme butter
Gently melt your butter over a low heat in a small pan. Add the garlic and picked thyme leaves. Heat very gently. what you are trying to do is to get the oils in the garlic and herbs into the butter. If your heat is too high you'll drive off these volatile oils and may end up making the garlic bitter and your thyme crispy! Season with salt & pepper and pour over your gnocchi. Drizzle over some gorgeous extra virgin olive oil as a final garnish.
For the tomato sauce
Heat a good glug of olive oil in a wide saute or frying pan. Add your garlic (or wild garlic) and heat gently, you're trying to warm it, not fry it (see above).
Add your tomatoes to the pan and stir in the flavoured oil. Add you white wine if you're using it and reduce down. Cook the sauce until the tomatoes reduce down and thicken a little about 30 minutes. Let taste be your guide. Add salt & pepper to taste. Stir through most of your herbs just before you pour over the gnocchi and mix through. Garnish with the remaining herbs.
There you have a great tasting meal with fresh, seasonal ingredients. And you won't have broken the bank on the ingredients.
Buon appetito!
And please have a look at my Sustainable Foraging Guidelines for tips how to forage responsibly.