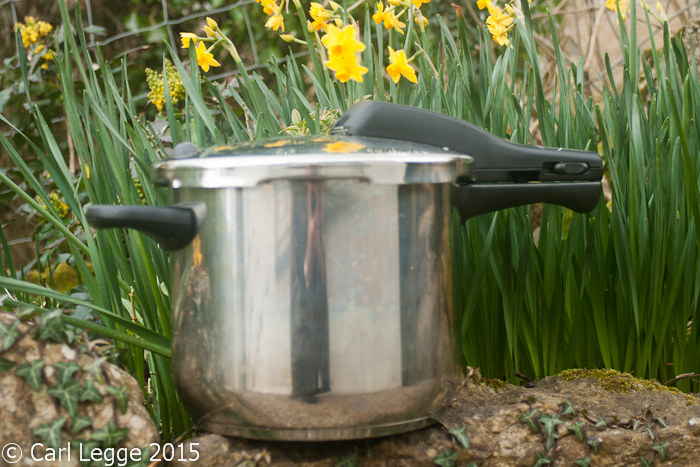 A pressure cooker is an essential item for every kitchen. If I could only have one cooking vessel, it'd be a pressure cooker. They are versatile, easy to use, energy-efficient and help you cook delicious, healthy and quick meals.
I needed wanted a replacement for my old Prestige pressure cooker. And, thanks to a Twitter tip from Catherine Phipps (of whom more later), I saved more than £30 of the cost (£134, RRP £149) by buying from Amazon.de rather than the UK site.
I've had the cooker since November 2014 and I have used it more than once each week since then. I don't like clutter in the kitchen, but this one never gets put away: I use it so often.
Size
I opted for a 6 litre cooker. One of the things to remember with pressure cookers is that you can't fill them to the brim to pressure cook. Depending on what you're cooking, you can only fill them 2/3 or 1/2 full. So my 6 litre cooker has a maximum ingredients volume of 4 litres. I find this is just right for the 2 or 3 of us. It's ideal to cook a meal or dish that will last for multiple days.
One of the good things about this cooker is that you can buy different sized pans in this range to increase your options should you so wish. The lid and handle assembly are universal.
Why a new cooker?
I wanted to replace my old (20 years+) Prestige pressure cooker. Despite changing sealing rings and release valves it was difficult to get up to pressure, lost a lot of steam while cooking and was noisy. As a consequence of the sound and fury, it required more energy (higher gas) to keep at pressure and so had become relatively inefficient. To be honest, I'm not sure why it should have deteriorated. The physics and engineering of a cooker are very simple and there's not much to go wrong. I can only assume that the quality of the spares were not as good as the originals. The pan is still good, so it'll keep its place in my kitchen.
Why WMF?
Mainly on the advice of Catherine and other experienced users and a thorough research of online reviews. Partly because it fitted my budget: it's not the cheapest on the market, but it is a relatively high quality for the price.
I was also impressed with the excellent design of the lid and pressure control handle. The handle clips on/off the lid easily to clean and reassemble.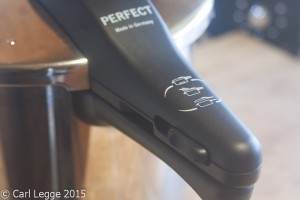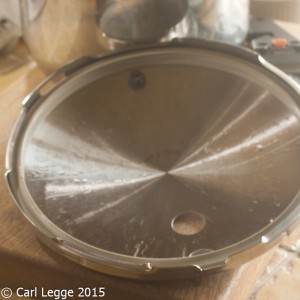 The pressure indication is graduated (low/high) and very easy to see. The locking mechanism is failsafe and has a neat fast pressure release that means the steam vents away from you. No more lifting hot weights with tongs or gloves. (You can also fast pressure release by dousing it with cold water as with other cookers.)
Spares
There are spare parts easily available for the cooker. They're not cheap and I suspect all manufacturers make a healthy margin on spares. What will be interesting for me to see is how the sealing on the underside of the handle holds up over time.
It looks like silicone to me, so will withstand the heat: I wonder how it will age. I'd welcome views from any longer term WMF user in the comments about this.
The cooker doesn't come with trivet or other inserts as standard which wasn't a draw back for me. They're not essential and Catherine's book (see below) has excellent tips how to improvise with standard kitchen kit.
Silent
I'm really impressed with the cooker in use. It comes to pressure without fuss and the indicator is very clear. Once at pressure, I can put it on my smallest gas ring at its lowest setting to keep up pressure. And – it's almost silent! Which means less energy use, less steam in the kitchen and I can hold a conversation while it does its stuff.
Recipes
I use the pressure cooker for all sorts of things. Ragùs, stews, whole & jointed chicken and other poultry, risottos and pilafs, pasta, stocks, pulses (super quick cooking), grains, octopus…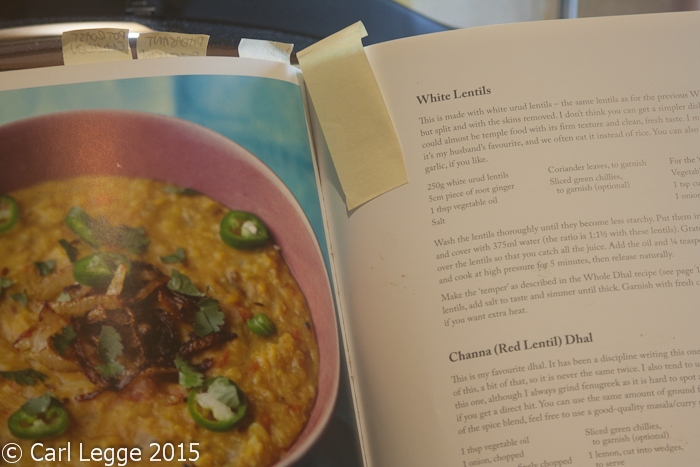 Safety
You can't bring the cooker to pressure without:
the sealing ring being properly located
the sliding indicator on the handle being in the locked position
And you can't open the cooker until the sliding indicator is moved to the open position AND all the pressure is released.
If you do forget to turn down the temperature on the cooker once it's up to pressure, it 'honks' at you to warn you. See and hear…
And if you left it still further, the pressure release valve would vent.
So no nasty surprises or explosions 🙂
Pressure Cooker Cookbook
I've been a pressure cooker fan for more than 25 years and have some lovely old pressure cooker books. I was delighted when Catherine Phipps published The Pressure Cooker Cookbook in 2012.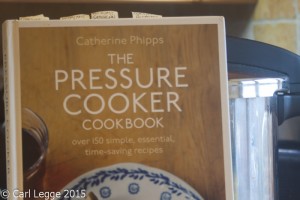 It's a fresh, modern and no-faff book. It's well researched, covers the 'how-tos' of pressure cooking very well and has a wide repertoire of pressure cooker recipes. I strongly recommend it for pressure cooker novices and old hands alike.