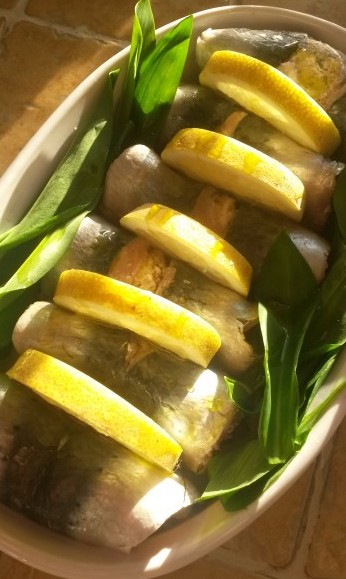 Stuffed sardines recipe
These sardines just melt in the mouth with a burst of herby flavour. They are a doddle to prepare and only take 10 minutes to cook. They are ideal as antipasto, as part of a buffet or a main fish course.
I developed the stuffing from ingredients I had left over from the foraging workshop I did locally. So it was a real case of the available ingredients driving the recipe.
In Italian 'beccafico' means 'fig pecker' a name for small, sweet plump birds. The dish is meant to mimic the taste of these birds. The stuffing is traditionally made with pine nuts, currants, anchovies, parsley, bread crumbs and lemon/orange juice and garnished with bay leaves. The fish tails are left to poke up out of the dish to simulate the perky birds' tail feathers.
This quantity would serve 4 as antipasto.
Ingredients
8 plump sardines
150ml fresh ricotta (see here how to make your own)
50g of dried breadcrumbs
handful of wild garlic leaves, finely chopped
large sprig of fresh thyme, leaves picked
1 lemon zest finely grated
1 lemon, sliced
sea salt & freshly ground black pepper to taste
extra virgin olive oil
Method
Pre-heat an oven to 180°C (350°F).
If it's not already been done, cut off the head of the sardines and gut them. Wash & gently dry them.
Cut from the gut to the tail to make it easy to butterfly bone the fish. If you fancy, cut or snip out the dorsal fin and cut off the tail. Put the fish belly down on a board so that the back is uppermost. Press down firmly on the length of the backbone and feel it separate from the flesh. Turn the fish over and remove the backbone and rib bones, with luck they will come out as one. Use a small knife to help you if you need to.
Mix the remaining ingredients apart from the extra virgin olive oil together so it makes a thick paste.
Divide the paste evenly across each of the sardines. Roll up the sardines. If you want to mimic the birds' tail feathers roll from the wide end first: otherwise it's easier to roll from the tail end.
Put the fish tightly in a baking dish so they don't unroll and put a slice of lemon between each. Drizzle over some extra virgin olive oil.
Bake in the pre-heated oven for 10 minutes.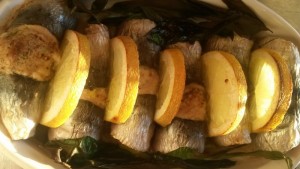 The fish can be eaten warm, I prefer them at room temperature.
Buon appetito!