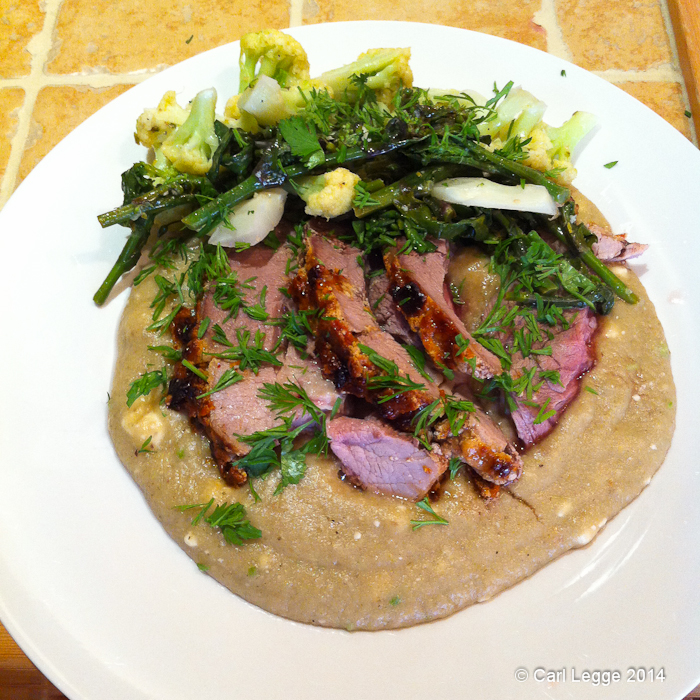 One of the easiest ways you can make your meal planning easier, cook more frugally and seasonally is to make a major ingredient go further. Here I show you how I used a £20 joint of local Welsh lamb leg to make three different meals for the three of us.
I've cooked a lot of Diana Henry lately. Well, not literally. But I've used her new book A Change of Appetite and her 2002 book Crazy Water Pickled Lemons as inspirations. I'm going to review A Change of Appetite in detail soon. Suffice to say, it's bold, imaginative and may change your views about what to cook and eat.
Roast Ottoman Lamb with Sultan's Pleasure
Diana has a fab recipe for Ottoman Lamb with Sultan's Pleasure. This appears here in The Telegraph.
I cooked the dish as per the recipe except I used dry sherry for the red wine (it's what I had to hand). Also, I didn't drain off the marinade which was delightfully thick as I made it with full fat Greek yoghurt. I couldn't bear to throw it with all those lovely flavours in.
I served the dish with wholemeal roti (like chapatis or tortilla wraps – I  made a dozen from my recipe in The Permaculture Kitchen) and fresh Nine Star perennial cauliflower with kale shoots from the garden dressed in a thick anchovy vinaigrette. It was scrummy and felt very decadent. As you can see from the pic above, I served the lamb  slightly pink.
Pulled lamb wraps with sauteed veg
The next day, I had the lamb, six roti, some of the Sultan's Delight and half the cauliflower (uncooked) left over. I popped the lamb in the oven for another three hours on a low heat, covered with some water in the pan. It cooked so it was falling apart. I sautéed the cauliflower florets with some purple sprouting broccoli and red onion strips.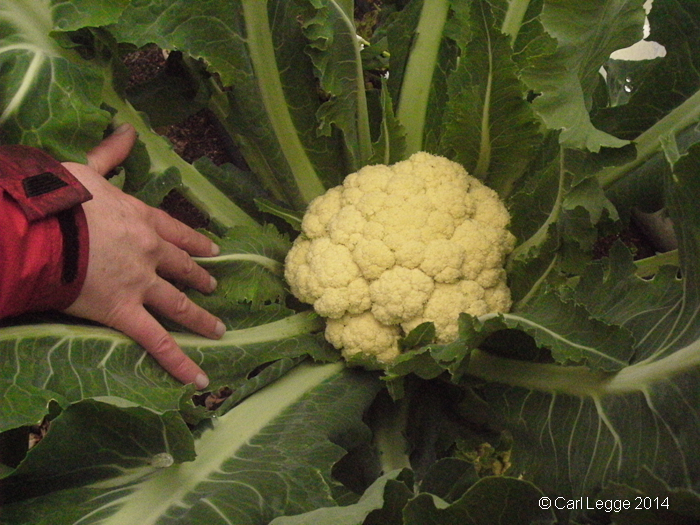 I shredded the lamb and mixed it with some of the roasting juices, and gently reheated the Sultan's Delight. I blitzed the roti in the microwave for a couple of minutes. We then made up wraps with the shredded lamb on a bed of 'Delight' with the veg on the side. So, so good. We all wanted more, but had no more room. I'd not wasted any ingredients and the meal was ready in a trice.
So now I just had some of the shredded lamb in its juices left.
Lamb with pak choy, flowers and brown rice
I picked some pak choy that was going to flower from the garden along with some turnip tops in the same condition. So I had flowers and some big leaves. I cut the ribs from the pak choy leaves and cut these into chunks. I shredded a couple of carrots and put these with the ribs. I roughly shredded the leaves and put these to one side with the flower tops.
I cooked some wholemeal basmati rice.
I stir fried the carrot shreds with the pak choy ribs, then added the lamb & juices and brought this to a simmer. Then I added the leaves and flowers and covered the pan. I covered this to simmer & steam the leaves and flowers.
I then served the lamb and veg mix on top of the wholemeal rice. Another very quick and frugal meal which was healthy and seasonal.
While you may not have precisely the ingredients I have to hand, I hope this shows how you can use a major ingredient with a little imagination to make the best use of it. Also how you can prepare these follow-on meals quickly to save time in a busy week. And finally, how seasonal veg make a key contribution to your diet.
Would you like to see more of my multi-day meals? Do you have favourites of your own? Please let me know in the comments.