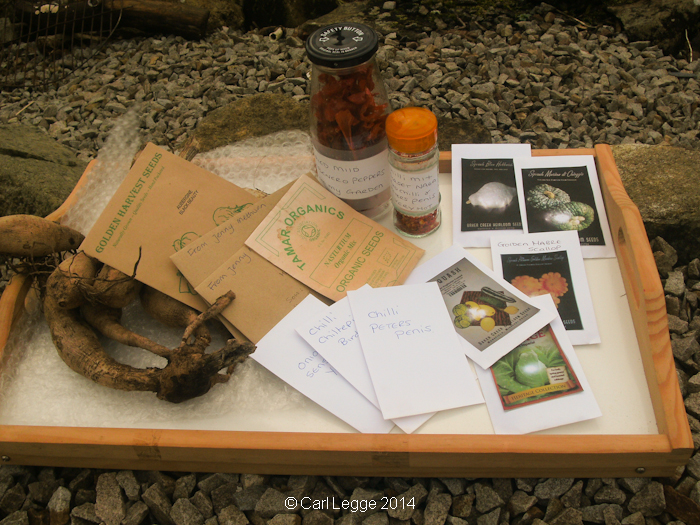 Our Seedy Penpals exchange has got off to a grand start this year. I received this very thoughtful & generous parcel above from Lorraine last week.
Squash seeds
Lorraine sent us four different squash varieties from US seed supplier Baker Creek Heirloom Seed Co.
Pattison Golden Mabre Scallop (summer squash)
Gelber Englischer Custard (summer squash)
Marina Di Chioggia (winter squash)
Blue Hubbard (winter squash)
We've been perennial squash growers here with mixed success. We'll make a concerted effort with these to keep them very well fed and watered and hope the summer weather is kind to us.
Aubergine & Chillies
We love growing different chilli varieties and Lorraine sent us two we haven't tried before:
Plus aubergine Black Beauty that Lorraine had over-ordered. We've had limited success with aubergine here with bad summers. When we lived down south, we had good crops – so fingers crossed.
We've just acquired a load of sash windows from a local friend (via Twitter) who is having them replaced. We'll use these to build a super cold frame to house these gems. Hopefully the aubergines will be especially happy with them. More of this in later posts.
Brassicas
Lorraine sent us:
Cabbage: heritage variety Wheelers Imperial
Mustard – giant red
Mustard – komatsuna
Nasturtium – organic mixed, for companion planting.
It'll be interesting to try the cabbage which we can grow for spring greens and hearts.

We're big fans of mustards. We grow them over winter in our big polytunnel where they produce leaves for salads and cooked veg over the winter and great shoots in the spring. The different colours and leaf shapes add welcome variety in the dark days. The mustard seeds she sent are some passed on from her earlier seedy penpal Jenny – so the connection continues.
The nasturtiums are always welcome. Apart from being great companion and bee plants they're a great edible too. The leaves, flowers and flower buds and seed pods are all edible and delightfully peppery. So we'll be munching on those for sure and I'll post some recipes for them during the year.
Onion & dahlias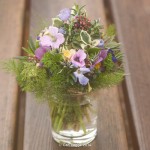 Lorraine sent us some Senshyu Yellow seeds. These are an overwintering Japanese type for autumn sowing. This is brilliant, as we've decided to do all our onions this way and to concentrate on varieties that we can't buy or are more expensive to get.
And to help with our plans to have more perennial flowers for cutting and using in Debs' tussie mussies, Lorraine sent us some great dahlia tubers. We'll have to be patient until we can see what colours we have. I'm instructed that I'm not allowed to eat them 🙁
Ingredients
Lastly, as Lorraine is well aware of my culinary proclivities, we're the lucky recipients of two lots of dried chillies from Lorraine's own garden. They smell great and I'm keen to use them soon.
All round a really great Seedy Penpal package. To see Lorraine's side of the story, see her Slow January blog post.