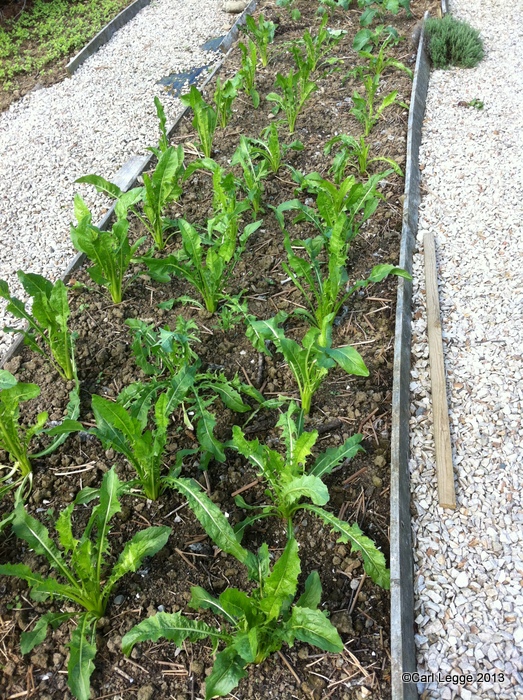 How to grow Puntarelle
In my last blog post, I showed you how to use this versatile vegetable. As promised, I'll tell you how to grow them in this post.
We found these very easy to grow last year even with all the rain and lack of sun.
If you'd like me to show you how to grow them,  please read on…

Puntarelle seeds & stockists
First thing to do is get hold of some seeds.
I was very lucky, my Italian friend & food mentor Carla Tomasi sent me a packet in one of her celebrated parcels from Rome.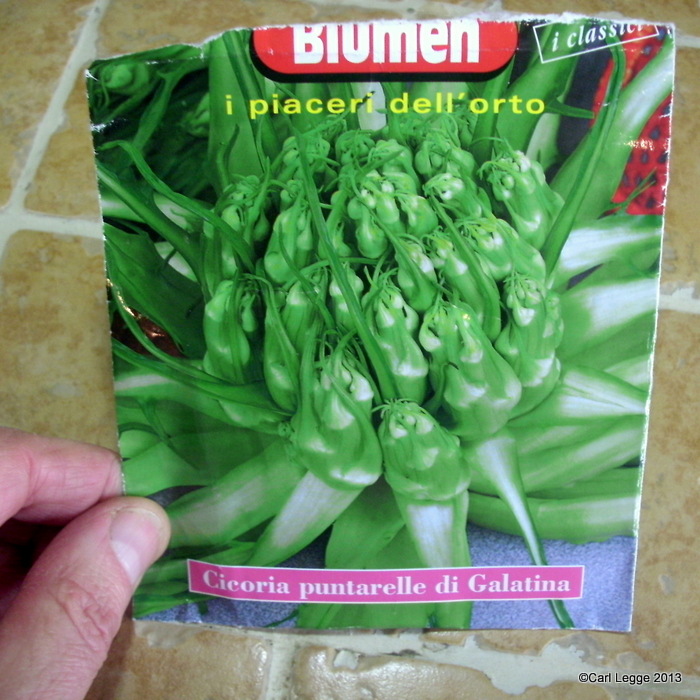 In the UK, Paolo at Seeds of Italy sells a variety by Franchi Cicoria Catalogna Puntarelle di Brindisi.
I haven't been able to source them anywhere else in the UK. If you know of a stockist in the UK or anywhere else worldwide, let me know in the comments and I'll edit this post to include the links.
In the USA, Franchi seeds are sold by Seeds from Italy so this is the same Puntarelle di Brindisi.
In Australian, Franchi puntarelle seeds are sold by The Italian Gardener.
The horticultural information from the seed companies is not consistent. The instructions on the Blumen web site are different to those on the reverse of their own packet, and these are different to the Seeds of Italy instructions.  These are my recommendations based on only the one year's experience. We have a relatively benign climate on the Llŷn Peninsula and we're at 52° North latitude. So you may need to adjust details depending on your location and its climate.
Site
Well drained and fertile soil in sun or partial shade for part of the day. We put them in soil that had just been cleared from our potato harvest. We'd prepared this with a mulch of young bracken covered with home-made compost. So the soil was in good heart.
Temperatures
Ideal temperature is around 15°C, Blumen say they will grow down to 5°C. We found they didn't really like temperatures below freezing as the shoots were damaged.
Sowing
Sow between June and early September. Our late September sowings didn't produce shoots. These are an autumn/winter crop so I see no reason to sow them earlier in the year as there should be plenty of other good veg available. When we grow this year, we'll make more successional sowings over this period to spread the maturity of the plants better.
We sowed in modules with 2/3 seeds in each and then thinned to the strongest seedling. Of course, you can sow them directly into the ground. We don't do this to avoid losses due to slugs and snails.
Transplant
Once the seedlings were about 7-10cm tall we transplanted to about 30cm each way. Then just keep them weed free and well watered.
The picture at the top of the post shows them about a month or so after sowing:
Problems
We didn't have any major problems. The small slugs & snails seemed to like the ribs of the leaves and the shoots. The damage from them wasn't extensive, they just need looking out for when you prepare the vegetable. The shoots can rot from the inside out. I think this was from allowing them to stand too long once ready (hence the better succession sowing); or perhaps just the awful wet weather. The inside of the shoots is 'ribbed' and this can turn brown and start to rot.
Harvest
The plants take about two months or so to mature. You can harvest the shoots from about 5cm to 20cm tall. So we harvested from mid-September onwards. Depending on your frosts and how you succession sow, you could easily harvest them into the next year. I took leaves in December but the shoots were past their best by then.   I did try leaving the stumps of the cut vegetable in the ground to re-shoot (see more about my habits this way here). The early ones did re-shoot, but didn't produce anything of real culinary use.
Once you've grown them, just prepare, cook and eat. Buon appetito!