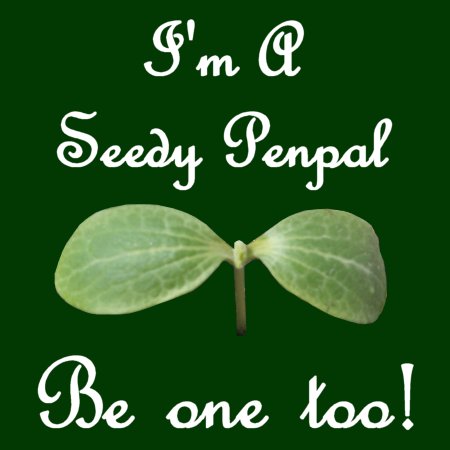 As many people found in August 2012, Seedy Penpals is a great way to share seeds with like-minded people. We all like to send and receive surprise treats: with Seedy Penpals you get to grow them too (and eat some). Follow the links at the bottom of that post to see the fun other people had.
Now it's nearly time for the February 2013 exchange. If you already know about the scheme and just want to sign up, visit the 'How it Works' page and use the form that's there.
If you took part in last year's Scheme, I'll email you to ask you to confirm that you want to take part in this exchange. Please look out for my email, or let me know you want to carry on by Tweeting  me. If your email address has changed since last time, please get in touch with me on Twitter or using the contact form on this website. Thanks 🙂
For those of you that are new to this, here's a brief explanation…
Seedy Penpals is also a great way to
Meet and make new friends who share your interest in gardening
Find new blogs you may like
Share your experience of different plants and how to grow & care for them
Increase your knowledge about how to grow & care for plants
Save & share your favourite varieties
Protect plant biodiversity
Conserve and promote heritage varieties of plants
Make sure your surplus seeds are not wasted
Who can join?
Anyone who would like to join is welcome. You can be:
a complete beginner, or
someone who knows they have green fingers
young, or
more 'mature'
We'd like to see:
bloggers or non-bloggers
Tweeters or non-Tweeters
UK & other EU residents only (due to seed export restrictions)
All you need to do is to read this about How it Works, fill in the form that's there and sign up. Please read How it Works carefully, so you can be sure that you can participate in this way.
So what happens?
You read the Agreement and sign up
You encourage your friends to join too
In late January and late July of each year we match you up with a Seedy Penpal & email you
Penpal A will send to Penpal B, Penpal B will send to Penpal C (so it's not a swap)
You get in touch with your Seedy Penpal to find out their postal address and any preferences they may have
In February and August you select and send to your Seedy Penpal some thoughtfully chosen seeds and any tips and instructions for sowing and care
You open your Seedy Packet and rejoice at your good fortune, sow what you like. Tweet your joy if you do that thing!
If you can, blog about your Seedy Packet and how your seeds are doing in the coming weeks and months. You put your link on the Seedy Blog so we can all see it. Add the Seedy Penpals Badges to your site.
Let us have some feedback about what went well and less well and give us suggestions for improvement
Look forward to the next Seedy Packet and encourage your friends to join.
So now, sign up…