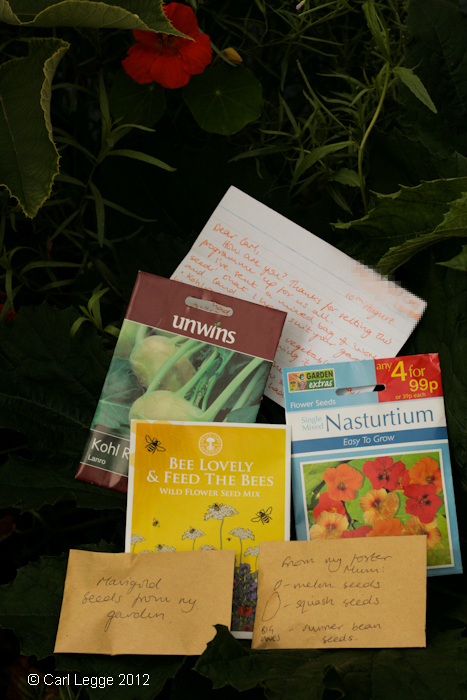 Seedy Penpals is go
Our inaugural Seedy Penpals exchange appears to have been a great success. We had over 40 people join in and I've seen some truly great Seedy Packets. What's more new friendships have been forged and a new online community is born. Very many thanks to all of you who contributed, helped and joined in.
There have been a few glitches and Mel & I are learning from the things that didn't go quite right. I think the most difficulties arose from Penpals not communicating with each other, or from misinterpretations of communications. From my point of view, the best exchanges occured where Penpals emailed/tweeted well & often to keep each other up to date and clarify things. Hardly surprising from a 'Penpals' scheme you'd think…
So well done everybody, we'll link to your blogs below and then link up monthly progress reports with forthcoming Seedy Cuttings.
My Seedy Packet
At the top of this post is a picture of my brilliant and thoughtful Seedy Packet from Lucy at Offally Good (worth a visit).
Lucy's choice was prescient for a number of reasons.
Bee things
Lucy sent me some Bee things: some seeds for a bee friendly garden, a booklet from Neal's Yard about the Save the Bee campaign and a test pot of gorgeous Neal's Yard honey hand cream. Now this is prescient because we're developing a 250 square metre part of our land to host some bees in Top Bar Hives. I'll blog more about this in the coming weeks. What's more, we'd made some of our own Calendula Salve. The little honey hand cream has inspired us to have a go at making our own and some honey lip balm too. More of this later…
Healing Marigolds
It'll be (no puns here – Ed) obvious then, that the marigold seeds from Lucy's own garden would be very welcome. We'll grow these next year and make some more balm from them: OffallyGood Balm anyone?
Mum's seeds to cherish
We certainly think that the seeds saved from penpals gardens are the most touching to receive. It's like getting a piece of someone's life that they cherish & want others to share. So it was really touching for Lucy to have included some seeds from Lucy's Mum's garden in Lincolnshire. There are seeds for melon, squash & runner beans. We will look after them like our own and hopefully have seeds to pass on to others next year.
Kohlrabi
Lucy said that she'd not had a lot of luck growing kohlrabi even though she really likes it. Well we love it too: raw, cooked or fermented. And we've had success with purple varieties in the past, so some white kohlrabi will go down very well here.
Nasturtiums
Another great choice. We love them for their colour, the way they attract bees & other pollinating insects and because they are super edible. The flowers, leaves & seeds are all lovely & peppery. I've just made some nasturtium 'capers' too. So these new ones to us will give us some welcome variety and colour.
All-in-all it's obvious we're delighted with our Seedy Packet. Our heartfelt thanks to Lucy. I'll keep you up to date with progress through Seedy Cuttings.
You can add a link to your Seedy Penpals blog posts using the form below. The form will be live from the 31st August 2012.