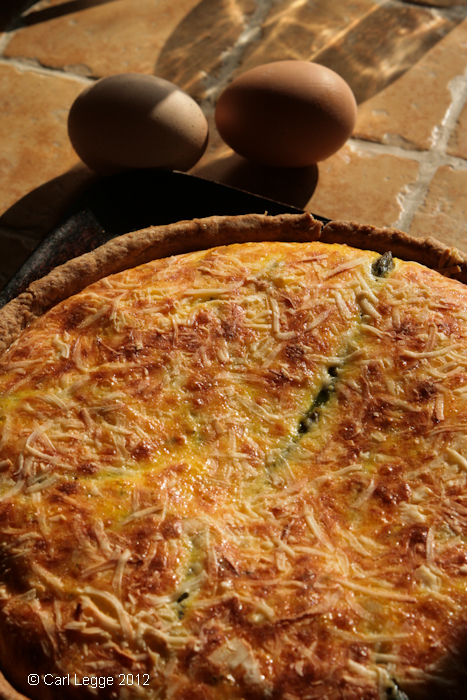 People have enjoyed the luxurious taste of asparagus for millennia. The Ancient Egyptians ate it. And it appeared in The Roman Cookery of Apicius in the late 4th & early 5th Century CE.
Asparagus seasonal right now but only for a short period. Also in season is the wonderfully aromatic, anise flavoured french tarragon. As with many things that are seasonal at the same time, these two ingredients make perfect partners. We grow both of these ingredients on the smallholding, so I had a 'free' meal in the making when paired with eggs from our chickens.
In this recipe I complemented these ingredients with some wonderfully sweet and full tasting, 24 month's old, piave cheese. This is a cow's milk cheese from a small area in Italy with the same name. I was lucky enough to receive some from my Twitter friend in Rome, Carla Tomasi.
The finished tart tasted really smooth, rich and special. The fragrance of the shoots, herb and cheese was subtle: our senses were gently stroked. We had the tart with new potatoes lightly dressed in wild garlic mayo and steamed brassica shoots the first day; and with lemony cous-cous and tarragon marinated tomato salad the next.
If you'd like to know how to make this tart and see some tips for how to grow your own asparagus, please read on…
Asparagus, tarragon and piave tart recipe
I found a suitable recipe that I could adapt on the Good Food Channel.
I made my own shortcrust pastry using 50/50 spelt & plain white flour. When I blind baked the case, I painted it with some beaten egg after the first bake before I put it back in the oven to brown. This helps to seal the base.
I left out the shallot, used french tarragon instead of the parsley and piave instead of the gruyere. You could use parmesan, pecorino, gruyere or well matured cheddar cheese or vegetarian/vegan alternatives.
I had about a dozen shoots of asparagus, from 1cm thick to matchstick thin. So I blanched the bigger bits first for 4 minutes in total and then added the little bits for 2 minutes at the end.
That's it. A very simple dish that you could use as a posh dinner party piece or even make in individual tartlets as a starter with a pretty garnish.
Tips to grow asparagus
You need to think for the long term and be patient if you grow asparagus. Specially if you grow it from seed.
We planted out these crowns in March 2011 and we're taking our first shoots this year, 2012.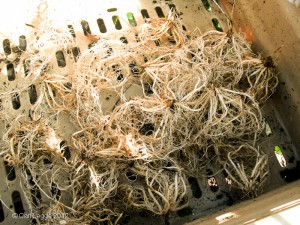 They are the variety Martha Washington. We sowed them and then repotted them each year. Before we planted them we washed off all the soil & compost so that we could lay the crowns out evenly.
The crowns were placed in a trench on a ridge of well rotted compost. The compost helps to give them a good feed and the ridge also helps a bit with drainage to avoid the crown rotting.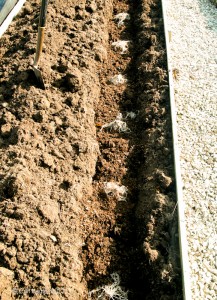 We covered over the crowns and then did our best to keep them weed free. The plants do not fare well if they have a lot of competition, so you'll need to weed and/or mulch well.
We're harvesting now and, this first year, we'll stop harvesting at the end of the month. This gives the plants a chance to replenish their energy and build up bigger and better roots to feed and grow well for next year's harvest. Once the asparagus fronds turn yellow in late summer/early autumn, we'll cut them down to a few inches above ground level and give the plants a good mulch of well rotted compost. Then we wait… for the next delicious harvest: hopefully even more productive thatn the last.