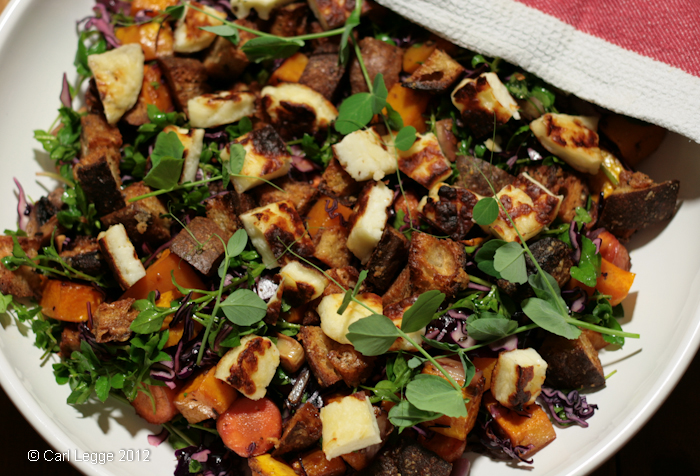 If you make or use much good bread, you'll have bits left over that are a shame to waste. Sourdough is great for this because it lasts without going mouldy much longer than yeasted bread. So you can collect a little stash. The bread needs to be a few days old and dry or drying.
Many people know about the summer panzanella made with juicy & fragrant tomatoes. For this winter salad, I made the bread into crispy parmesan croutons and added some raw and roasted vegetables to make a big, punchy & pretty salad for a main meal.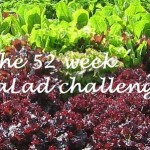 I was asked on twitter if it's filling enough for hearty appetites. Well this made enough for three hungry gluttons with some left over for a lunch the next day.
This is an ideal way to continue to have salad through the darker parts of the year. It's another contribution from me to the 52 Week Salad Challenge.
It's a very simple recipe, read on to find out more…
Winter bread salad recipe – panzanella
Ingredients
Croutons
300g old bread roughly broken into bite-sized pieces
Extra virgin olive oil
A small handful of freshly grated parmesan cheese or other hard cheese
Sea salt and ground black pepper to taste
Roast vegetables
500g or so butternut squash or other winter squash or pumpkin, peeled
2 medium carrots, scrubbed, topped & tailed
6 or more cloves garlic, peeled and left whole or cut into chunks
1 or more red onion, peeled
Big handful mushrooms
Extra virgin olive oil
Red wine vinegar
A large pinch of chilli flakes
1 tbsp crushed coriander seeds
1 tbsp fennel seeds
1 tsp sea salt flakes
A good grind of black pepper
More
A big handful of winter salad leaves, cultivated or foraged, torn or shredded. I used chickweed
A quarter of a red cabbage, shredded finely
125g grilled halloumi cut into chunks.
Some pea shoots or fresh herbs to garnish
Dressing
Red wine vinegar
Extra virgin olive oil
Sea salt and freshly ground black pepper
Method
Pre-heat your oven to 180-200°C.
Pop the bread chunks into a bowl and pour over some of your olive oil, throw in the grated parmesan and season with a little salt & pepper. Mix well so the croutons are well coated. Add some more olive oil if you need it to coat the cubes well.
Cut the squash and carrots into bite sized pieces. Cut the onions into narrow wedges.
Pop the squash, carrots, garlic and mushrooms into a bowl. Glug over some olive oil and vinegar. Sprinkle over the chilli flakes and crushed seeds. Mix well so that the vegetables are well covered. Tip these vegetables onto a solid roasting tray and place in the oven for 20-40 minutes until the vegetables are just tender to the point of a knife.
Take out the roasted vegetables and put them to one side. Pop the croutons in the oven for 20 minutes or so until they are brown and crispy. You can turn off the oven after 10 minutes or so and let them cook in the residual heat of the oven.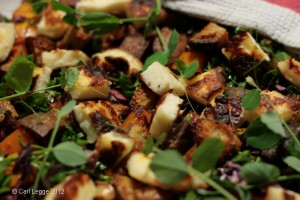 Combine the roasted vegetables, croutons, salad leaves and shredded cabbage in a big bowl or server. Mix well and sprinkle over some red wine vinegar (about 30ml or to taste), glug over some olive oil to coat (and not drown) the ingredients. Season to taste with sea salt & freshly ground black pepper. Garnish with the halloumi chunks and pea shoots.
Serve and enjoy your feast.
Variations
There are lots of options you could include in this salad, it really is very flexible.
You can use all sorts of winter or spring salad leaves, cultivated or foraged, torn or shredded; for example radicchio, endive, bittercress, winter lettuce.
Winter greens, such as kale, cavolo nero or Brussels spouts shredded finely
Other root vegetables, shredded, grated or roasted chunks such as beets, parsnips or turnips
Fresh seasonal fruit such as apples, cut into bite sized pieces
Preserved summer harvest, rehydrated where needed: such as dried tomatoes, dried fruits, peppers, artichokes
Blanched broad or French beans
Capers, or nasturtium capers roughly chopped
You might also enjoy: