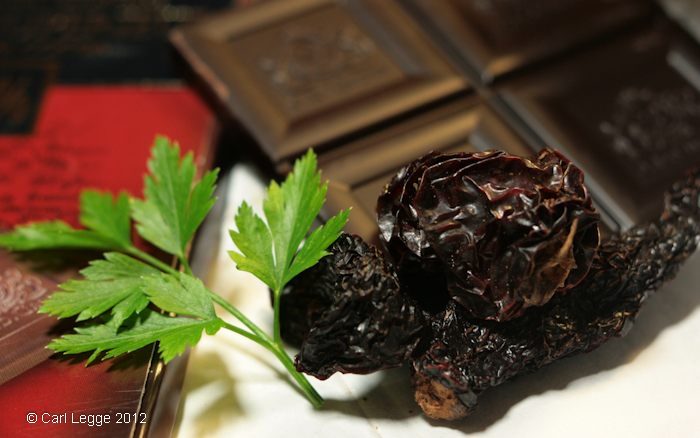 Chillies and chocolate are a classic combination. The spicy warmth & smokiness of the chilli combine perfectly with the rich, smooth depth of the chocolate.
I was prompted to develop a recipe by Choclette's February I Should Cocoa Challenge. The challenge was to use chocolate in a savoury vegetarian recipe. I'd previously done a Challenge in April last year in producing my Hidden Hearts muffins.
I had some wonderfully fragrant chipotle chillies which are mexican smoked jalapenos that I wanted to use.
The resulting chilli is rich, slightly fiery and smooth. The beans & grains provide substance. It's a pretty frugal meal too that you can make loads of and freeze or can the leftovers for later. I served this with some brilliant yellow corn bread.
If you'd like to know what I did, please read on…
Vegetarian Chilli with Chocolate Recipe
You can use whatever vegetables and pulses you like for this recipe. This quantity makes about 10-12 portions depending on appetites.
Do make sure you use cooked or canned beans to go into the vegetable base. The acid in the tomatoes you use will harden the skin of the beans. This is why I bet you've had chillies in the past with kidney beans like bullets.
When you prepare the dried beans, you'll end up with about twice as much cooked weight to dry weight. This may help if you're scaling the recipe and using canned beans.
The burghul wheat adds a lovely texture to the meal.
The quantities and specific vegetables and beans are a guide only. Feel free to use what you have that is available.
I cooked the main part of the dish in a six litre casserole. A big saucepan would also be good.
Ingredients
200g black turtle beans, well soaked (preferably overnight)
250g adzuki beans, well soaked (preferably overnight)
A stick of celery
Half an onion, peeled and cut in three
2 and the other half an onion, peeled
30g root ginger, peeled
6 cloves garlic, peeled (or quantity to taste)
2 chipotle chillies (or quantity to taste)
Vegetable oil
2 large carrots, scrubbed or peeled
2 sticks celery, washed
1 red pepper
1 green pepper
1 tsp turmeric
1 tsp ground cardamom
2 tsp ground cumin
2 tbsp ground coriander
2 x 400g tins good quality chopped tomatoes
2 tbsp concentrated tomato puree
100g burghul wheat
Juice of 1-2 limes (to taste)
75g 80% + plain dark chocolate, broken into chunks
Fresh coriander leaves to garnish
Natural yoghurt or crème fraîche to garnish
Method
First cook your beans. I find that most of the guides on the packets are rubbish. In the case of the ones I cooked for this, the black turtle beans took 10 minutes less than the packet instructions and the adzuki 10 minutes more. I cooked them in separate pans for that reason. Add some of the celery stick and half onion to each pan. Don't add any salt, it will only harden the beans. Just cover with cold water and bring to a simmer and cover. Top up the water if you need to, they cook better if not in loads of water. Check to see when they are cooked. Then drain and refresh them in cold water to stop them cooking.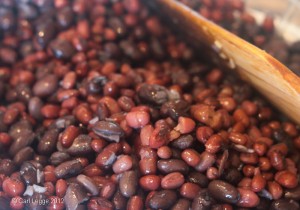 While you cook the beans, finely chop the onion, garlic, ginger and chillies. I also finely chop the stalks only of the fresh coriander. Heat some oil in the casserole and add these finely chopped vegetables and herbs. Saute these over a medium heat for a minute or so and then cover and turn down the heat to low. Cook until the onion is nice and soft, about 5 minutes.
Chop the carrots, celery and peppers into small dice. Add to the casserole, stir round in the oil and juices. Cover and sauté over a low heat for about 10 minutes.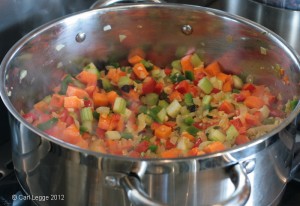 Add the spices and fry over a medium heat for a couple of minutes.  Add the tinned tomatoes and tomato purée and stir well.
Add the cooked beans and burghul wheat. Top up with water so the beans are just covered and stir well. Bring to a boil and then simmer over a low heat.
Cook stirring occasionally for anywhere from 20-40 minutes until the flavours combine nicely and you are happy with the texture of the beans and vegetables.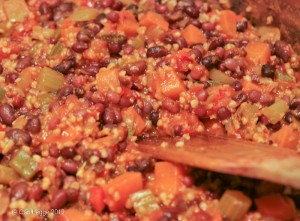 Season to taste with lime juice and salt.
Sprinkle the chocolate on top of the chilli and stir it until it's all melted and thoroughly combined.
Serve garnished with chopped coriander leaves and a blob or artistic swirl of yoghurt or crème fraîche.