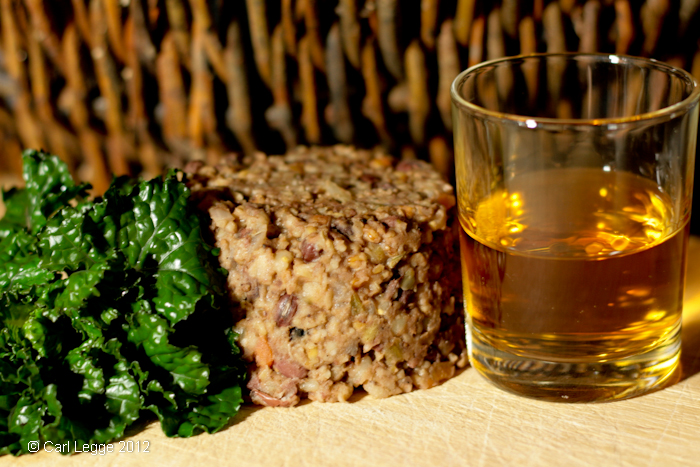 When I tweeted the meat version haggis recipe, I was asked on twitter whether I had a recipe for a vegetarian haggis. I did not and said that I would develop one. I've now done this and it's below. Modesty isn't going to prevent me tooting my own horn: I think it's really good. I blind tested it on my 16 year old son, who wolfed down a big portion eagerly before asking "Ok, what is it? It's lovely!"
While researching ideas I checked online. Most of the recipes appear to be the same or similar to the Vegetarian Society recipe. To be honest, I wasn't very impressed. It reminded me of the plethora of 70s & 80s standard 'veggy' recipes that tried to mimic meat meals and that all seemed to taste & feel the same. When I started cooking veggy in the 80s I got tired of seeing and tasting under-flavoured, under-seasoned 'veg-mush'.
My blogging friend Monica Shaw tasted one the leading brands of commercial vegetarian Haggis, McSweens and blogged about it on the Great British Chefs site. And it started a bit of a debate on Facebook about whether such stuff could legitimately be called 'haggis'. I have strong feelings about this sort of "authenticism". To avoid boring the folk just here for the recipe, I'll return to this in another post later this month.
Some of the comments in the GBC Facebook discussion also commented on 'veg-mush' state of veggy haggis offerings. I tried hard to match the texture/feel of the meat version in the veggy version. The choice of the grain and pulses and their cooking is important to get this right.  Most of the veggy recipes I've seen online don't get this. In addition the oats and nuts are roasted for added flavour. The nuts are only coarsely chopped for the texture they give.
Apart from the olive oil, there's no added fat, unlike some of the commercial versions. I don't think there's a mouthfeel need for the fat, so I didn't add any veg suet although I'd bought some in case.
This makes a fair old quantity – about 2.7kg. I did this because there's a deal of prep and the haggis will freeze well, so I'll have some 'free' meals to hand. It's probably not worth making much less than half the recipe.
Another bonus of this recipe is that it is very economical indeed to make. The total cost of the 2.7kg is about £6 which means a 150g portion comes out at £0.33.
If you'd like to know how to make this delicious dish, please read on…
Vegetarian Haggis Recipe
Ingredients
150g pearl barley
250g aduki beans, soaked overnight in plenty of water
200g spilt yellow peas or chana dhal, soaked overnight in plenty of water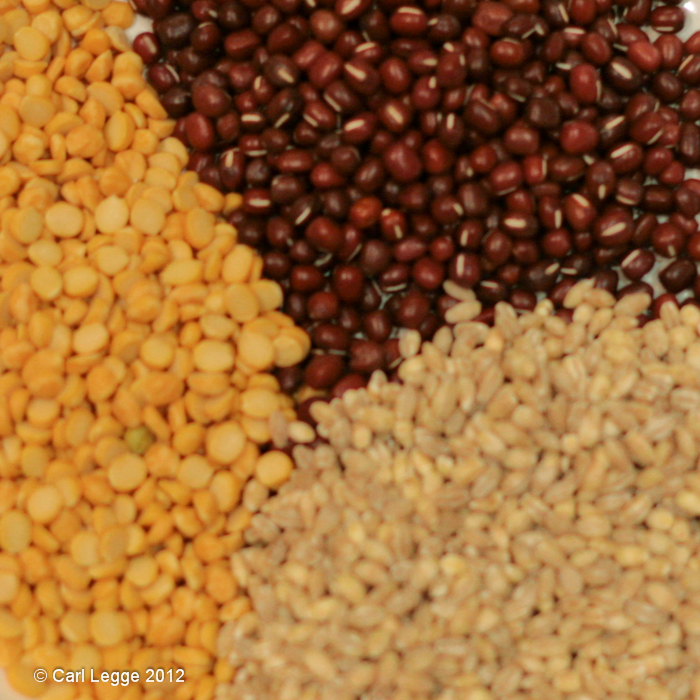 250g pinhead oats
100g mixed nuts (I used hazelnuts and pecans) (You need to use nuts that take well to roasting)
4 tbsps olive oil
4 bay leaves
2 onions
2 medium carrots
2 sticks celery
4 cloves garlic
3 sprigs rosemary
250g chestnut mushrooms

2 heaped tsps ground allspice
1-2 heaped tsps ground white pepper (to taste, but it needs to be tasteable)
1/2 whole nutmeg, finely grated
Sea salt to taste
750ml good quality veg stock
2 lemons, juiced
Method
Toast the oats and nuts in a hot oven (180°C) for 25 minutes. Or you can roast the oats and nuts in individual batches, but more quickly, in a dry frying pan (keep stirring so they do not burn). Chop or process the nuts into fine dice (not a powder). Set the oats and nuts to one side.
Cook the pearl barley in boiling water until tender but with some bite left. This is important for the texture of the finished dish. You can pressure cook it for 20 mins or cook according to packet instructions for about an hour. Test frequently so that you do not over cook the barley. Drain and put to one side.
While this is cooking cook the well soaked pulses together in a saucepan. Don't try to cook these unless they've been properly soaked overnight. Cook in just enough water to cover and top up as necessary. Don't add any salt or acid or you will toughen them. Drain and put to one side.
Finely chop (or food process to fine dice) the vegetables and rosemary. Heat the olive oil in a wide based pan to a medium heat and add the bay leaves. Stir for a minute or so. Then add the vegetables (not the mushrooms) and the chopped rosemary. Sauté over a medium heat for 5 minutes, stirring occasionally. Then cover and turn down to low and sauté for 15 minutes. You want the vegetables to sweat but not to colour.
Add the mushrooms and stir well. Re-cover the pan and cook for 5 minutes or so.
Add the spices to the vegetables and cook, stirring for 2-3 minutes. Add the pearl barley and pulses and stir well to incorporate. Taste and season with salt if required. Add enough vegetable stock to create a slightly sloppy consistency. Cover and simmer for 10-15 minutes for the flavours to amalgamate.
Add the oats and nuts to the mix and stir well. Add more stock which will get absorbed by the oats. Simmer the mix for 30 minutes over a very low heat, stirring frequently so it doesn't stick to the bottom of the pan. You may need to add a little more stock or water depending on how good a seal your pan lid makes.
You should end up with a fairly dense but not solid mix at the end of this time. Check the seasoning and add what you need along with the lemon juice.
Eat in your favourite way.
We had this first with a baked potato and some steamed flower sprouts. The next day I took some, added a tin of tomatoes and peas and made it into a pasta sauce to have with penne. I'm also thinking of using as a filling for pasties.
I'd love to know how you get on if you make this. Do let me know what you think in the comments.