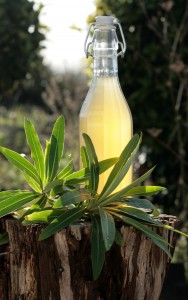 I've just racked this heady concoction into a wine box and some bottles and had my first taste. It's just gorgeous: fragrant, rich, heady and aromatic. It's such a simple and quick wine, I'm quite shocked we all don't make more of it.
It's another of the delights I found in Sandor Katz's book Wild Fermentation. I've adapted the recipe slightly to my own ends and to fit my own incompetence. It's still substantially the same wine that's been made for centuries.
I wonder who was the first person to find wild honey fermenting in a tree? Did they get a surprise when they tasted it and it was alcoholic? Did they remember what happened? And who eventually worked out how to reproduce the effect?
So if you have a go at this, you'll be continuing a line of tradition going back millennia. Interested? Read on…
T'ej, Ethiopian Style Honey Wine Recipe
Equipment
You'll need a wide mouth container for the initial fermentation – a mixing bowl would be good.
You will need a demi-john or some other container you can fir an airlock or similar to. The square 5 litre water bottles are ideal substitute demi-john. A plug of cloth or cotton wool covered with cling film and held on with an elastic band is a good airlock substitute.
These quantities will make about 4.5 litres which is six standard bottles.
Ingredients
Obviously the honey you use will affect the final taste of the wine. If you can get local organic, unprocessed honey, all the better. You can also use other herbs and spices to flavour the wine if you would like. I explain more at the end of the post.
I've put sultanas as an optional ingredient. I used them for two reasons. First I thought that the sultanas mught have more natural yeasts on them than was in the processed honey. Second, I use sultanas in country wines (fruit wines) to give more body or vinosity to the wine.
You'll only need the yeast if the fermentation does not get going naturally with the yeasts in the honey/sultanas. Adding some other fresh ingredients such as flower petals will increase the chance of natural yeasts inoculating the mix. I didn't put the wine mix in a container with a wide enough mouth and so mine did not get going by itself.
You will need:
750ml of honey
3 litres water
Optional
100g sultanas
1 tsp yeast
Method
Mix the honey and water in your wide mouthed container and stir well until it is all well mixed. Cover the container with a clean tea towel, muslin or similar and secure with an elastic band or string. Leave in a warm place and hope the wild yeasts find your brew.
Depending on the temperature, in anything from 4-14 days time, the brew may start to ferment and will bubble & froth. If it doesn't start bubbling by itself sprinkle some wine yeast over the surface of the liquid. In either case, wait for the initial frothing to subside and then decant into a clean demi-john and seal with an air lock.
The wine will be drinkable in anything from 2-4 weeks again depending on temperature. Wine taken earlier is likely to be sweeter as not all the sugar in the honey is converted to alcohol. Wine taken later will be stronger for the same reason.
At this stage the wine will not be clear. If you left the wine to age it could gradually clear or you could filter it using a wine fllter of coffee filters. I haven't bothered to do this. One of the attractions of the wine is the speed of production.
You can 'rack' the wine off the sediment at the bottom of the demijohn using a sterilised tube to put into your bottles or wine box. Place the full demijohn higher than  the empty containers. Using a piece of sterilised tubing inserted into the full demijohn, suck some of the wine through and let it drop into the lower demijohn. As long as the tube stays in the liquid in the top demijohn, gravity will take the wine down. As you get closer to the sediment at the bottom of the wine (a torch can come in handy here) be careful not to siphon the bits into the clearer wine below.
Serving
The wine is great served at room temperature or chilled.
T'ej variations
There are as many T'ej variations as people making it. Like with our mead, there are traditional variations to the basic honey wine mix. I've yet to try any of these. I think the coffee and warming spice versions sound great and will try these for the festive season.
Gesho and hops
Traditionally T'ej is made with a bitter twig of a plant of the buckthorn family called gesho (rhamnus prinoides). In the UK, the nearest common equivalent would be the brewer's hop (humuls lupus) which is added at the same time the honey & water are mixed.
Coffee & bananas
Once the fermentation has started, you can add a 100-150ml of roasted ground coffee and 2-4 peeled sliced bananas.
Citrus
Citrus peel or citrus flavoured herbs like lemon thyme, lemon balm or lemon basil can be added to the mix at the start and left in for 4-7 days and then be strained out.
Warming spices – methegelin
If you think about what you might put into some mulled wine, these will work nicely. Here's some ideas:
Root ginger
Cardamom
Cinnamon
Cloves
Nutmeg
Pepper
Vanilla
Herbs
I think woody, warm herbs would work nicely in addition to the citrussy ones above. Think about using:
Thyme
Rosemary
Bay
Fennel
Sage
Flowers and berries
These are traditional in meads. Rhodomel is made with rose petals. You could add any hedge berry. I've seen good results made with dandelion leaves.
Fruits
Adding fruits or fruit juices is a very traditional addition. Here's some ideas with the name of the modified mead drink.
Apple- cyser
Hypocras – grape
Melomel – any other fruit juice or rose hips
Morat – Mulberries
I think that's enough ideas to be getting on with. Please let me know how you get on in the comments below.