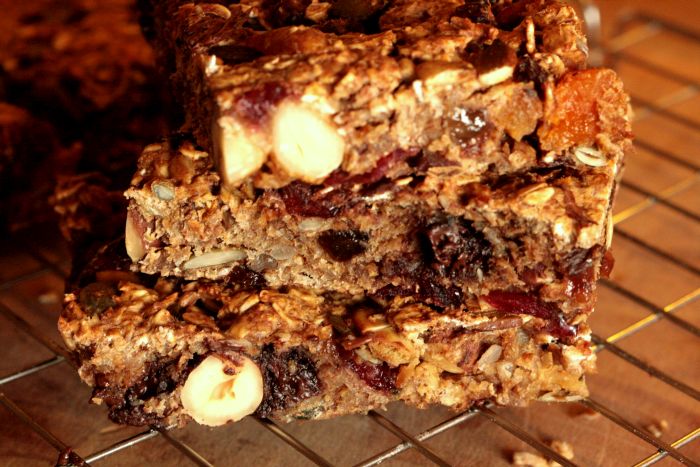 When my son was a third of the size he is now, I wanted to be able to feed him a healthy snack bar. Most of the commercially available ones were stuffed full of sugar and/or additives. So I decided to invent my own.
My son is 16 now and much bigger and the recipe has gone through a few improvements. It's naturally sweet, warmly spicy, and it's got crunch & give.
It is filling. Ideal for a quick morning get-away, an afternoon snack or evening treat, it's packed full of healthy ingredients. And you can add chocolate too…
The ingredients are infinitely variable depending on what you prefer, or have in the storecupboard. And even better, it's a very quick and simple recipe to put together. And the cup of tea is included…
Fancy a go? Read on…
Breakfast muesli bar recipe
You'll need a bakewell pan that's 37 x 27 x 4cm or something similar. I line mine with greaseproof baking paper so I can lift the stuff straight out of the tin.
Pre-heat your oven to 180°C.
Ingredients
50g pumpkin seeds
50g sunflower seeds
100g hazelnuts
1 tbsp ground cinnamon
1 tbsp ground ginger
Half whole nutmeg, finely grated
100g dried cranberries
50g sultanas
50g raisins
Tea bag
200g boiling water
400g jumbo oats
100g dried apricots, sliced
100g bar of 80% dark chocolate, smashed into rough pieces (optional)
Rind and juice of 2 oranges
3 eggs, beaten
Essentially you have 400g oats plus 500g of nuts/seeds/fruit. So you can make up your own favourite mix.
Method
Put the pumpkin & sunflower seeds and hazelnuts in a heavy based pan over a high heat and roast so they are evenly browned. The pumpkin seeds will pop. Take off the heat.
Put the cranberries, saltanas and raisins in a bowl with the tea bag. Pour on the boiling water and stir to make sure all it wet and the tea bag infuses. Leave for 5 minutes and remove the tea bag to the compost heap.
Put the oats, spices, sliced apricots, seeds and nuts in a big bowl. Mix them all up with your hands to make sure everything is evenly distributed. It's easier to do this initial mix without the wet ingredients.
Add the soaked fruit with their liquid, the chocolate pieces, the orange rind and juice and eggs and mix well. You should end up with a moist, sticky, oaty gloop that will hold together when you squeeze it.
Squish into the lined baking pan. Press down firmly and attempt to get a reasonably even surface.
Bake in the oven for about 25 minutes until the top is golden.
Take out of the oven. Then using the greaseproof paper, lift out and place on a cooling rack.
Allow to cool before taking off the paper and cutting into bars. I normally cut into 24 bars.
The bars will keep for a few days in an air tight box. What I do is to wrap some of the bars in greasproof, bag and then freeze them. I can then take out what I need for the week or the night before
Hope you enjoy! Let me know what your favourite variations are in the comments.
My friend Misk asked for this recipe on Twitter. She has a beautiful, witty & informative blog, do have a look at it.