Our blackberry wine is a delight. It tastes almost like port, rich and smooth with a good depth of ripe fruit flavour. This year everyone seems to be saying that the blackberries are earlier than ever, so I thought it might be useful if I popped up the recipe I will be using.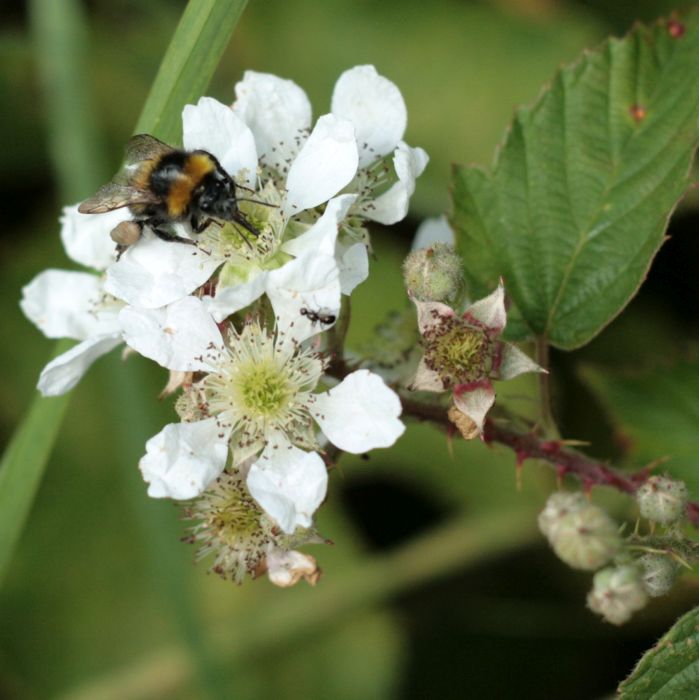 It's really a very simple method: pick, mash, ferment natural sugars, ferment on added sugar, rack until clear, leave until developed.
Interested and want to have a go? Read on…
Blackberry wine recipe
You will need the following items of equipment:
A food grade bucket or large bowl that has a lid or you other way to cover for the initial vigorous fermentation.
A big plastic or metal spoon or paddle to stir with
Something to strain the wine after the initial fermentation. I use a funnel with integral filter. You can use sieves, muslin or similar.
A couple of glass or plastic demijohns for the later fermentation. The 5 litre square water bottles are good substitutes.
An airlock to stop bugs and things getting into the demijohn while the fermentation takes place and to allow the carbon dioxide produced to escape. You can substitute a cotton wool plug loosley secured with cling film and an elastic band.
A wine bottle to hold any excess ferment.
Some tubing to transfer wine between buckets & demijohns.
A thermometer
Six bottles and corks or a 5litre wine bag/box to store & serve your wine
I'm going to give you quantities here to make one 4.5 litre demijohn which will give you six standard size bottles. When we made this last year we did about 15 litres.
Ingredients
1.75kg blackberries (slightly more or less will make no difference)
1.5kg sugar (we use ordinary British white granulated)
4.5 litres water (boiling)
2 tsps pectic enzyme (this breaks down the pectin in the fruit which helps the wine to clear)
Yeast nutrient (follow your brand's instructions. You can substitute 1/4 tsp of Marmite, yeast extract or malt syrup dissolved in a little hot water)
1tsp wine yeast
Some form of solution to sterilise your equipment. We use VWP Cleaner/Steriliser.
Method
Have a read through this completely before you start. The make sure that all the equipment you need is thoroughly cleaned, sterilised and rinsed.
It's best to pick the fruit when it's nice and ripe and on a dry, sunny day.
Give the fruit a gentle wash and do your best to take out any bits of stem, leaves and bugs. You'll not get all of it, so don't worry too much.
Put your blackberries in a bucket and mash them with a potato masher or rolling pin.
Pour on your 4.5 litres of boiling water and give a stir. Check the temperature and wait until it goes below 21°C. Add your pectic enzyme, stir, cover and leave for at least 8 hours.
Next day add your yeast nutrient (or substitute) and yeast and cover again. Make sure the cover is not on super tight, if the fermentation really takes off a tight lid might prove exciting. Leave in a warm place, 20-25°C is ideal. Within 24 hours you should start to see fermentation begin with bubbles of carbon dioxide rising to the surface. At this stage it can become quite frothy.
Stir daily for the first 4-7 days using a sterilised spoon or paddle each time.
Once the initial vigorous fermentation has slowed, then you can strain the liquid off the blackberries.
Put the sugar into the clean & sterile demijohn. Using your filter funnel or substitute filter the ferment into the demijohn. Do this in stages so that you can swirl the demijohn to ensure that the sugar is fully dissolved. Top the demijohn up to its shoulder with ferment or water and insert your airlock.
We had spare ferment when we did this, so we used a cleaned and sterilised wine bottle to hold the excess in sealed with some cotton wool and cling film. You can then use this spare to top up the demijohn later as you rack the wine off the sediment. Leave the demijohn and bottle in a warm place.
You should see bubbles in the ferment and gas escaping through the airlock.
The wine will begin to clear after the next stage of fermentation lessens. You should be able to see sediment at the bottom of the demijohn. This is remaining pieces of fruit and dead yeast cells who have completed their job of converting sugar into carbon doixide and alcohol.
It's good to periodically take the wine off of this sediment, which is called 'racking' the wine. Last year we made the wine in September and did the first racking in November and then again in March before bottling in June.
If you taste the wine by taking a sample each time you rack, you'll be able to taste and feel how the wine changes. At first it'll taste a bit like strong, sweet ribena. It will gradually change into a more complex, full bodied wine taste. It really is worth giving the wine time to develop before drinking it.
Once you are happy with your wine, rack it for a final time into your sterilised bottles and seal with sterile corks or use a sterilised 5 litre wine bag in a box.
I hope you enjoy your wine making. Let me now how you get on in the comments.
Iechyd da!
And please have a look at my Sustainable Foraging Guidelines for tips how to forage responsibly.