I had a request for a recipe this morning from Craig at WeGrowOurOwn and Alys Fowler for the recipe for my breakfast bread. It's a really tasty, simple and quick oatmeal soda bread.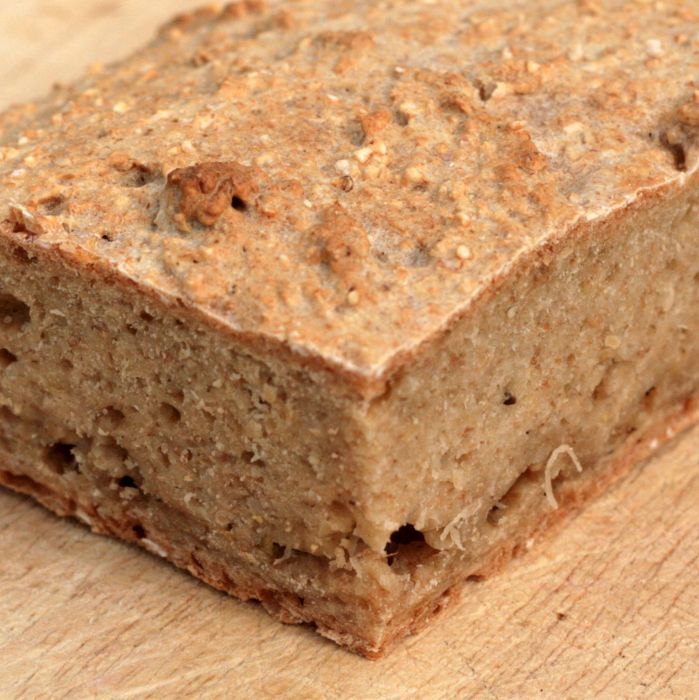 The principle of soda bread is that the raising agent is bicarbonate of soda (hence the 'soda' in the name) which is alkali which reacts with the lactic acid in yoghurt to produce carbon dioxide gas to lift the loaf.
As a result, the key technique with making soda bread is to get the dough together quickly, shape it and pop it in the oven. It can also be cooked in a dutch oven over a fire. So soda bread is the original 'no knead' bread.
Fancy having a go? Read on…
Oatmeal Soda Bread Recipe
Ingredients for 1 large loaf
150g medium oatmeal
300g water
150g yoghurt
350g plain flour
2tsp bicarbonate of soda (or 1tbsp baking powder)
1tsp fine sea salt
Flour or oatmeal for sprinkling
Method
This oatmeal soda bread has an extra stage to one made with just flour because the oatmeal needs to soak for a bit before you start mixing.
Mix the yoghurt with half of the water and put this in a bowl with the oatmeal or oats. Put this to one side to soak for an hour or so. The reason that I say to only put in half of the water is that I've had experience of the dough ending up too wet. The oats can absorb quite different amounts of liquid. The bread you see in the picture was too wet (I'd forgotten my own advice!) and so I ended up with more of a flat than a pert loaf. Taste is great still…
Alys made a loaf later in the day. It was the lovely pert shape mine should have been. Alys said on twitter:
"Oh @CarlLegge, it is good, truly fine. It is a loaf to fall in love with. I am quite smitten"
'Nuff said, on we go…
Preheat your oven to 200°C.
Sieve the plain flour, bicarbonate of soda and salt into another bowl and mix.
Add the soaked oats and enough of the remaining water to make a stiff dough. Mix together quickly with a spatula and then your hands into a rough ball.
I put my loaf straight on to some Bake-o-glide on my bread peel. If you haven't this, put onto a floured baking tray. Score the loaf in a cross about 80% of the way through which helps the loaf bake through evenly. Dust the top with some extra oatmeal.
Put in your oven and bake for about 30-40 minutes until the loaf is cooked through and sounds hollow when you tap its bottom.
Leave to cool on a wire rack if you like a crisp crust. If you'd like a soft crust, wrap the loaf in a tea-towel while it cools.
The loaf is great on its own, with butter, jam, cheeses, soups. It's great toasted which is how I had it for breakfast with strawberry & elderflower jam.
Variations
There are loads of variations you can make on the basic recipe which is 500g solids (flour, oats etc) and 450g liquid (yoghurt, buttermilk, water). All you need to do is remember that you need the acid in the yoghurt or buttermilk to get the bread to rise.
You can use some wholemeal plain flour or wheatbran in replacement for the white flour.
I often add some dried mixed herbs to the bread when I'm making to go with a hearty winter soup.
You can add seeds (sunflower, poppy, sesame, pumpkin etc) or other soaked grains (quinoa, millet, buckwheat) for variations in flavour and texture.
Hope you enjoy. Let me know how you get on in the comments below.
Update 2nd November 2011 My friend Angela Garrod has been having fun experimenting with the recipe.
Ange substituted the plain flour for half and half  rye flour and wholemeal multi- seed flour.  She didn't use any salt and said:
Just tasted ohhhhh 🙂
And here's how fab it looked, thanks Ange…