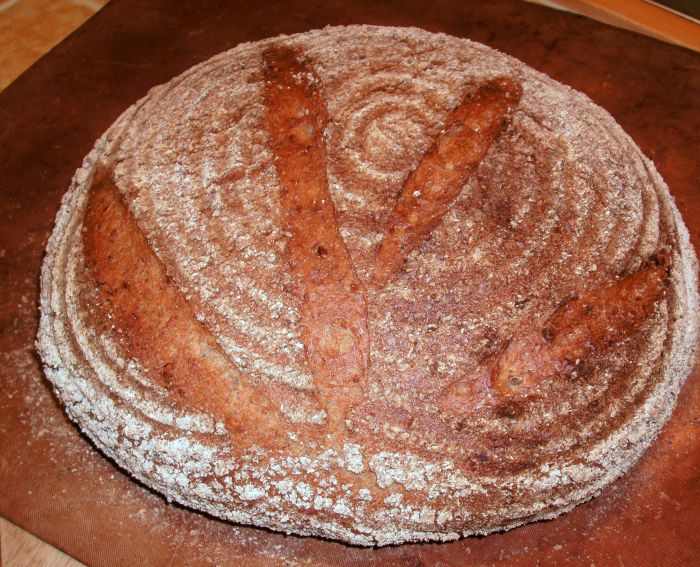 I'm lucky to have a number of truly inspirational people in my 'internet family'. This bread happened due to the inspiration of two people: the talented & generous Joanna at Zeb Bakes & baking guru & good guy, Dan Lepard.
Joanna posted some beautiful pictures of a flax (linseed) & rye loaf. As you'll see I contributed with information about the mucilage the linseed produces when hydrated. So I was thinking about making a bread with linseeds and the rye seemed interesting too.
Matt the Miller at Bacheldre Mill had been kind enough to specially mill me a batch of chopped rye. Not as fine as flour and not the whole berry either.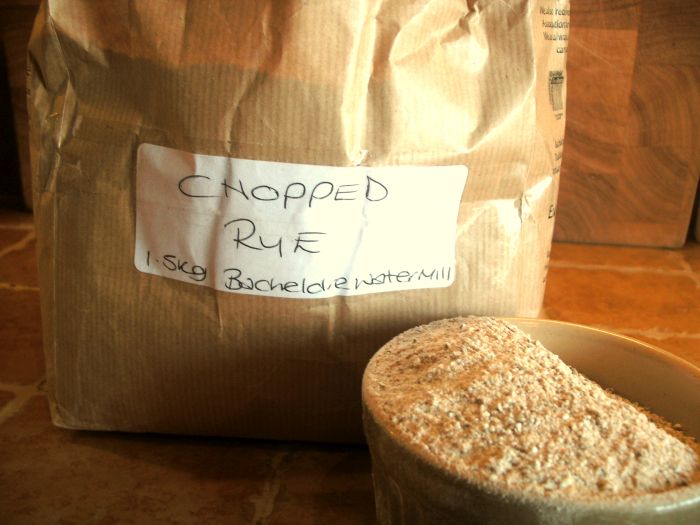 I'd been looking for a chance to use them and this seemed like an ideal opportunity. This is where Dan Lepard's inspiration came in. In his beautiful book, The Handmade Loaf, he has a recipe for a Sour 100% rye bread. In this, he uses a gelatinized rye mix to give the loaf elasticity.
Finally, I've been making a lot of bread lately with seed or grain 'soakers'. Here you take your chosen seeds or grains and pre-soak them prior to adding to the dough mix. The presoaking means that they are fully hydrated and so do not take water from the flour grains.
So I thought the mucilage from the linseed and the gelatinized rye would make a tasty and moist sourdough if I used them like a 'soaker'. And that's what I did. If there are any of my readers who are pro-bakers who can improve on my recipe, I'd love the feedback…
If you want to know how to make the loaf, read on…
Rye & linseed sourdough bread recipe
What I did was use my normal basic sourdough recipe as the base and then just substitute in the seeds and grain, using some of the normal water quantity as boiled water for the soak.
First a word about 'starter'. From my previous posts on sourdough it's clear that there are often different terminologies used about this. I'll explain what I do and hopefully, regardless of the specific words, it'll be clear what I'm talking about.
I keep my starter in a kilner jar in the fridge. When I want to bake, I take this out and refresh it with equal weights of flour and water. If I have a lot of baking to do, I split the starter between two or more kilners and refresh them in the same way. I will refresh the starters two or three times, over a period of 12 to 24 hours, increasing the quantities of flour and water so I build up a reserve of active 'starter'. What I always do though is add the flour and water in equal weights so that my starter is at 100% hydration. One final thing, if the starter is a bit sluggish I put in an amount of rye flour as part of the flour quantity. This peps up the starter nicely.
The quantity of dough in this recipe will make 3 large loaves. I normally make two large round loaves and two smaller batards. You can scale the recipe to get the quantity you desire.
Ingredients
100% starter 300g
Strong white flour 1250g
Warm water 655g
Chopped rye 150g
Golden linseed 100g
Boiled water (allowed to cool a little) 350g
Salt 30g
Method
If you've not made sourdough before, take a look at this post and the update where the technique is explained.
Put the chopped rye and linseeds into a bowl and pour on the just off boiling water. Stir well. You'll see the linseeds produce the mucilage. I think the smell at this stage is a little odd, don't let it put you off. Put to one side to cool a little. It's OK when you can handle it without it burning.
Mix the starter, strong white flour and remaining water together into a shaggy mass. Leave for anywhere between 10 & 30 minutes. The add the salt and your linseed/rye mix.
You'll need to work the mix into the dough for a while so it's thoroughly combined. If you have a mixer strong enough, that can help.
I then did a stretch & fold at the half hour and then hourly after that until it's had about four hours bulk proving.
Then divide your dough up and shape it. I divide up and shape into flat rounds and then let the dough rest for 10 minutes then do my final shaping.
Then cover with oiled plastic film/bags and allow to prove until it's ready. Depending on the temperature this could take anywhere from two to four hours or so.
Preheat your oven to 240°C.
Slash your loaves as you wish and then pop in the oven. Spray with water if you like. After 10 minutes or so I turn the oven down to 200°C for the remaining time – about 30-40 minutes.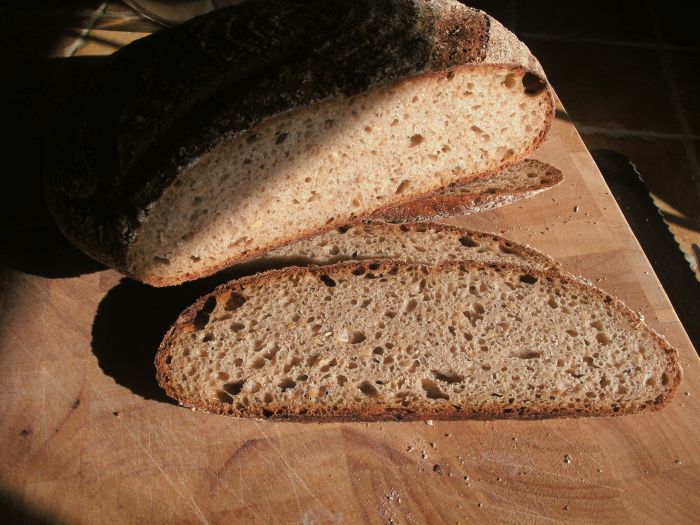 Et voila! The loaves are moist and nutty. The rye transforms a 'white' sourdough into a wonderfully wholesome eat. Do try and let me know how you get on.