I'm developing a bit of a 'thing' about using nettles. I love it that I'm not putting money in the supermarket bosses' pockets. I love it that they effectively cultivate themselves. I love it that they are so nutritious: high in vitamins A & C, contain essential minerals and have one of the highest protein contents of any leafy vegetable.
Above all I love their nutty flavour. So I wondered how I could combine them creatively with some of my favourite nuts, hazlenuts.
Here's what I developed, a scrummy and attractive nettle & hazlenut tart. It's in a wonderfully crisp pastry case and uses homemade ricotta in the filling.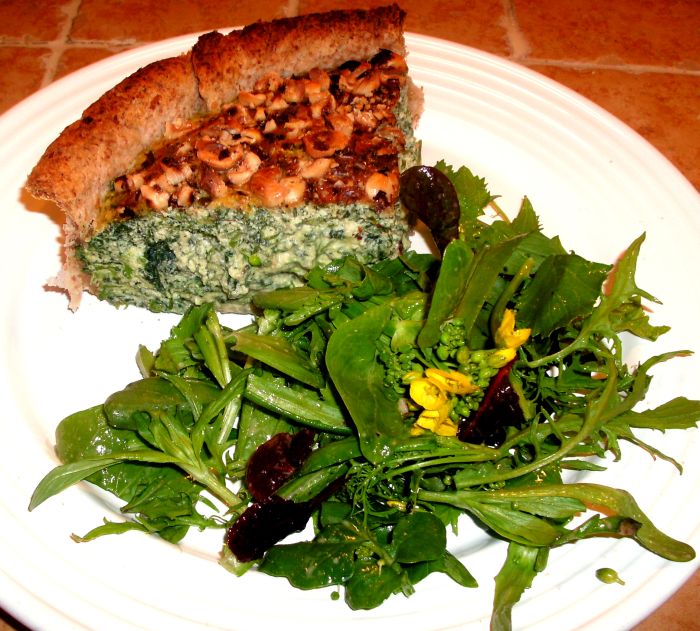 If you want to know how to make it, read on…
Nettle & hazelnut tart recipe
This recipe makes enough to fill a 20cm container that is about 3cm deep. It will feed 4 to 6 people depending on appetite.
Ingredients
For the pastry
150g butter, diced
300g plain flour, sifted (I used a mix of white/wholemeal 200/100)
Pinch of salt
5ml white wine vinegar
About 50ml ice cold water
For the filling
350g nettle tops washed
4 eggs
75g parmesan cheese, finely grated
100g ricotta (see my home-made ricotta recipe)
300g creme fraiche
A good grating of fresh nutmeg, to taste
Milk to top up (see Method)
50g whole hazlenuts, roasted, deskinned and lightly crushed
Salt & pepper to taste
Method
Make the pastry in your normal way: by hand, or in a food processor or a mixer. Add the butter, flour and salt to a bowl and work to a fine breadcrumb like texture. Add the vinegar and enough water so that the pastry just pulls together. Wrap in clingflm and allow to rest for at least 30 minutes.
Grease your tart container and roll out your pastry to be oversize and place in the container. Prick the bottom with a fork and place back in the fridge (or in the freezer) for at least an hour.
Preheat your oven to 200°C (390°F). You need to blind bake the pastry case.
Line your pastry case with greaseproof paper and put baking beans or similar in to weight the pastry down.  Cook in the preheated oven for 10 minutes. Take out the case and adjust the heat to 180°C (360°F) and take out the beans and paper. Trim off the excess pastry if you left it to hang over. Return the case to the oven for 5 minutes or so until the case is a light brown.
While the pastry case is blind baking make your filling.
Cook the nettles in boiling salted water for 3 to 10 minutes depending on their age. Squeeze out excess water and chop or process into a fine puree.
Place your 4 eggs in a measuring jug and beat well. Add the ricotta,creme fraiche, parmesan & nutmeg and mix well. Season to taste with salt & pepper.
Add your nettles and mix again.
Here's where you might  need a little maths to work out how much filling you need. You need to work out the volume of your tart container. It's the radius in cm multiplied by itself, multiplied by 3 (approximate for pi) multiplied by the depth in cm. This was 10 x 10 = 100 x 3 = 300 x 3 =900. Which gives you the capacity in cubic cms which is the same as millilitres.  This is about a litre. So I topped up my filling with milk (you could use more creme fraiche or ricotta) to this amount
Once the case is blind baked, pour in your filing and smooth out if you need to. Then sprinkle over your hazlenuts.
Place in the oven at 180C for about 35-45 minutes until a light golden brown on top and the filling is nicely puffed up and set.
Serve warm or at room temperature. We had it with a lovely salad of  leaves & flowers from our polytunnel.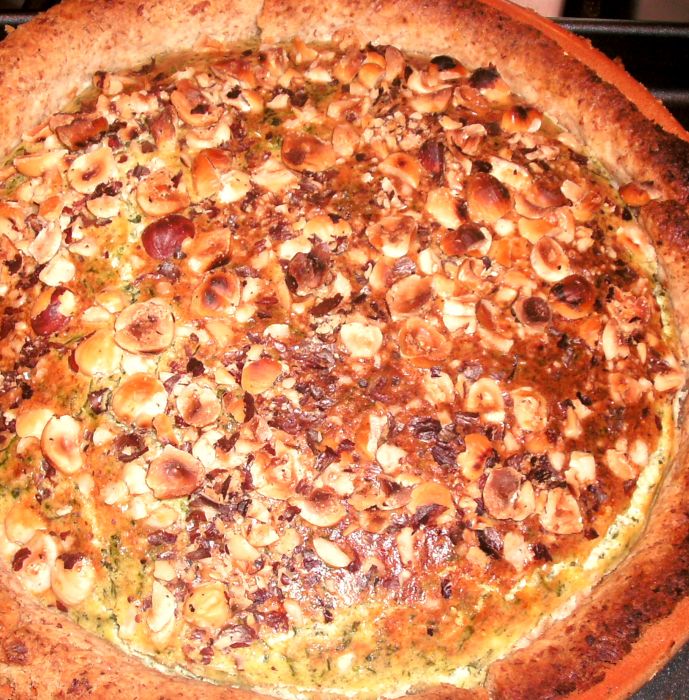 Buon appettito!
And please have a look at my Sustainable Foraging Guidelines for tips how to forage responsibly.