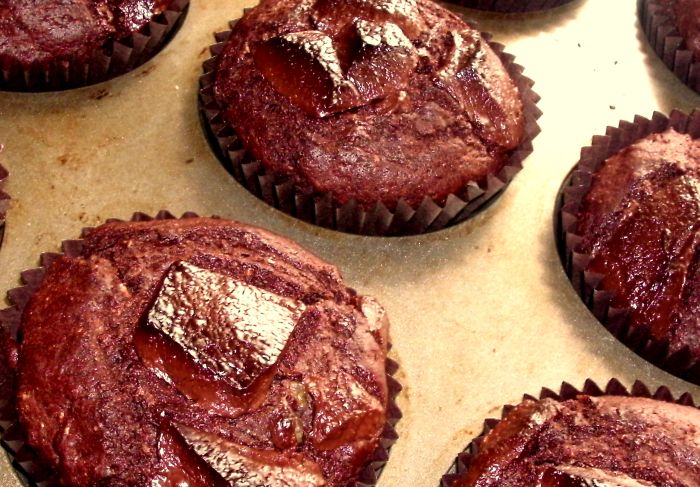 This recipe was inspired by my Twitter friend and genius chocolate baking blogger Choclette. Each month Choclette and baking friend Chele host We Should Cocoa – a chocolate challenge. The Challenge is to make something with chococlate and a special ingredient. For April 2011 the special ingredient was marzipan. I wanted to make a muffin that was like the traditional Easter Simnel Cake with marzipan in the middle. I also wanted to make the experience more delicious by using some favourite spices that were warm and cosy to enhance the chocolate. Finally, I needed a good name for the creation. My smallest biscuit cutter is heart shaped and these would fit nicely into the muffin cases. But you couldn't be able to see the hearts because they'd be inside the muffin. 'Hidden Hearts' were born. I think they'd be good at Valentines with another heart on top. And I guess they'd be good with a little Amaretto in the mixture too.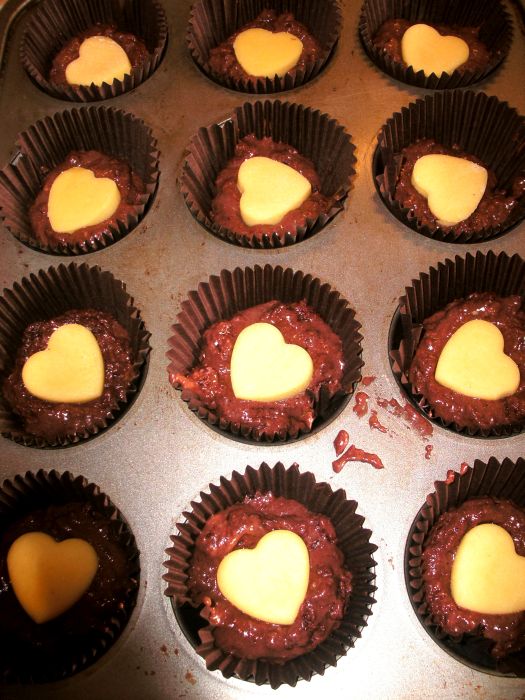 If you'd like to know how to make them, read on…
Chocolate muffins with marzipan & spices recipe
You need a muffin tin with 12 muffin cases in it. Preheat your oven to 190-200°C
Ingredients
260g plain flour (I used 50/50 white & wholemeal) 2tsp baking powder ½ tsp bicarbonate of soda ½ tsp salt 75g caster sugar 50g unsweetened cocoa 1-2 tbsp ground cinnamon 1tsp ground cardamom 1tsp ground nutmeg (freshly grated would be good) 1 egg 250g milk 1tsp vanilla essence 85g vegetable oil (or 85g butter melted) 150g marzipan 150g dark chocolate (80% cocoa preferable)
Method
Sieve the dry ingredients together into a bowl and make sure well combined. In another bowl beat the egg and add the remaining wet ingredients, mix well. Roll out the marzipan (using a little flour to dust) to about 5mm thick and cut into a shape that will fit well inside the profile of the muffin case. Break the chocolate into chunks. I just take the unopened packet and wack it on the work top a few times. You could use a rolling pin or take it out of the packet and cut it into random chunks. Pour all of the wet ingredients into the dry and stir until just combined. You don't need to faff around, just make sure you can't see any uncoated dry ingredients. Lumpy is cool. Spoon about 1 tablespoon of the chocolate mix into each muffin case. Place your marxipan heart (or other shape) onto the mix. Cover the marzipan with more mix, using it evenly among the cases. Put 2 or 3 chunks of broken chocolate pieces on the top of each muffin. Eat what you don't use! Bake in your oven for 20 to 25 minutes or unril the top is firm when pressed.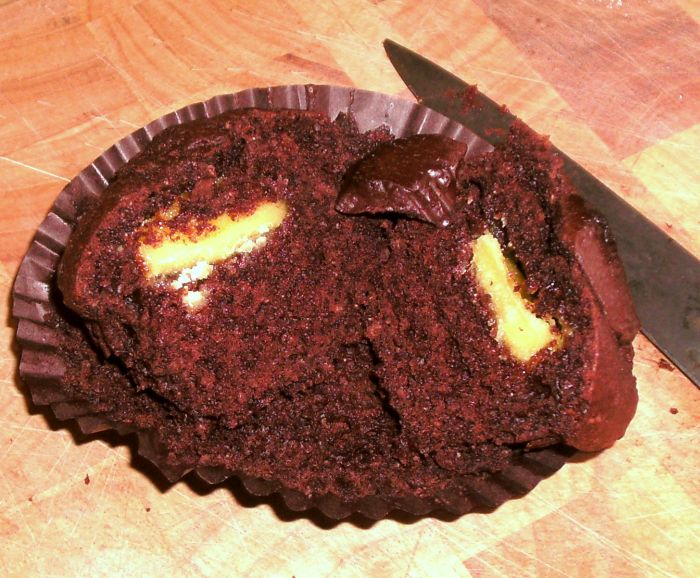 There, simple. WeShouldCocoa indeed.