Don't we all just love things that don't cost a penny? Foraging for wild food is a way to do this. March is the ideal time to pick nutritious nettles which are jam packed with iron and Vitamin C. You've no doubt seen loads of recipes for the ubiquitous 'Nettle Soup', which is, of course, lovely. I wanted to cook something a bit different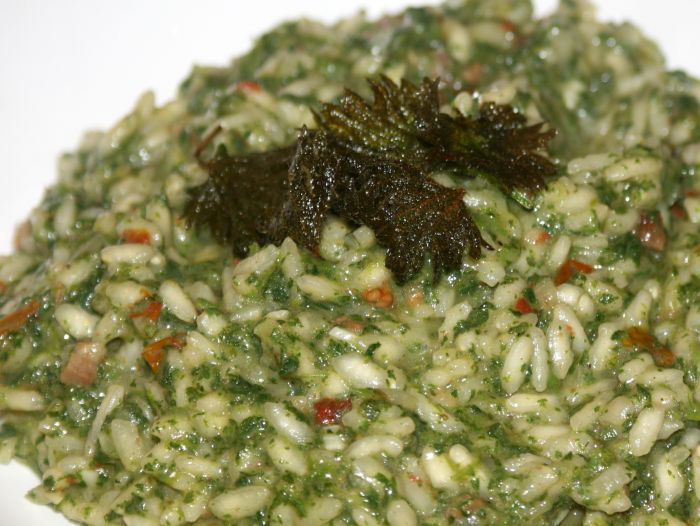 I've adapted a simple Georgio Locatelli recipe for nettle risotto to perk up your taste buds. I've added the bacon as a seasoning and the dried tomatoes for flavour and visual interest to Georgio's basic recipe but you can easily make a vegetarian version by leaving out the bacon and substituting for the parmesan.
So how do we cook it…

Nettle & bacon risotto recipe
Ingredients
About 2.5l of young nettle tops loosely packed, washed
2.5l of home made vegetable or chicken stock (you 'could' use stock cubes) kept warm in a pan close to where you'll cook the risotto. This will probably be too much, freeze what you don't use.50g butter
1 large onion, finely chopped
2-3 garlic cloves, finely chopped
50g home cured smoked bacon, finely chopped (you 'could' use pancetta)
20g dried tomatoes (mine were small cherry ones, if you use bought, chop into bite sized chunks)
400g risotto rice
125ml dry white wine
salt & pepper
To serve:
50g butter, cut into cubes and chilled
100g finely grated hard cheese such as parmesan or pecorino
A few nettle leaves for garnish, deep fried until crisp
Method
Blanch the nettle tops in plenty of salted boiling water for 30 seconds to 1 minute. This will help soften them and preserve their glorious green colour.
Drain and refresh the nettles in cold water. Squeeze out excess water and place in a blender and puree.
Melt the first 50g of butter in a sauté pan and gently fry the bacon until the fat renders and it's slightly coloured.
Add the onions and garlic and cook gently until softened but not coloured (about 5 minutes). If you need to, add a little more butter or olive oil.
Add the rice and stir around so that it gets coated with the flavoured butter and heats through.
Add the wine, stir and allow to evaporate completely.
Add the warm stock, a ladleful at a time, stirring the mixture constantly over a medium heat. When the liquid is nearly all incorporated, add the next ladleful.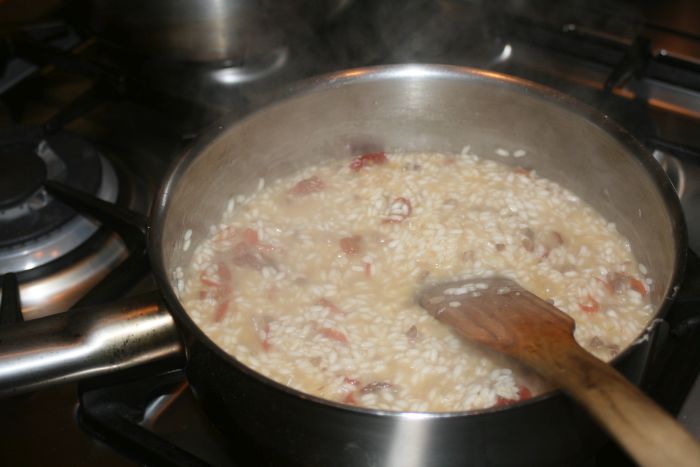 Do this for about 10 minutes, then bring your heat up and add your nettle puree and tomatoes. Mix in well and turn the heat back to medium. The nettle will make things moister so you may not need to add any more liquid from here. Keep stirring for 5 minutes or so until the rice is soft outside and 'al dente' in the middle. You want the risotto moist (not dry but not soupy) at this stage.
Turn off the heat and cover the pan with a lid. Allow to rest for up to 5 minutes.
Add your chilled butter cubes and hard cheese and beat it into the risotto. Check taste and season appropriately.
Serve garnished with the deep fried nettle leaves.
My recipe first appeared in Permaculture Magazine here. DO visit the site because there's loads of useful information for people intereseted in sustainable living and real food. Click here or on the logo in the right hand column.