In this post I'll show how I make sourdough bread at home. The recipe and technique is an amalgam of Hugh Fearnley Wittingstall (River Cottage Everyday) & Dan Lepard (The Handmade Loaf) plus some other stuff I've read online and my own experience.
Stop press: 31st March 2011 I've posted an update with some lessons & observations since this was published.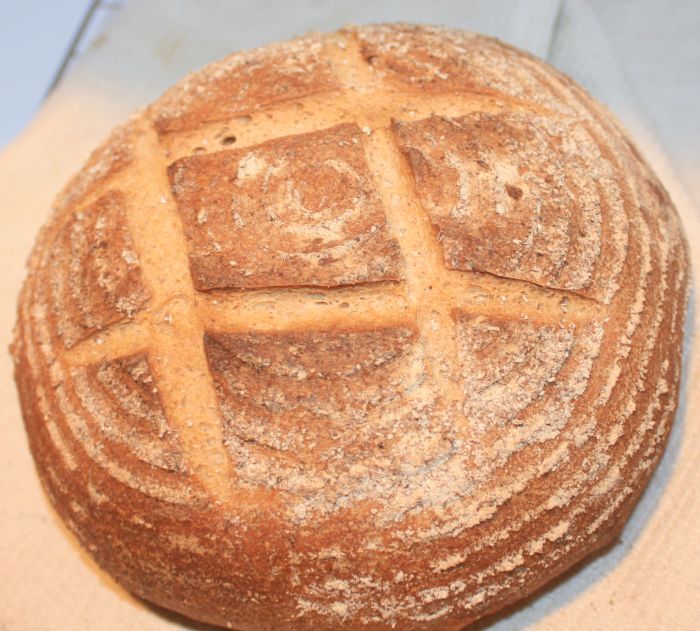 The post was prompted by a Twitter conversation with Ryan Lewis and Alys Fowler about making sourdough. Alys and I were encouraging Ryan to have a go at making it. I promised to do a 'How To' blog to show how simple it is to do.
It's what I do at the moment and I'm an enthusiastic amateur. There are about as many methods as there are bakers. I'd welcome feedback from anyone who bakes for a hobby or professionally. I like to learn new stuff and I'm sure the comments would help others who come here.
The process of making the loaf takes just under 20 hours. This is essential for the loaf to develop its best flavour and texture. Don't worry because you're only doing a little bit of stuff every now and then and the timings are flexible.
Want to find out more? Read on…
How to make sourdough bread
Ok then, here's the ingredients and method for making two loaves of about 1 kilo (just over two pounds) each. I tend to measure all the ingredients in a jug on a set of scales.
Flours
Before I start a note on flours. Not all flours are equal and you tend to get what you pay for. If all you can get is supermarket own brand stuff then still have a go: you'll produce something better than standard supermarket bread. If you can get Allinson premium flours – all the better. If you can get flour from millers such as Bacheldre Mill or Shipton Mill or similar then you'll have something beautiful to work with and you'll notice the difference in taste & texture.
Sourdough Bread Recipe
Ingredients
For the sponge
200g sourdough starter (see end of post for notes about this*)
500g strong white flour
550g warm water
For the loaf
200g strong wholemeal flour (optional – you can use all white just make up the total weight)
400g strong white flour
20g sea salt (I get unrefined sea salt and grind in a pestle & mortar as I need)
For your proving container
Rye or rice flour a few handfuls
Method
The evening or night before you want to bake make the sponge.
Put the flour and starter in a mixing bowl – it should look like this: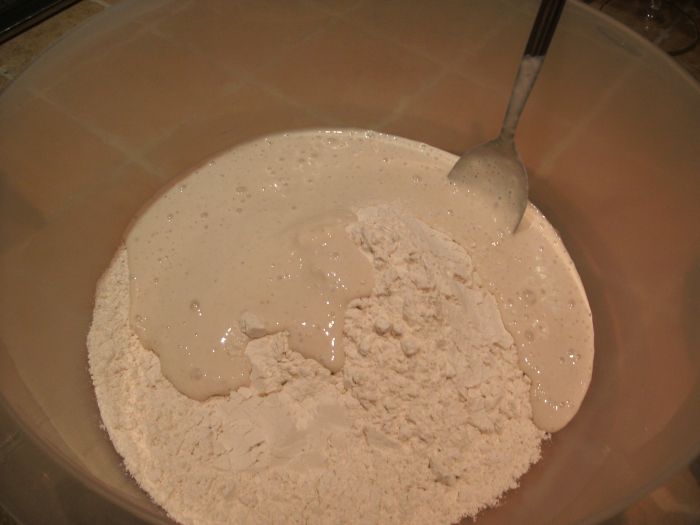 Add the water and mix well so if forms a loose paste.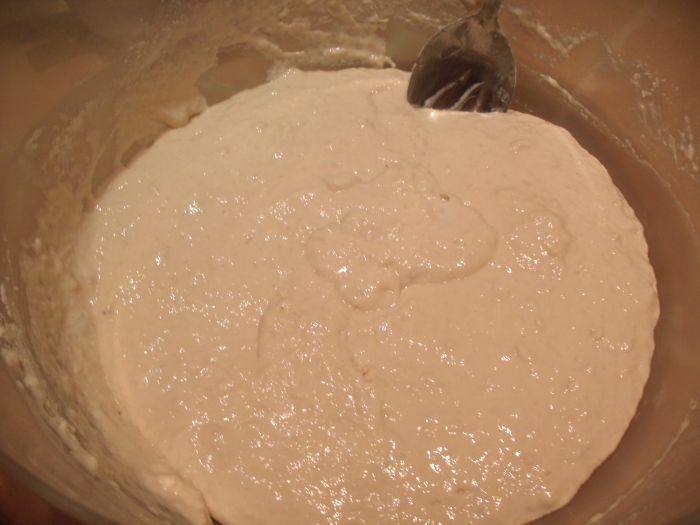 Cover with a towel and leave in a warmish place. I tend to put mine next to our woodburning stove where it sits at 20°C (68°F) while the stove is on. During the night it'll fall to ambient temperature.
Leave this until the next morning when it should be 'active' with bubbles something like this: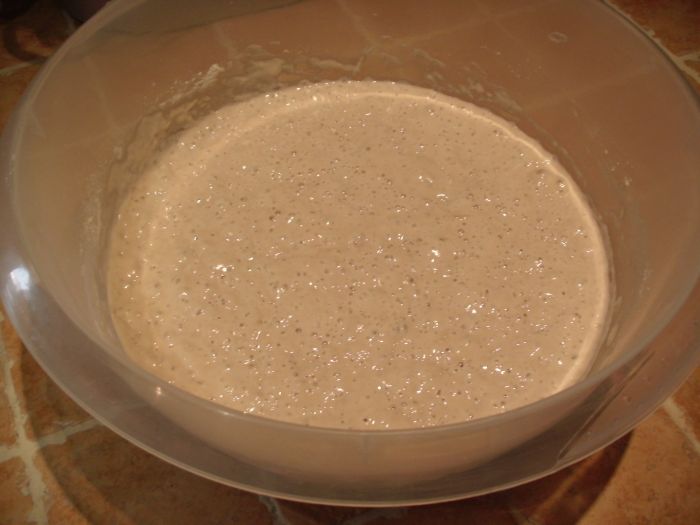 From the picture below, notice how the sponge had formed 'strings'. This is your dough developing and it's a good sign.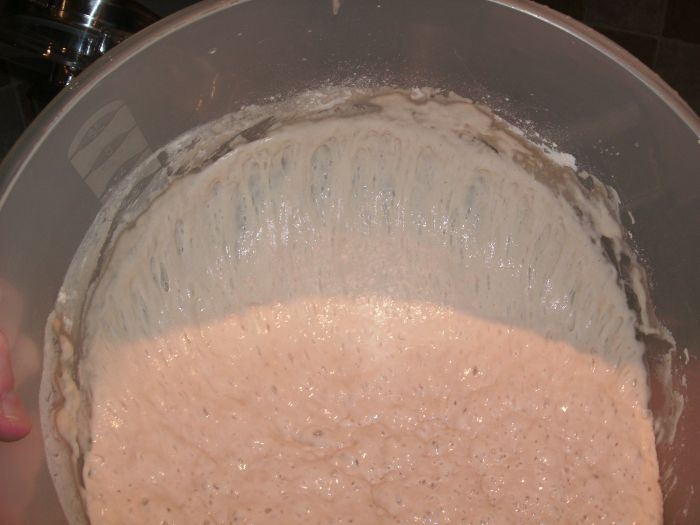 The next stage you can do with a machine or by hand. I use a machine because of my dodgy arthritic wrist, doing it by hand means you have a chance to really feel the ingredients and get mucky: the choice is yours. Either way there's no heavy work to do.
Tip your sponge into the bowl of your machine if you're using one. If not, leave it where it is.
Take your remaining flour(s) and add to the sponge.
DO NOT add the salt yet.
Mix until combined. You're trying to get the flour coated in the liquid so the grains of flour can hydrate – don't bother to 'knead'. Just mix with the machine or squidge the ingredients through your fingers.
Leave for 10 minutes or so. The reason you leave the salt out is that it affects one of the proteins in the flour so that hydration of the flour is affected. This short wait helps. If you can't be bothered, just crack on.
Add the salt and mix/squidge again so that all is evenly distributed.
What you have now is like a grainy putty – you may wonder if it will ever end up as a smooth yummy dough. It will, just be patient.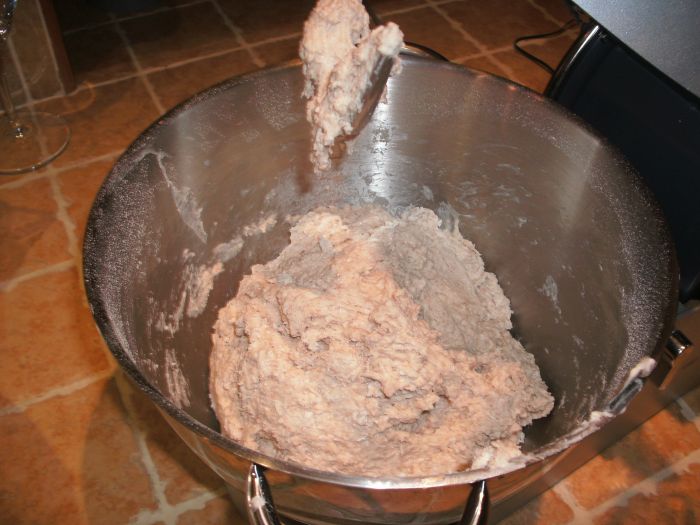 Put it into your bowl (which has been cleaned and dried) and cover. To stop the dough sticking to the bowl you can oil the bowl lightly. I use an oil sprayer that is meant to be used for healthy frying – just saves you ending up with very oily hands. You'll work out your own way.
Cover with a tea towel or oiled plastic bag (so you don't lose moisture and form a crust). Leave for another 10 minutes or so in a warm place. Then we'll do our first folding.
First to explain. In many books (including HFW's) you'll see a 10 minute knead specified. You can do this and you'll end up with a good loaf. However, Dan's book contains a 'no-knead' method using folding developed by a French baker in the 70s. This method allows the dough to properly hydrate and it develops a better structure. Also because of the increased time involved, I think you get a better flavour too.
OK, so you've waited 10 minutes or so. Take your dough out of the bowl. It will still feel like putty and may be quite sticky. Avoid the temptation to use loads of flour in the next bit, just scrape the dough off your hands if you need to or oil your hands. If you add lots of flour you'll be putting in unhydrated flour and change the lovely dough you're developing.
Have a look at this video for the folding technique. (It's not the first fold I did – it's about two in, the technique is the same regardless.)
As I said before, it's not energetic is it? I can't knead bread in the traditional way because my wrist complains too much. It's a lovely gentle way of looking after your baby. The folding incorporates air layers and mixes up the ingredients so the yeasts can have some different food to work on.
Pop back into your bowl and cover again.
Do the folding again in 20 minutes.
Do the folding again in another 30 minutes.
Do the folding again after 1 hour.
Do the folding again after 1 hour.
Do the folding again after 1 hour.
Then let the dough rest for an hour or so before you shape it.
The timings are not precise. I often get sidetracked and an hour turns into 75 minutes, or need to to something so it's 45 minutes. Don't fuss! Whatever you can do, when you can do it will help.
The next video shows the shaping technique I use. I put the dough in bannetons which are lovely to use and give a real 'artisan' look. You can use any bowl lined with a close weave tea towel sprinkled with rye flour to stop the dough sticking.
Cover the dough with your towel or oiled plastic and leave to prove in a warm place for 4-5 hours.
The dough will approximately double in size. Here it is after the proving period.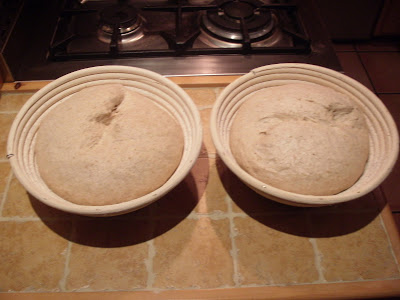 Depending on how long your oven takes to heat up, get it to it's hottest so it's ready for the end of the proving period. If you have it, a baking stone or pizza stone in the oven will help. If not, just leave a baking tray in there to heat up. A hot something to put your dough on will help give it a nice crusty bottom and nice 'spring' so it rises well.
When you're ready take a loaf  to the oven and take out of the oven your stone or tray. Turn the dough out onto the stone/tray and slash the top. This will help the rise by reducing the surface tension on the top of the loaf – and it looks nice. You can cut a cross, a circle or a noughts & crosses pattern (see at the top) or what you like. I use a professional grignette, a serated knife like a bread knife works too.  Here's a cross slash: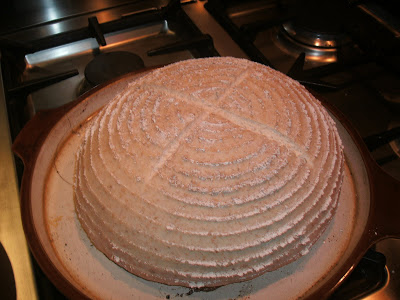 You'll see that the dough holds up by itself. The protein with bubbles is nice and strong.
Pop it quickly in the oven. You can spray some water in if you like which will help the rise or 'oven spring'.
Turn the oven down to 220°C (425°F, GM7) and cook for about 20 minutes.  Then turn the oven down to 200°C (400°F, GM6) and cook for another 10-20 minutes or until the loaf sounds hollow when you knock the bottom with your knuckles. The actual time will depend on the precise nature of your oven and the temperature it maintains. The acid test for cooked is a good hollow sound when you knock it.
You should end up with something a bit like this.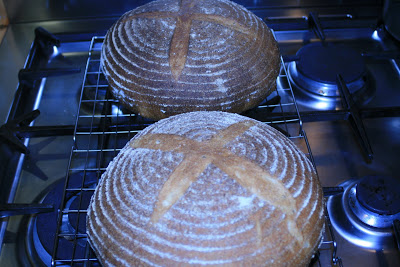 Pop the sourdough loaves onto a cooling rack and wait with anticipation until they are cool enough to eat. Feel proud that you have created something natural and wonderful with some flour, water and your own hands.
Let me know how you get on – I'd love to see pictures and consumer feedback.
Edit 16th January 2011
In the comments Ed asked to see the crumb of the loaf, here it is: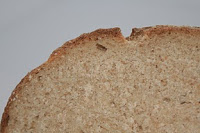 The crumb is a bit tight. See the update for reasons why and how to make it better.
* Sourdough starter
Really there's no magic about this, a sourdough starter uses wild yeasts naturally on the flour (or other ingredients used) to start a ferment.  There are instructions in Hugh Fearnley-Wittingstall's and Dan Lepard's books. Hugh's is a flour and water starter and Dan's contains currants or raisins & live yoghurt which are strained out once fermentation has started. I've tried both and had success with Dan's. My Twitter friends Ed & Marieke (fabulous bakers) have a flour only method.
I keep my starter in a 1000ml kilner jar I bought from ASDA for £1.00.  Here it is bubbling nicely: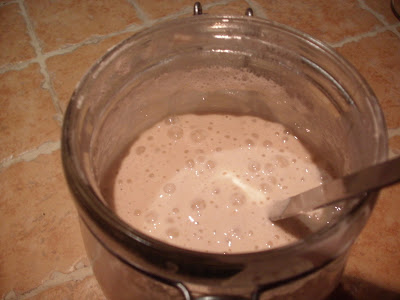 There's a useful discussion about how easy it is to keep a starter going on the TheBakeryBits Blog. I get much of my baking kit from Patrick at BakeryBits who is also on Twitter.