My passion for food
After my wife and son, my biggest passion in life is food. I started to cook for myself when I was 8 or 9. Here's the recipe I used from the Something to Do book: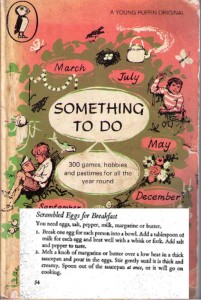 I wasn't happy with the simple combination of eggs & milk, and so decided that some mixed herbs would go well. From then on, I was smitten with the idea of new food & flavour combinations.
This purpose of this blog is to share recipes, ideas and methods to help you to enjoy fresh, seasonal & sustainable food as well.
A dream fulfilled on the Llyn
Now I have my dream life. I write about food & cooking and work with my family to run a 3-acre smallholding on the Llyn Peninsula in North Wales. When we're not in cloud, our views are truly stunning. That's not to say it's idyllic. The land, weather and season's cycles have a hold over us. Come rain, wind or shine stuff needs doing. And stuff happens that you don't plan at the most inconvenient times.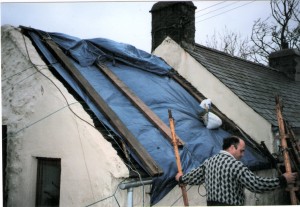 We're trying to manage our holding along Permaculture lines. Permaculture is a way to think about, design and use your environment so it is resilient and sustainable. For example, we're developing a forest garden and grow perennial fruit & vegetables as well as the 'normal' annual crops.
We're not completely self sufficient, but we aim at 'optimum sufficiency' given our land, time and energy resources. We keep chickens and in the past have kept geese, ducks, turkeys and pigs.
My food loves
I love fresh, seasonal and local food, prepared with skill & love to eat fresh or preserve for later.
I'm a keen fermenter of wine, beer, mead, vinegar, kefir products, kombucha and fruit & vegetables. I cure my own charcuterie and bacon. I love to include wild food that I've caught or foraged. I specially love baking bread and you'll see plenty of sourdough and yeasted breads on the blog.


I get a kick when I help other people learn how to prepare, cook and eat these ingredients in a way that fits into their lives.
I'm an omnivore and I cook loads of vegetarian and vegan food. Good food is good food regardless of whether it's got meat in it.
London to Llyn life
My path to smallholding & food writing on the Llyn wasn't clear to me until the mid-1990s and was certainly circuitous.
I was born and brought up in London. I've lived in the suburbs and in central London and loved the city life. I married Debs in 1989. When our son was born we were keen to have space and clean air where we could enjoy the outdoors on our doorstep. We made plans in the mid-1990s to make this happen. We finally moved to the Llyn in 1997 and I spent 4 years commuting weekly to London.
In the early 2000s, I swapped the money of corporate life for the time to live from and with the land & with my family. We're financially much poorer and emotionally & spiritually immensely richer.
When I was 8 or 9, I could not have imagined being where I am now or how I would have made it to this point. But I'm glad I'm here.
After my early food preparation forays, I was lucky to have grown up in the 1970s. Then there were still many independent food traders around: the supermarkets had not yet taken over. And proper food was about to find the UK.
Early apprenticeships
My first part time job was in MacFisheries where I learned to sell & prepare fish, game and green-grocery. I then moved on to work in the non-bread part of Home Bakeries, getting used to 4am starts and the heavy work and camaraderie of a busy bakery. Both of these jobs were a great grounding in basic food appreciation & preparation. As I got older, I fully enjoyed the delights of working in off-licences and pubs. This was at a time when the New World varietal wines were just coming into England and the Campaign for Real Ale was getting going. It was a great time to learn about wine & beer and I seemed to take to it with aplomb.
It was also a time when cooking on TV was coming out of its staid 50s presentation in the UK. My earliest influences were the USA's Graham Kerr, 'The Galloping Gourmet' and the unique Keith Floyd. They're true inspirations and advocates of the joie de vivre of cooking with love using fresh ingredients.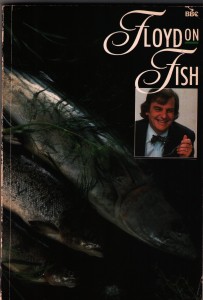 Being professional
My 'professional' career has been described as 'eclectic'. I've variously done accounting, law, corporate & public affairs management, government relations, procurement, commercial management, company secretarial duties and executive coaching. I've done many of these things both as an employee and as a freelance consultant.  On the way through I earnt a law degree (LL.B.) and a Masters Degree in Business Administration (MBA) from the Open Univesity. It's not the standard CV of a food writer but there you go: I did an awful lot of cooking, eating & drinking along the way.
Probably not surprisingly, the things I learned doing all those jobs often come in handy in the more 'business' orientated aspects of my current life. I was lucky too, as I've sampled brilliant food in some great restaurants & hotels over the years as well.
For me though, nothing satisfies me more than home-grown food, cooked with love and eaten with friends & family.
Which is where I am now.
Result!