https://www.instagram.com/p/BSohF_AlbN6/
I made these loaves yesterday using kefir as a leaven. I received quite a few questions on Instagram about how I use the grains, so I thought I'd put up this post with some ideas. I'll also include below the recipe for these particular loaves.
What is kefir?
Kefir is very interesting stuff and very useful.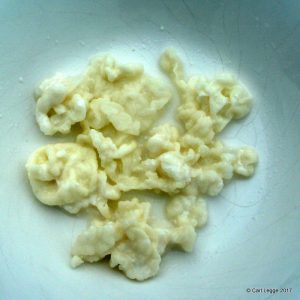 Here's a picture of the grains. They feel sort of rubbery – a bit like Copydex when you make it into balls (you -did- do that didn't you?). They come in all sorts of shapes and sizes, some big flat discs, some little bobbles.
It's a very special sort of organism called a 'SCOBY': a symbiotic culture of bacteria and yeasts. The bacteria are mostly lactic acid bacteria and these coexist and work together with the yeasts.
The lactic acid bacteria convert sugars into lactic acid and carbon dioxide. The yeasts do the same, producing carbon dioxide and very small amounts of ethanol.
The acidification of the milk means that the curds and whey separate out. As you can see starting below.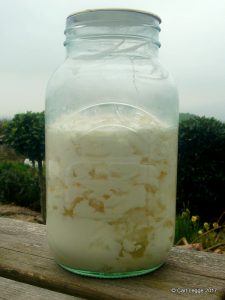 Here's our breakfast drink production. This is about 500ml of milk with the grains. Here the milk has been on the grains for about 5 hours. We strain off the grains in the morning and top up the milk and leave at room temperature. In the winter, we often flavour the milk drink with home-made rose hip or blackberry syrup. The drink is slightly tart and sometimes a little fizzy. The kefir is also great used to make smoothies.
The grains readily multiply. So we either give excess grains to friends or pop them on the compost heap.
It's the actions of the lactic acid bacteria and the yeasts that mean you can use the kefir to leaven bread. Instead of feeding on the sugars in the milk, they feed on the flour.
Kefir bread recipe
I've previously posted about this here. But for these loaves I changed the process slightly. I made plain white bread using Shipton Mill No 4 flour as I wanted to make bacon sandwiches the next morning. White bread is always best for bacon 😉
This makes enough for 2 loaves of approximately 750g each.
Ingredients
Poolish
Live strained kefir 285g
Strong white flour 215g
Date syrup (or honey) 50g
Dough
Poolish from above 550g
Strong white flour 650g
Fine sea salt 15g
Warm water 280g
Method
Start the poolish the afternoon before you want to bake.
Mix all the ingredients together in the bowl you'll mix the dough in (saves on washing up). Cover with plastic or a damp tea towel. Leave in a warm place until the next morning. The date syrup or honey gives the kefir a quick sugar rush to get the leaven started. By the morning, you should see the poolish slightly bubbly.
Then add the other ingredients and knead in your Kenwood Chef or similar for 6 minutes or do it by hand.
Cover again and allow to rest for 2 hours or so. Then fold as I show you in this post for pain de campagne.
Cover and rest for an hour: fold again. And finally cover and rest for another hour and then fold. Cover and rest for an hour.
Divide the dough in two. Shape to your fancy – there's some shaping tips in a video in the pain de campagne recipe above.
Allow to prove for about a couple of hours. And while this is happening, preheat your oven to 230°C.
Slash the bread artily. Bake the bread for 15 minutes at 230°C with some boiling water in a tray at the bottom. Then take out the tray, turn down the oven to 190°C and bake for a further 30 minutes.
Other uses for kefir
I use the kefir to culture cream to make cultured butter. My recipe for this is here. You can also use the cultured cream like crème fraiche.
If you culture milk/cream until it splits into curds and whey you can make cheese.
Strain the curds through muslin until you achieve your desired consistency. This is like a ricotta/labneh. It's very good made with goat's milk.
You can add salt and herbs, chilli or other spices to taste.
If you press the cheese in a strainer or cheese basket (use a cheese press or some heavy weights like a bagged brick or tins) you can make a hard cheese which you can age.
The kefir grains will also ferment other 'milks' such as coconut and almond.
If you want to delve deeper into the mysteries of kefir, visit Dom in Australia who is a mine of useful information and bad puns. Here's his page on Dom's kefir cheese pages to get you started, but do explore further.