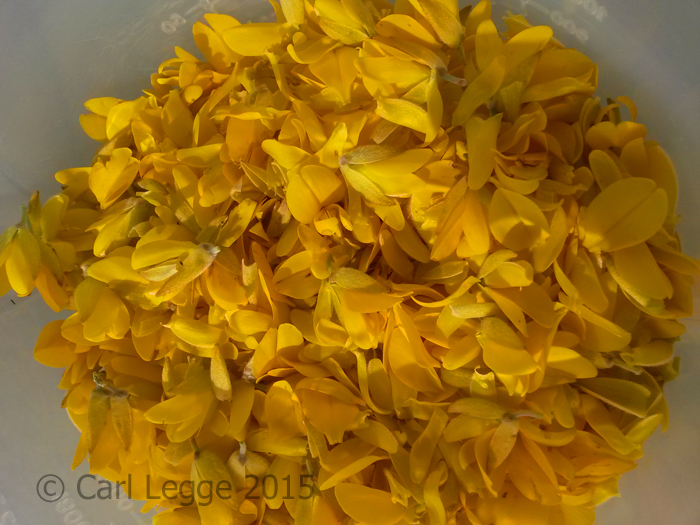 I recently led a workshop for local tourism businesses on how to use foraged foods in their offerings. The workshop was organised by Snowdonia Active a regional green business organisation. The aim of the workshop was to inspire the attendees to give visitors a 'Taste of the Llyn Peninsula' by using locally provenanced wild food. The event was packed and we had a very stimulating 3 hours.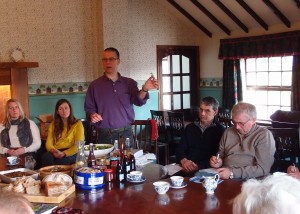 I made a selection of foods with foraged ingredients and brought along jars and bottles from my store cupboard.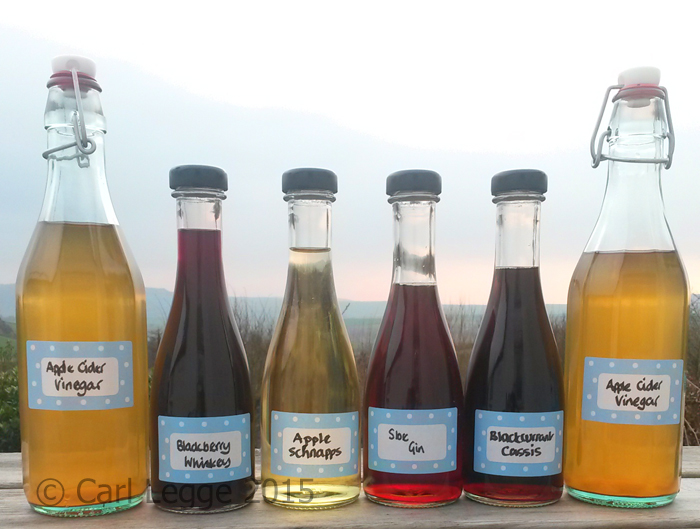 The final dish I presented was Gorse Ice Cream made from flowers picked from our fields. It went down extremely well indeed. The aroma of the flowers is of coconut or almonds but the finished dish has a unique and very hard to place taste. It's well worth a go and it's very easy to make, so I've put the recipe below.
This weekend I am at the Llyn Land and Sea Food Festival in Pwllheli talking about foraged food on the Saturday and Sunday. Details are  here – perhaps I might see you there 🙂
Gorse Ice Cream Recipe
This makes about 1 litre (1 1/2 pints) of ice cream. It's best made the day before you serve to give it a chance to freeze.
Ideally, pick the fragrant open gorse flowers carefully on a dry day.​
Ingredients
1.5 litres (2 1/2 pints) gorse flowers
350ml (12 fl oz) full fat or semi-skimmed milk
4 egg yolks
200g (7 oz) caster sugar
425ml (15 fl oz) cold double cream
Method
Put the gorse flowers and milk in a saucepan, stir well. Heat to just below boiling, then turn off, cover and leave to cool for an hour or more so the flavour infuses into the milk.
Once the milk is cool, strain off the gorse flowers using a sieve and return the milk to the pan. Compost the flowers.
Whisk the egg yolks & caster sugar together in a bowl. Set aside.
Pour the cold double cream into a bowl bigger than 1 litre (1 1/2 pints) and put the sieve over the bowl.
Bring the milk to the boil and then whisk this into the egg yolk mixture and then tip all of this back into the saucepan. Heat gently up to a simmer so that the mix just coats the back of a wooden spoon. Don't boil or cook until the custard is thick.
Tip the custard through the sieve into the cream and stir well. Pour into a container you can then pop in the freezer.
Freeze until set, overnight is best. You can stir the half frozen ice cream if you remember to get a smoother texture.
Pop the ice cream in the fridge for 30-40 minutes to soften before you serve.