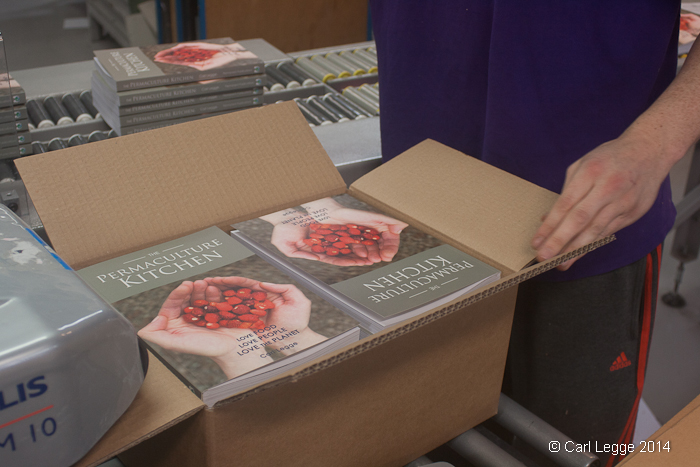 My book had been printed!
I went with Debs yesterday to Cambrian Printers to see The Permaculture Kitchen being bound. The team there were brilliant. They were all very friendly and happy to explain to me what they were doing and how the machines worked. I was impressed by their calm professionalism despite a day that had started early at 6am.
The insides had all been printed and collated and the covers were printed too. I saw the insides being stitched together in a very complex machine that must have taken ages to set up correctly. The publishers decided to stitch the book so that it could be laid flat. If it was just glued into the covers, it would soon fall apart which is not what you want from a kitchen book.
Then the covers and insides were collated and glued in a massive machine – coming out of the end to be checked and packed.
The pallets of books are now on their way from the printer to the publisher. They will send me some and distribute the others to Green Shopping, Amazon and other sellers.
So. If you would like to buy a signed copy, head over to The Permaculture Kitchen section of this web site. I have PayPal set up to take orders, as soon as the books are with me I will start to send them out to you. You will also see the full copies of the testimonials I've received from some highly respected names in food.
I've also made a sub-section of resources for the book. In the book I say that there will be videos to help with bread making and they are there as promised. I've also included my video on how to make mayonnaise with a stick blender. If you'd like anything else from the book explained or illustrated, just let me know in the comments to the Resources page and I'll do my best to help.
I will be at the Edible Garden Show on Saturday to sign copies and give a talk. It'd be great to see you there if you can make it.
Finally, I wanted to say thank you to all of you who have supported me through getting this book published. I really appreciate it. This is quite an adventure 🙂