In the last post you saw how Julia Moore used a sourdough levain to start to make cider. Here the circle is completed as the sediment from the racked cider is used to ferment a sourdough.
There's a tradition of using the foam of a beer ferment or the brewing leftovers to make a 'Barm Bread'.
Here's a BBC 'Food Programme' piece about Barm Bread which explains the method and some history.
So when Julia told me she was going to make bread with her cider leftovers, I was pretty confident she'd have a good result. Julia is 'barmy' but not at all silly!
Here's Julia's recipe in her own words.
Cider barm sourdough bread recipe
Ingredients
Save 175ml of liquor in each litre bottle. Shake up the bottle to incorporate all the sediment and the barm collected at the neck of the bottle. Now use the 350ml of cider barm to make some bread.
To the cider barm add:
560g white organic bread flour
2tsp salt
2tbsp honey.
Method
Mix and knead the dough in your usual manner.
The dough felt quite unresponsive, and after working the dough a few times periodically over 3 hrs it still didn't really feel like it wanted to relax, certainly not in the same way that sourdough usually does.
I shaped the dough into a boule shape, rolled it in a mix of rye and rice flour so it wouldn't stick to the teacloth and then rested it at room temperature in a cloth lined bowl.
After an hour it still looked and felt unresponsive, so I took the unusual step of placing the dough in the airing cupboard, something I'd never do normally but then this was not a normal bake.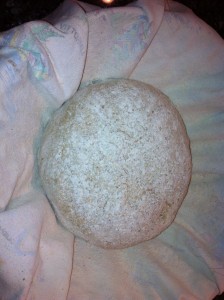 12 hrs later the dough looked relaxed, happy and ready to bake. So I had learnt something. While sourdough likes cool temperatures, cider barm likes warm temperatures!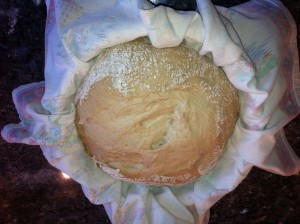 Pre-heat your oven to 225°C
Sprinkle the base of the dough with wholewheat semolina and then carefully tip the dough onto a baking sheet. Slash the top of the dough in any design you like and bake for 40mins, turning the temperature down to 200°C half way through baking.
Result
The bread has a soft golden textured interior and is encased in a dark chewy crust.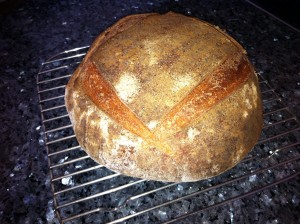 It has pleasing apple flavours with a hint of digestive biscuits!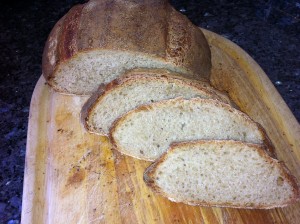 Delicious with cheese. Our favourite, Barkham Blue from Two Hoots…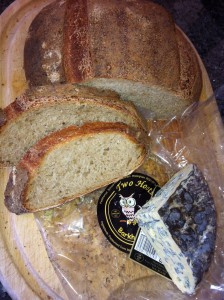 So the cider barm bread is a success but we will have to wait a few months to find out about the cider.
*****
Great work from Julia there. She asks me to say that you could use any organic bread flour to make this – she happened to use white this time. 
I would have made a sponge or poolish using the barm, honey and about 200g or so of the flour first and let this start to ferment over night. Then I'd have included the rest of the flour and the salt and continued as normal – Carl 
Have you made anything similar? Do let Julia and me know in the comments
Another twitter pal, Jessica, was inspired by this bread to make bread using a wine barm. See her Wine Barm Sourdough post.