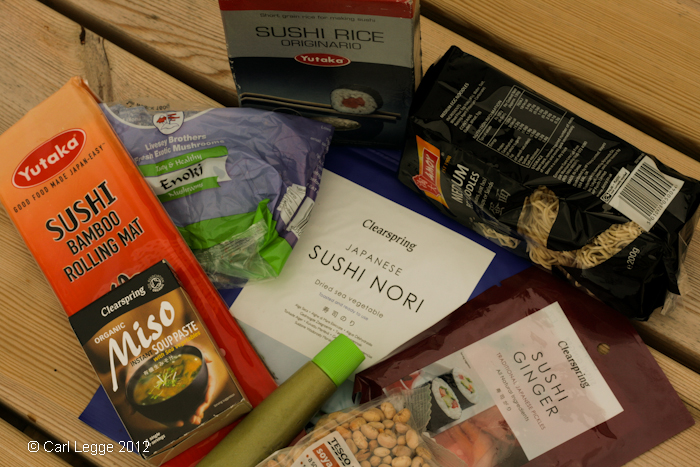 This is my second Foodie Penpals parcel. This month I was matched with Alena from London who, as you can see, really did me proud.
What Alena sent me was as wonderful as it was unexpected. She sent me all I would need to make wonderful sushi and a fab miso soup. Even down to thinking to include a shushi rolling mat. How clever & thoughtful is that?
Alena sent me a beautiful sunflower card. In it she said:
This summer we are really enjoying Japanese food & I have decided to send you some ingredients for sushi & my favourite miso soup with enoki mushrooms.
As an ex-London resident, I really appreciate the marvels and choice you have there so you can  get ingredients from just about any part of the world. North Wales isn't quite like that.
We've had the soup, which was delicious. As Debs has been working hard on a load of shifts, I've held off making the sushi – now she's on holiday we can indulge at leisure. I'm really looking forward to the chance to practise a new technique.
What's not shown is the cake Alena sent me. I'll let Alena describe:
I have also baked an apple pie – this is our family recipe.
It was gorgeous. And the reason there's no picture is because we consumed the cake (generous portions of the same) before I got the chance to take any pictures. My 17-year-old son declared it "Amazing!" and I agree heartily.
What's more, Alena kept me fully up to date with progress of the parcel. She packed it beautifully and safely.
All-in-all, I was delighted with the parcel. Another victory for Foodie Penpals. Thanks so much Alena x
I recommend the scheme if you love food and would like to try new things. If you do, click the badge below to find out more…